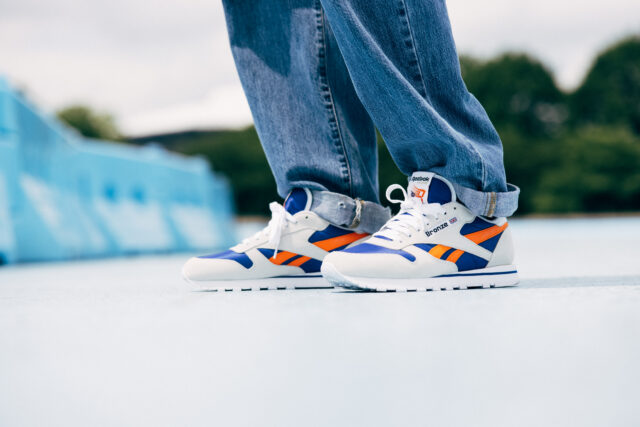 Reebok and Queens, N.Y. skate brand Bronze 56k have announced the release of their third collaboration. Following the success of last year's collaborative Club C launch, for SS21 the brands will refresh Reebok's Classic Leather and Answer IV silhouettes using an iconic blue and orange color palette inspired by New York City.
Founded in 2012 as a skateboard hardware company, Bronze 56k has made a significant splash within the skate industry. The brand first gained recognition through a lo-fi video that surfaced on the internet during their founding year, and have since grown in popularity, eventually transitioning into designing skateboards and clothing.
With the partnership entering its third year, the skate collective is looking forward to releasing these new, unexpected silhouettes. "Working with Reebok has been an amazing experience for the past three years," said founder of Bronze 56k, Peter Sidlauskas. "I think our projects keep getting stronger. It was such a great opportunity to exceed our expectations and make a full-on basketball shoe."
The new collection is inspired by various factors, including the city's vibrant sports culture, the New York City skate scene, and the city's flag.
As Reebok's historic Answer IV enjoys a full year of 20th Anniversary celebrations, Bronze 56K respectfully presents a minimalistic take on the typically aggressive sneaker, bringing techy '00's-era skate inspiration to the classic hoops silhouette. The design also integrates a gum outsole, nodding '90s skate footwear, a blue and orange narrative stripe running up the heavyweight canvas tongue and Bronze 56K's lucky symmetrical dice icons embroidered on the tumbled leather upper.
Comparably, the iconic Classic Leather is made with premium suede and nylon, and features chenille on the collar lens, instantly providing an elevated, yet fun and playful look in unisex sizing.
"Each [silhouette]has a different meaning to me," Sidlauskas explained. "The Classic Leather is more simple, more casual, whereas the Iverson is more tech, more aggressive. I think they are polar opposites of each other, which makes them complement each other at the same time."