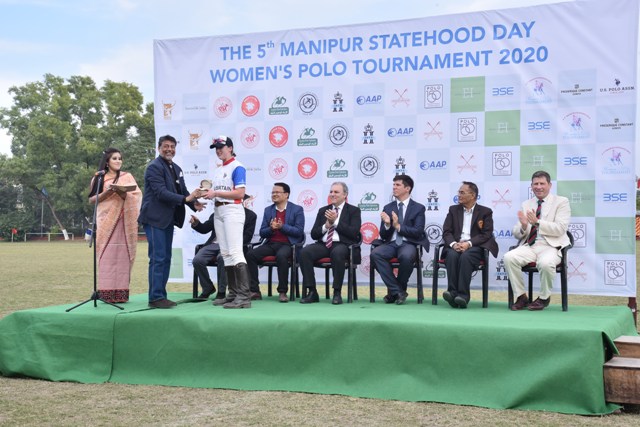 Frederique Constant participated as timekeeper for the 5th Manipur Statehood Day Women's International Polo Tournament 2020 organized by Manipur Tourism, that was played under the theme 'Save Pony, Save Polo' at Mapal Kangjeibung Polo Ground in Imphal. The tournament was commenced on January 16 with the participation of six women's polo teams from USA, Great Britain, Argentina, Egypt and two from India – Indian Polo Association (IPA) and Manipur and concluded on January 22.
Frederique Constant is associated with the sport of polo for they believe it has great potential and continue to support the sport as they always supported the Men's Polo team. Taking the tradition forward, the brand associated with the Women's Polo team this year. The brand is focused on creating awareness amongst the people of India around polo that showcases a symbiotic relationship between young women & horses and aims to bring in a revolutionary change in the game.
Manipur Tourism has conceptualized a campaign to save the unique and endangered Manipuri Pony and at the same time to promote Polo Tourism in the state, the birthplace of Modern Polo.
The tournament has now become an annual event and since 2019, it has hosted 6 teams including teams from Argentina, Canada, Kenya and the USA. Women Polo in Manipur has become the state's game since the late 1980s and Manipur Statehood Day Women's Polo Tournament has been organizing the tournament to promote the game with a single motto, 'Women Polo, Women Power'.
Arun D'Silva, Director, Retail Interface Pvt. Ltd. (Brand Strategist Frederique Constant India) said, "Manipur is considered the original Polo playing state and was empowered by the British to refine it into a different sport. It's surreal to play here for the State has been promoting and encouraging the sport all these years, Manipur has become synonymous with Polo.
Frederique Constant has been involved in Men's Polo for almost five years and have played in Delhi and Mumbai. In Manipur, we are focused on supporting Women's Polo and have a concept in place Pink Berets Polo Association, which we are developing in order to support the Women's Polo game in India.
In the coming days, we plan to travel to different cities/states to select talented women polo players and train them to be part of Pink Berets Polo Association. Through this initiative, we are hoping to contribute to the overall growth of the sport and uplift the spirit of this Women's game in India."
This year's final match, which was played on 22nd January between the teams Great Britain and USA, was won by team Great Britain where they defeated team USA by 5-2 and won the tournament. Rosana Turk from Great Britain and Neelu Rajkumari was awarded as the most valued player and as the most valuable Indian player. To make this year a remarkable one, Frederique Constant also awarded the naughtiest pony and the best pony with a majestic jule.