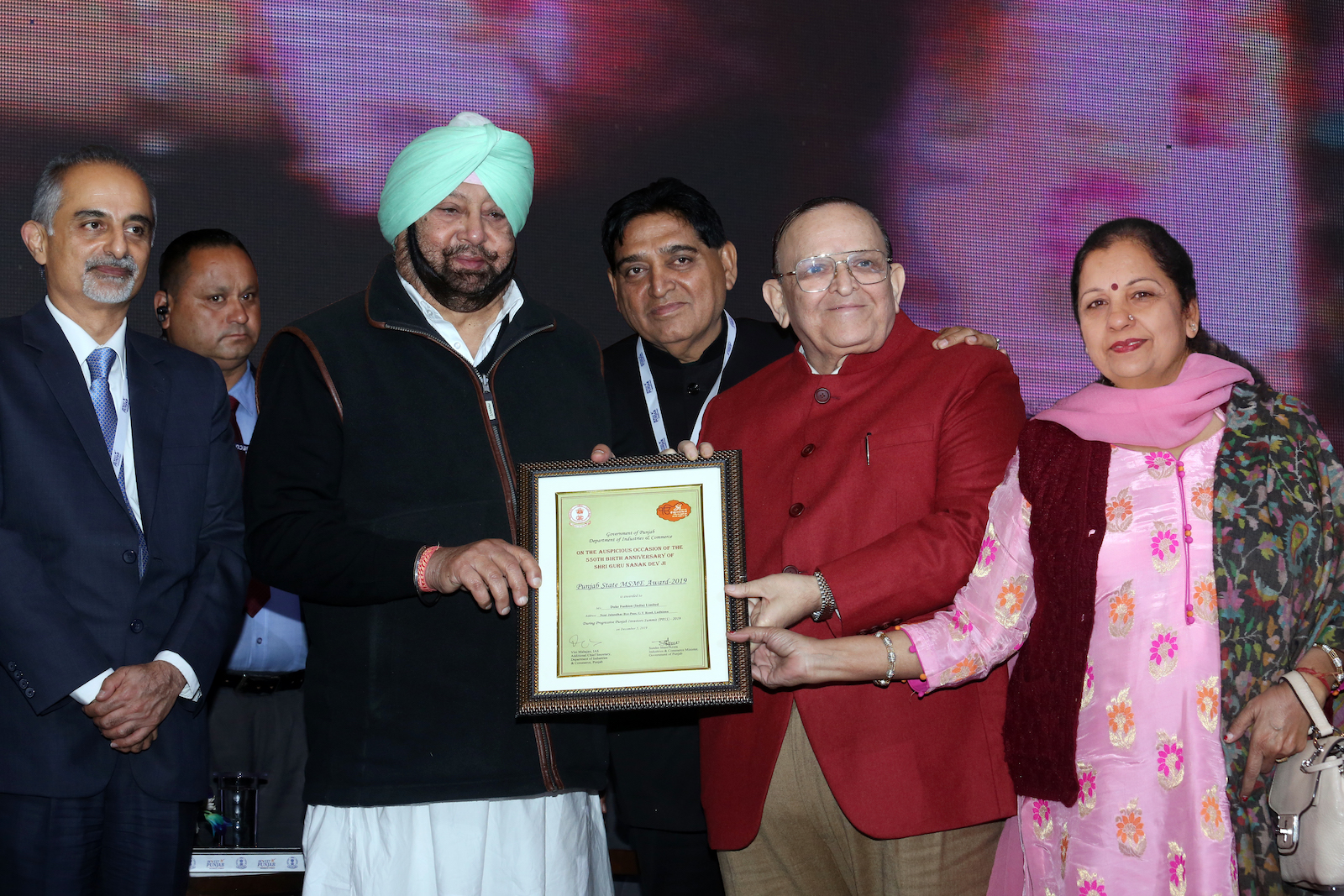 Duke Fashions (India) Limited, a lifestyle brand with a successful track record in manufacturing quality readymade garments with contemporary styling, has been achieved and honored with 'Punjab State MSME Award' for its outstanding quality products and tremendous business growth. Komal Kumar Jain, Chairman Duke Fashions, along with his spouse Kanchan Jain, received the award with reward prize of Rs.1 Lakh, from Chief Minister Amarinder Singh during the Punjab Investors Summit-2019, which was held with the aim of further promote and showcase Punjab as an attractive and competitive destination for Industrial Investments, at Mohali. The initiative has been taken in line with the vision to recognize and promote the visionary spirit of the entrepreneurs of Punjab. In total, the Punjab Government envisions the distribution of 18 awards in each of the sectors.
Addressing the event, CM Singh congratulated the award winners for achieving excellence in various fields and expressed his hope that other enterprises in the sector would emulate the examples set by the awardees. He said that the textiles sector is playing a pivotal role in the economy and it needs to be recognised and respected by all.  He has recognised the services of the people who have made a mark in different fields by overcoming all the hurdles and hardships. Describing the textile/manufacturing sector as an imperative component for the growth of economy, he said the Award will act as a morale booster to recognize the achievements of successful entrepreneurs in MSMEs and to encourage them to produce quality products. He further stated that 'New Industrial and Business Development is a part of my Government's vision to take Punjab to high trajectory of growth and prosperity creating large scale entrepreneurial and employment opportunities in the state'.
Jain, Chairman Duke, said that he felt honored to achieve this award and expressed his gratitude to the people who really meant for this award. "This is yet another pivotal milestone in Duke Fashions' history. This is a testimony to the hard work of our dedicated and committed workforce, who has been the biggest contributors for us being recognized as one of the most trusted company in India. At Duke, it is our constant endeavor to create benchmarks and constantly reinvent," he stressed.
He added that they are improving not only the productivity and quality of their industrial goods but also of their entrepreneurial talent through innovations. He said, "Our products are cost competitive and affordable to common people. We planned for an even larger growth in the innovation and production ahead. Duke is a value for money brand and our mission is to make available the international designs and styles at highly reasonable prices. We see it as our duty to provide our customers the inspiration they need to look and feel confident."
Jain also shared that Business strategy, vision & innovation are the principal pillars on which Duke brand's forward-thinking corporate policy is founded. Our passion for Excellence in Quality and Performance in recognized and rewarded by Punjab Government. The Punjab Government has conferred Duke Fashions with this prestigious Award for displayed excellence in product quality and registered tremendous business growth in investment, employment generation, turnover/ sales, energy efficiency, exports, employee's welfare etc. He shared that State Government is taking all possible steps for the promotion and growth of textile Industry.  The State Government has also launched a very attractive Punjab Industrial and Business Development Policy, 2017 offering various incentives for all sectors of Industry.
Beginning with the first in Ludhiana in 1966, Duke continues to connect with customers online and across the brand's more than 4000 MBOs and 400 EBOs nationwide. It is one of the leading brands that have made its online presence in short span of time in this competitive ecommerce space. Due to its wide variety of categories, users always find it interesting to browse through the various deals. It is the main goal to provide the best quality and stunning garments.