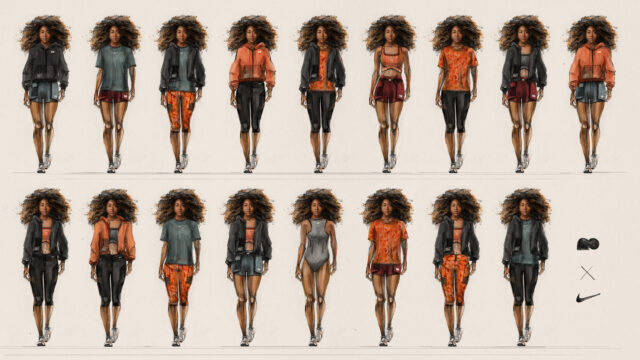 Tennis superstar Naomi Osaka unveils her second Nike apparel capsule. The new collection features an assortment of T-shirts, shirts, hoodies, a crop top, and a mesh bodysuit which Osaka herself had a hand in designing.
"I like to keep things unpredictable — and what I wear is a reflection of that," Osaka said. "I love to mix designs that are a bit unexpected; for example, the long ball short is an original take on the bike short. I love the newness of the contrasting necklines, like in the bodysuit and crop top, that I can layer and wear together. Even the colors and prints are bold and contrast in a really fun way."
For Nike, a central theme of the collection is the future for women and girls in sports. "From designing signature collections to investing in girls' grassroots sports and speaking up for the causes that reflect our values, our partnership shows what's possible as we think even bigger about the impact that Nike and our athletes can continue to create together," said Tania Flynn, VP of Nike's women's apparel design.
Osaka says she's proud that the collaboration allows her to use her voice to inspire girls through sports."They just let me explore and be curious. When you're there with the design team, it really does feel like you're in a creative playground. I can share what I love, they share the latest in materials or how they make things — and we end up somewhere in the middle. It's also important to me that our relationship is about more than product," she said.
"Nike is a place where I can just go and explore. Sometimes I feel like it's like a playground for designers. What's fun is our conversations start with just an idea, and lead to really fun, creative designs that reflect who I am as an athlete and woman," she stressed.
Nike describes the collection as "dynamism meets depth." The crop top features ribs, the bodysuit sports a halter neckline, and the utility shorts are high-waisted. Osaka's logo is featured throughout the collection, and feline lovers also get a treat with Osaka's lucky cat making an appearance on select pieces.
The collection also includes a signature shoe — The Air Zoom GP Turbo Naomi Osaka. The shoe is set off by a shimmering Swarovski crystal swoosh against an iridescent purple, blue, and black tie-dye upper. Swarovski crystals are also featured on the heel.
The collection will mark the first time ever that Osaka's NikeCourt Dress and her tournament featured sneakers will be available for purchase.
The Naomi Osaka NikeCourt Dress and Air Zoom GP Turbo Naomi Osaka will release on May 24 for Nike Members and May 31 globally. The Naomi Osaka summer 2021 apparel collection releases June 17.
By N Bobo Meitei