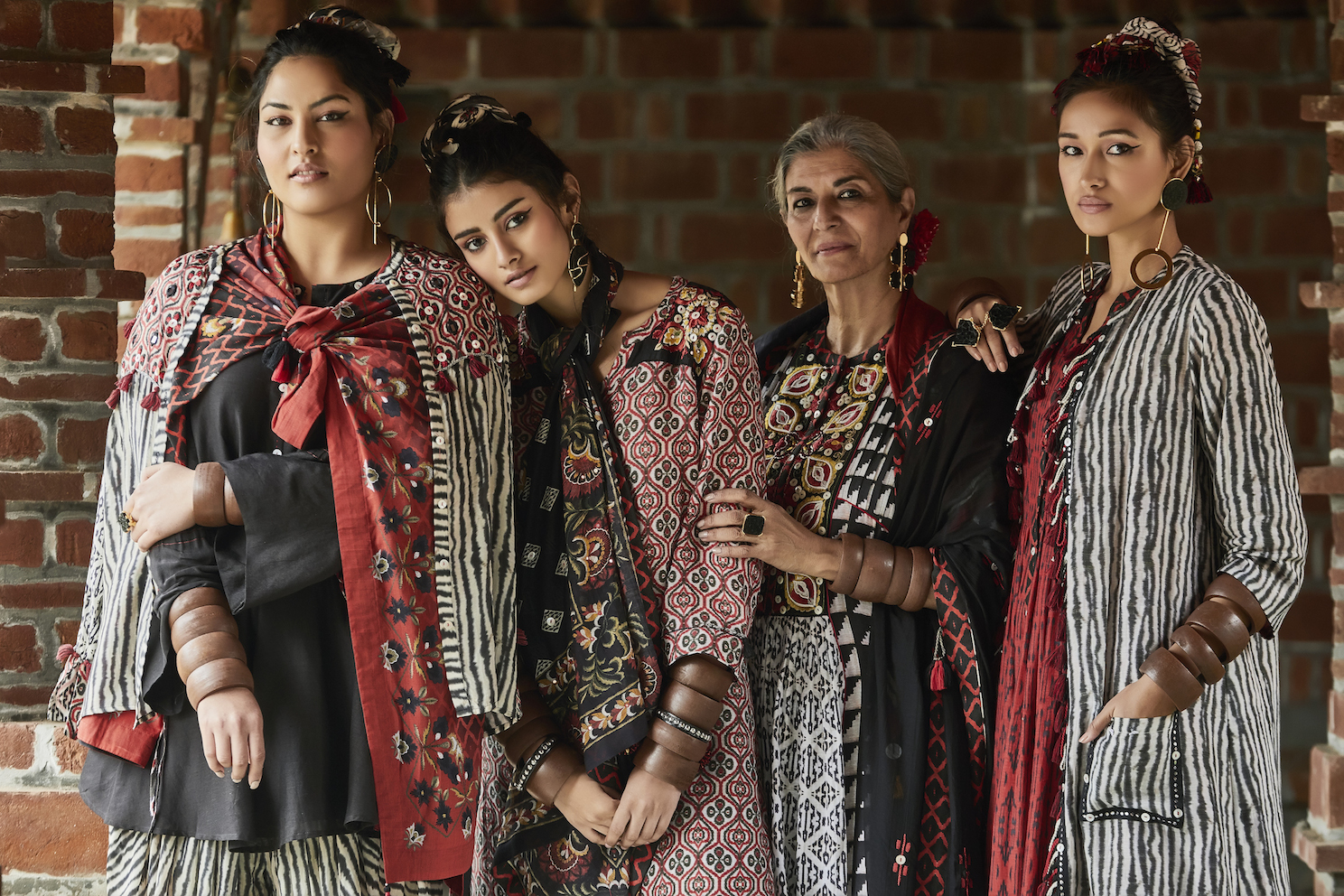 Saundh, the luxury everyday wear label for women, known for its amalgamation of unique design and contemporary silhouette unveils its summer collection. Segregated into five different collections, each collection represents a unique style and design element that has been crafted in consideration with the trends of the season.
Flowy, urban, and ethnic are the three words one would use to describe Saundh. The brand has been created for the modern Indian woman who is empowered and comfortable in her own skin. The label is unique and versatile as it focuses on bringing the beauty of ancient traditions to their silhouettes, while at the same time caters to the sensibilities of a modern woman.
Behrukh is a collection full of beautiful patterns & prints. A delightful mix of bold colours and prints with gorgeous Uzbek Suzani embroidery, this collection attains perfect balance with the addition of yarns and shell buttons. There are kurtis, tunics & jackets in Behrukh.
Katha is an ode to storytelling. This collection features hand-sketched motifs, inspired by the tree of life that has been converted into prints. Designed in shades of ivory, charcoal, crimson and blue with silhouettes spanning from crisps to drapes, it is a statement in luxury and the love of craft.
The third collection, Raag comprises of kurtis and tunics in a breezy creative symphony between traditional Jamdhani weaves and the colourful robes of Uzbekistan. Fresh and playful, it is brought to life with matte cotton bases, sheer voiles and an ultra-silky touch.
The designs at Saundh are a metaphorical reminder of the subtleties of nature that evoke a sense of rawness and authenticity. Whether you are a young college-going girl or a house maker, an entrepreneur, or a woman in her late 50's, there is something for everyone at Saundh. The brand resonates with every woman who is successful in her own right and comfortable in her own skin; rooted in their values and traditions but not firm or stagnant – evolving and ever-expanding.
Nargis is inspired by the famed Mughal jaalis, this collection combines a calming pastel palette with beautiful embroidery patterns in ivory tone. Comfortable yet dressy silhouettes like straight kurtas and shararas, further adorned with gota and mirrorwork, make it perfect for every occasion.
Haya brings together the magic of archival textiles and flowy silhouettes to craft a story of elegance. Designed in English powder shades of pink, yellow, grey, and ivory, it is given a sublime touch by glorious chintz florals on georgette. Embellishments include layers, soft tassels, intricate pearls, and laces.
"Saundh as a brand stems from our love for textiles and our vision to create a global label inspired by India," says Sarabjeet Saluja, CEO at Saundh. "We are trying to create a niche where the gap between designer clothing, aesthetics, and affordability minimizes."
With its refined aesthetics and multiple collections, Saundh is poised to change the way fashion is being perceived in present times.  The label's uniqueness and versatility are demonstrated in every fashion piece it puts out, as it effectively turns designs into emotions.