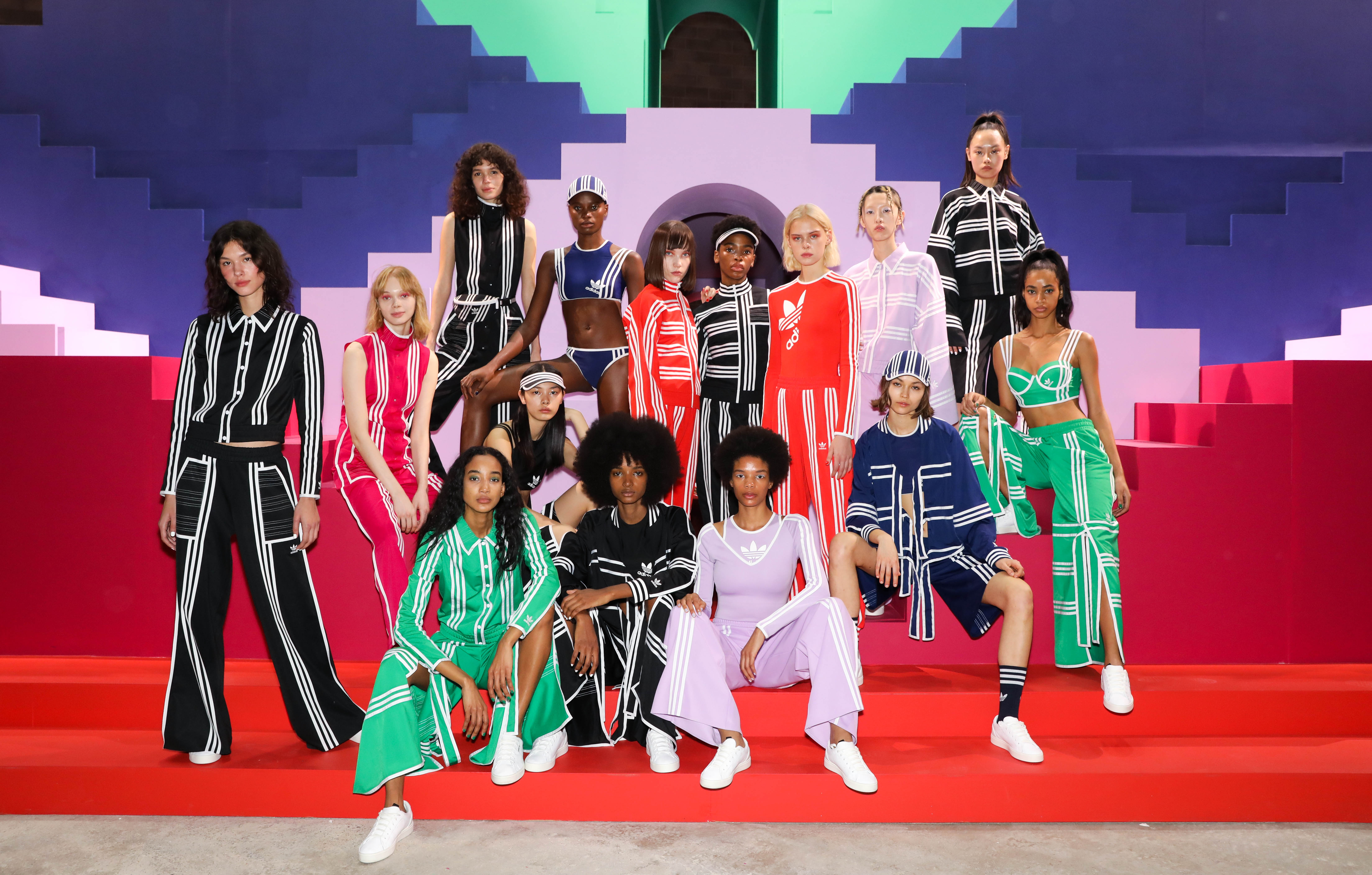 adidas Originals debuted a highly anticipated
collaboration
with New York-based designer Ji Won Choi with a presentation at
London
Fashion Week and official listing on the British Fashion Council calendar. The capsule women's ready-to-wear collection explores the idea of movement while reimagining iconic adidas Originals three stripes designs through the lens of
sport
and culture.
The adidas Originals by Ji Won Choi collection celebrates the designer's Korean heritage with stylistic inspiration and cultural references. Choi adapted her personal design philosophy to the sportswear-inspired line to deliver a fresh take on the classic tracksuit.
The presentation took place in Hawley Wharf, a never before used underground location in Camden. The vast concrete space hosted a bold multi-layered structure, with each layer referencing a color from the collection. The set was inspired by the impossible staircase where models moved in a continuous loop throughout the structure, showcasing the sense of movement within the collection.
Immersed within the expansive oasis, models wore tonal looks in hues of lavender, dark blue, red, green, pink and black all prominently bearing the iconic three stripe design. Originals' adicolor tracksuit concept was reinterpreted using Ji Won's unique, signature stripe motif developed for her thesis collection while studying at Parsons School of Design. The iconic Originals three stripes take on new meaning, extending off the garments creating a sense of movement, while also functioning as tie closures at the knee of a pant or jacket front. Presenting the tracksuit silhouette in many different variations, adidas Originals by Ji Won Choi highlights contrast: voluminous wide leg pants paired with a sleek, crisp track top or a wide-sleeve take on a track top with elongated straps.
Inspired by her visit to adidas headquarters in
Germany
, Ji Won incorporated more athletic pieces within the collection through bodysuits and swimwear; versatile and perfect for styling. Each look was paired with adidas Originals' newest women's footwear concept, Sleek in an added nod to the collection's ease and versatility.
With the premiere offering of 17 pieces ranging from tracksuits, a jumpsuit, bodysuits, accessories and swimwear, the collection launches with a playful, saturated colour palette that provides a visual, graphic contrast to the white adidas Originals stripe detail. A later offering to come in the Spring will see the collection rendered in a black and white color palette.
adidas Originals by Ji Won Choi was designed to create confidence for the wearer, but with ease; a loud statement through simple clothing.