Riva del Garda, 11 October 2022 : The next editions of Expo Riva Schuh & Gardabags will be held from 14 to 17 January 2023 and from 17 to 20 June 2023. Excellent opportunities for the industry to get together, in light of the results of the last show and the enthusiasm shown by brands and manufacturers who are already planning to attend both events.
The new incoming actions implemented by the show to strengthen international participation at the event received a very positive response. Agreements with exhibitors and buyers from South East Asia, India, Singapore, Indonesia and Malaysia have already been concluded. Likewise, delegations from the US, Canada and Latin America have confirmed they will attend, while, in Europe, the focus will be on Scandinavian countries and the UK, which will host the return of "Expo Riva Schuh Around the World", an event dedicated to British distributors.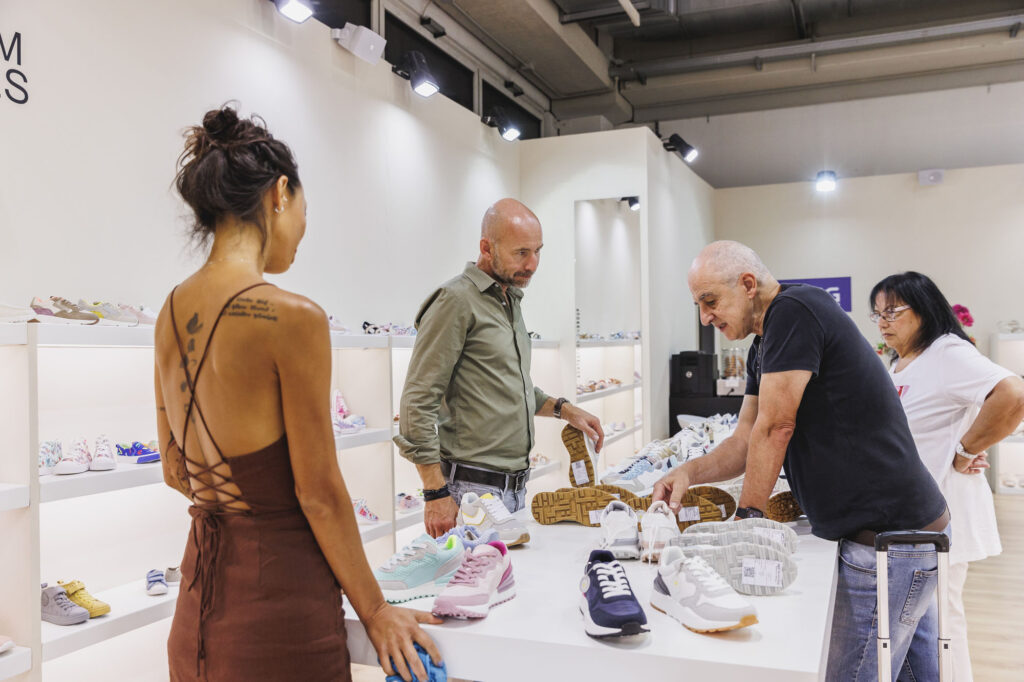 Innovative and successful initiatives will also continue, including the Hybrid Service, which will enable numerous companies from China and other countries from where travel is still restricted to play a part; Innovation Village Retail, a pioneering project dedicated to innovation in distribution that has already boosted the international visibility of emerging start-ups; and the focus on Sustainability, particularly on traceability issues, considered key to finding, promoting and enhancing the value of companies that are making considerable investments to ensure their business is more environmentally- and people-friendly.
Harry Winston, the 20th century jewellery icon, once said: "People will stare at you. Make it worth their while". The footwear and leather goods sectors are enthusiastically following developments at Expo Riva Schuh & Gardabags, in the knowledge that the next editions in 2023 will be "worth their while", and will repeat the success and excellent results obtained by the event held in Riva del Garda in June.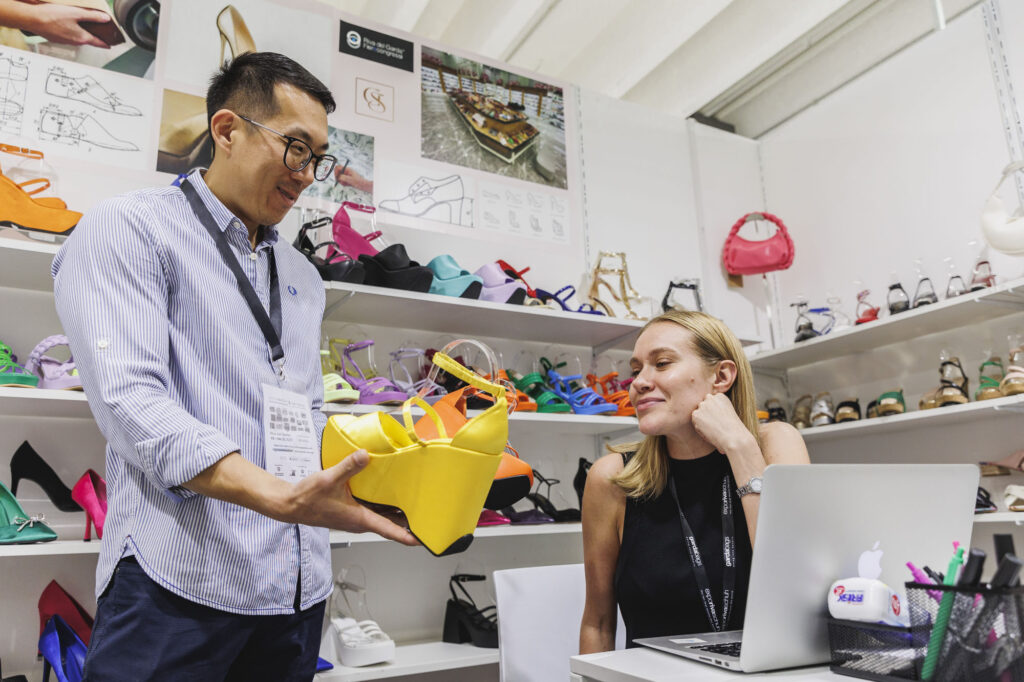 Riva del Garda Fierecongressi is already actively planning its next shows because it wants to make them more central to networking in the industry, business-oriented and varied in their offer. Like any prestigious event, Expo Riva Schuh & Gardabags is made up of precious elements. In our case, the timing of the show provides a solid basis, and is supplemented by the variety of international exhibitors and buyers representing leading distributors from all over the world, from China to South America.
Expo Riva Schuh & Gardabags is preparing a perfectly tailored event for the footwear and leather goods sectors.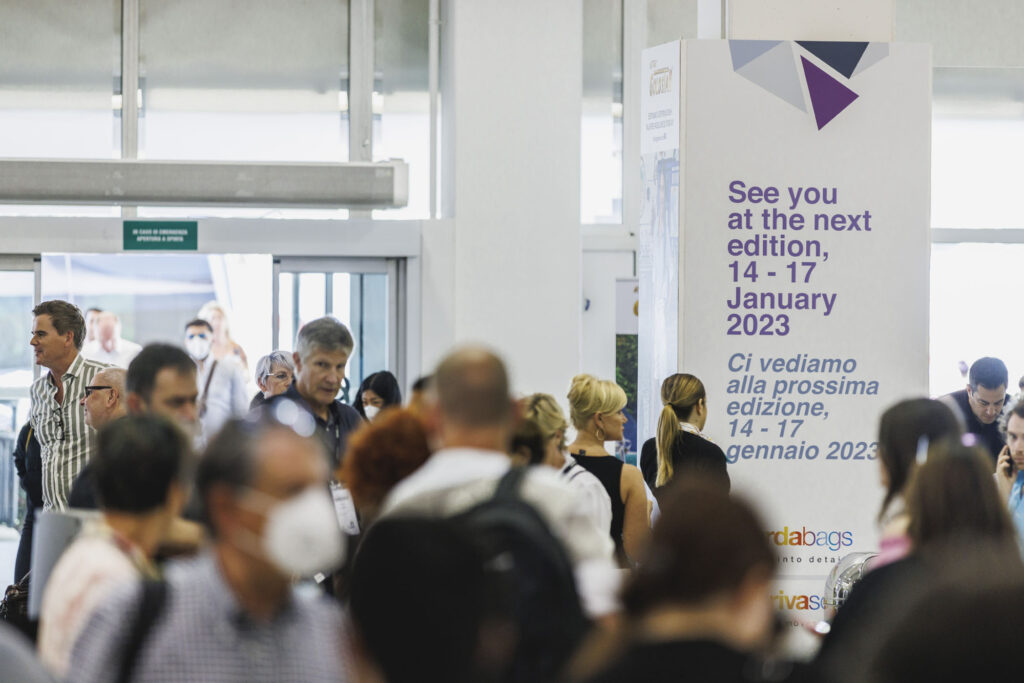 THE DATES FOR 2023
As is traditional, the 2023 dates for Expo Riva Schuh & Gardabags will open the future Autumn/Winter 2023/24 and the Spring/Summer 2024 seasons:
98th edition 14 – 17 January 2023
99th edition 17 – 20 June 2023
The timing has always proved perfect for trade in the industry. Excellent for those who wish to replenish their offers and even better for those who want to get a feel for the new collections and place orders for the upcoming season.
Expo Riva Schuh & Gardabags remains the leading event in the sector not only in terms of timing, but also in terms of the variety of offers: volume footwear as well as value brands; made in Italy, but also international sourcing with China, India and South America and Turkey leading the pack of international exhibitors; elegant, leisure and trainer collections alongside proposals for home living, the outdoors and children.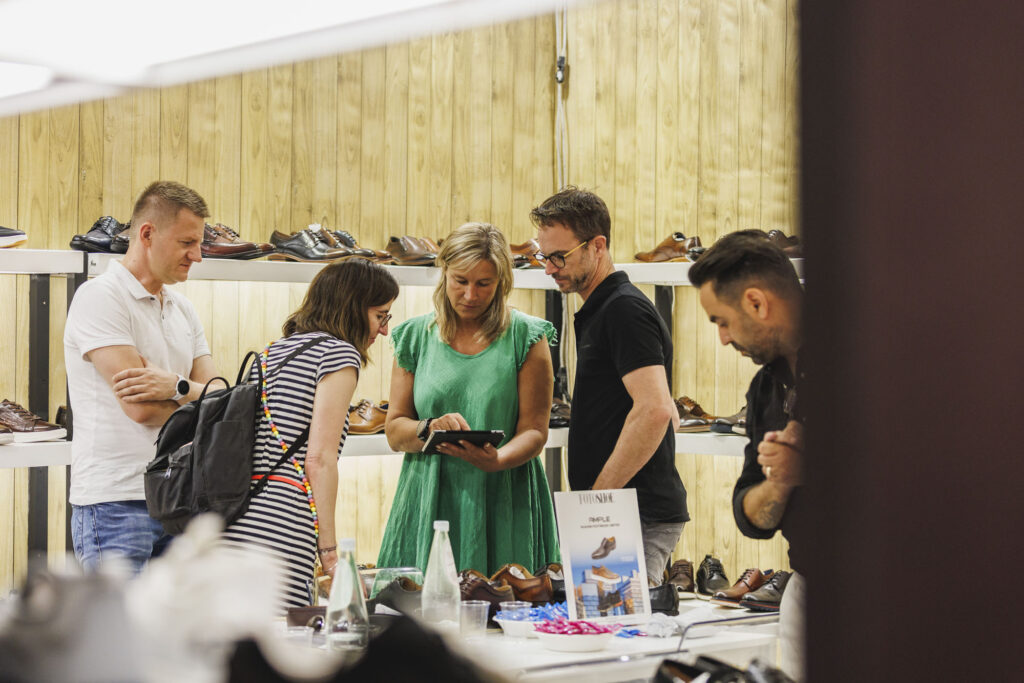 In addition to its traditional strengths, it has recently reported some extremely strong numbers, as reflected in the excellent results of the June 2022 edition, which registered visitors from 103 countries and exhibitors from 41 different countries.
Companies' eagerness to return to the show has also been extraordinary, and is clearly reflected in the sale of exhibition space. This has already exceeded the highest expectations, with more and more stakeholders willing to invest in annual exhibition projects, ensuring their attendance at both the winter and summer editions.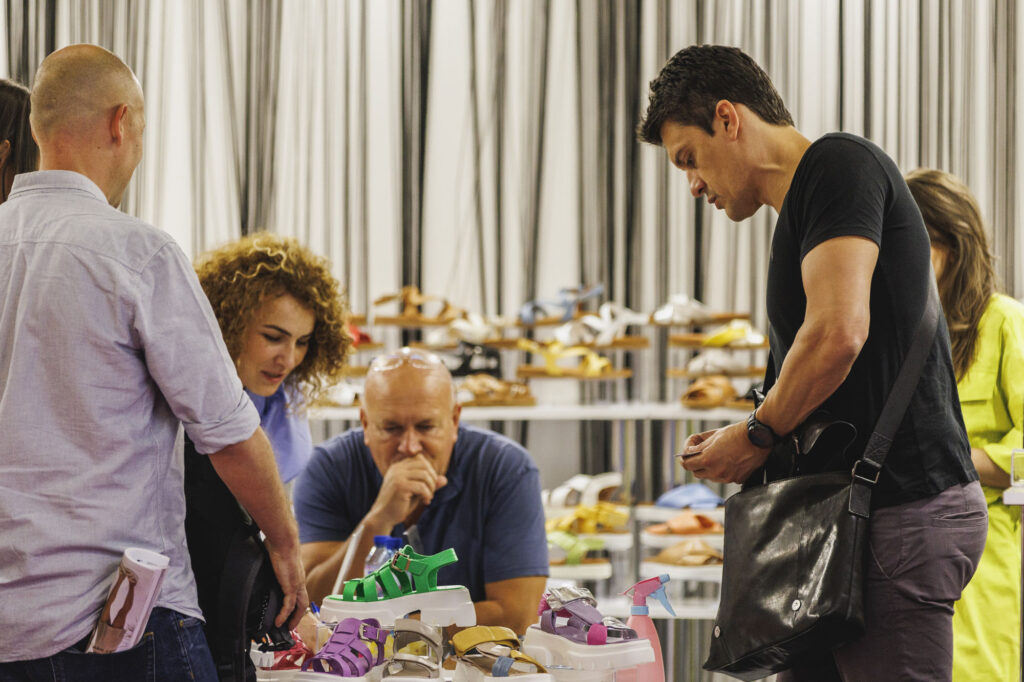 "Excellent results that reward our vision. We are pursuing new and innovative ways to promptly respond to the changing needs of the markets and provide the industry with appropriate tools for sound and profitable business initiatives. The fashion accessories industry is looking for new sourcing paths, reliable partners with production capacities that can meet varied requirements in terms of quantity, price and style. Ours is no longer "just" a trade show, but has transformed itself into a virtuous network of experienced professionals capable of interpreting, anticipating and riding the changes currently taking place", said Alessandra Albarelli, General Manager of Riva del Garda Fierecongressi.
INTERNATIONALISATION
A crucial feature of the Riva del Garda trade show has always been that it hosts manufacturers and brands of footwear and bags from all over the world. This feature is much appreciated by buyers, who have always found a variety of proposals, a wide choice in terms of quality and price ranges, reliable partners and brands attentive to sustainability issues.
The show's organisers therefore continue to focus strongly on foreign markets and aim to further strengthen the presence of brands, contractors and buyers from the four corners of the globe.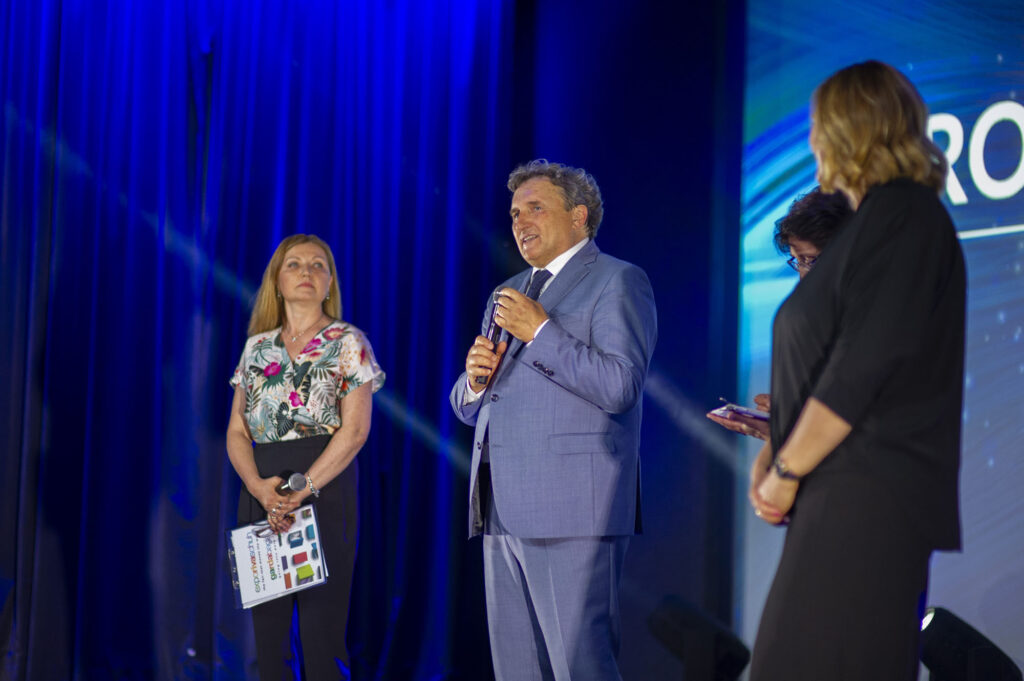 "We have started preparations for 2023," says GianPaola Pedretti, Exhibition Manager of Expo Riva Schuh & Gardabags. "We are working to expand the exhibition offer by bringing in additional countries, also thanks to the international network of partners working on markets that are strategic for us. We are focusing on valuable brands and reliable private label manufacturers".
"At the same time, supported by our network of partners around the world, we have undertaken new incoming activities aimed at buyers, inviting selected non-European operators from South East Asia, as well as, for the first time, a large group of retailers from India, Singapore and Indonesia".
The show is also bringing in North American distributors by inviting buyer delegations from Canada and the US, in cooperation with NSRA, the American Association of Independent Retailers.
Latin American operators will also feature strongly. This market place has been reinvigorated by the nearshoring phenomenon that has seen part of the production previously assigned to Asia returning to the continent.
The show will also of course pay a good deal of attention to the European continent – the German area (DACH), France, Spain, Portugal – and particularly Scandinavian countries.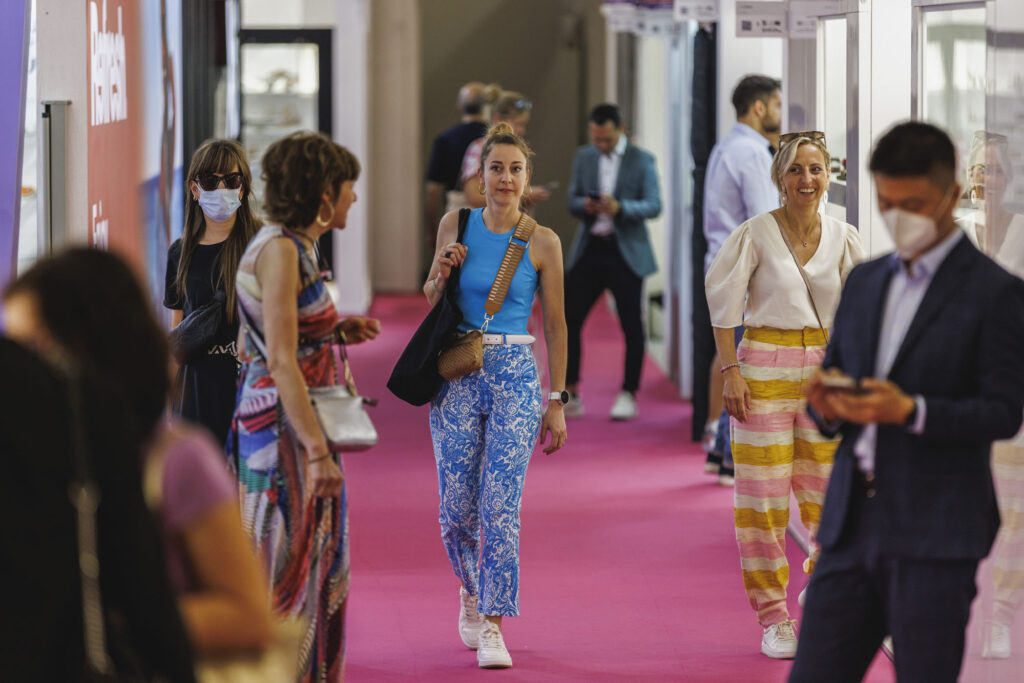 Post-Brexit Britain deserves a special mention. London will in fact host the resumption of activities on foreign soil of "Expo Riva Schuh Around the World" on 2 November. This prestigious event is designed for British buyers and manufacturers, and is organised in cooperation with the British Footwear Association (BFA) and Retail Hub.
This focus on foreign markets is fully justified and supported by industry data (source: World Footwear Yearbook 2022 by APICCAPS), which, in 2021, saw global footwear production grow by 8.6%, exceeding 22 billion pairs of shoes, 88% of which were made in Asia. This figure is growing, as is production in South America, which has emerged as the main production alternative to Asia.
China leads the world ranking of footwear exporting countries, with 60.4%. This supremacy could be threatened by Vietnam, which now accounts for around 10% of world exports, ranked second in the international table. Turkey has also made considerable progress, moving up from 8th place in 2017 to 4th place, after Indonesia.
All these countries and markets will be well represented in the Riva del Garda exhibition halls.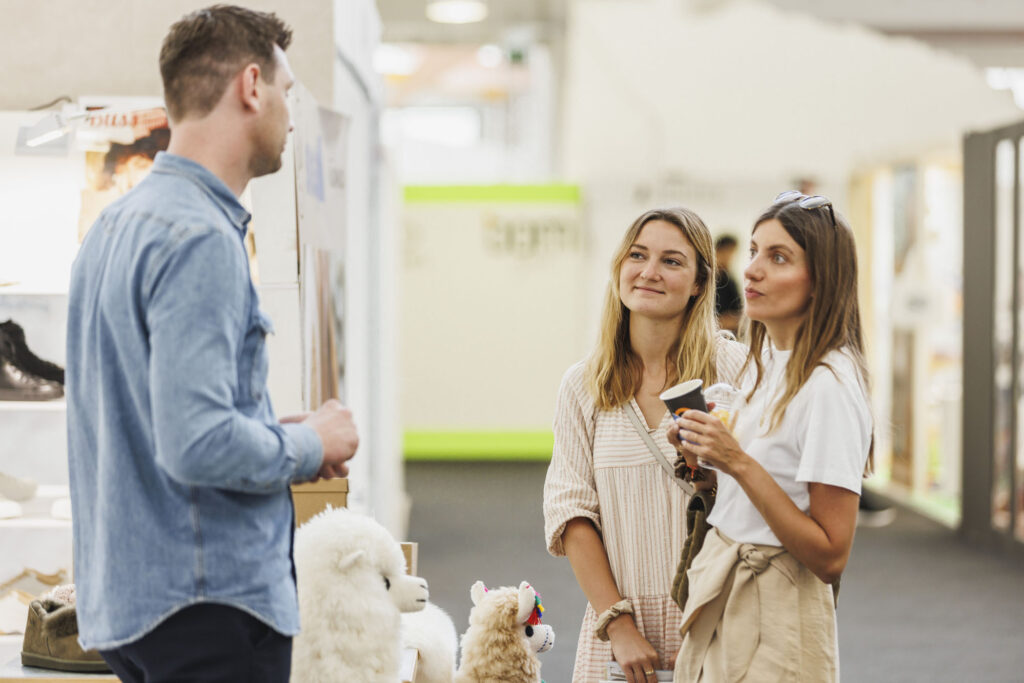 VISION AND INNOVATION
As highlighted by General Manager Alessandra Albarelli, Expo Riva Schuh & Gardabags has in the last few years been able to plot new and innovative business paths that were immediately welcomed and proved to be effective. These successful projects will be repeated in 2023.
Hybrid service
In the June 2022 show, this service made it possible for a large group of Chinese companies to take part. For those countries still experiencing travel restrictions in 2023, the show will continue to offer the Hybrid Stand service, which allows a physical exhibition space to be set up in which samples can be showcased. This is managed by qualified staff trained by the show organiser, and allows buyers to view and touch the various proposals, remotely connect with exhibitors and establish productive business relationships with them.
Innovation Village Retail
Expo Riva Schuh & Gardabags was the first industry show to devote ample space to distribution, believing in the potential of retail open to innovation and the future. A pioneering and forward-looking project: the place where the world of distribution can discover the best innovations for those who sell footwear and accessories. Open to start-ups, the space is designed to share the culture of innovation and is complemented by a busy programme of events, interviews, panel discussions and presentations.
There will also be a Start-up Competition (the call for entries will open shortly), organised in cooperation with Retail Hub, which will award the best innovation presented at the show. After only two years since its inception, the event is already unmissable, with start-ups from previous editions attracting so much interest and visibility that they have been invited to many other national and international shows.
Sustainability
For several shows now, Expo Riva Schuh & Gardabags has had an increasing focus on sustainability. We have again adopted a serious, in-depth and visionary approach to this issue.
The Expo Riva Schuh & Gardabags Scientific Committee has designed a precise path to explore the complex and varied themes of sustainability. The aim is to ensure that the event can make a concrete contribution to the entire international footwear industry by providing useful tools with which to choose, implement and promote their own sustainable initiatives.
Attention has been and will be focused on traceability as a special tool for the entire value chain to identify a common direction to follow. In the future, the show will thus have the tools to effectively promote the companies that adhere to the path. This will give buyers certainty, highlight the virtues of sustainable exhibitors and "push" the industry towards a conviction that investing in traceability is not a cost but a marketing advantage.
---