The Lakmé Fashion Week Summer/Resort 2018 season held in Mumbai at Jio Garden from January 31 to February 4 2018 unveiled a kaleidoscope of accessories, shoes and bags that were teamed with the various collections on the ramp. 
Flats seemed to be favoured in neutral colours for the footwear, while when it came to arm candy, the handbags were in vibrant colours and varying styles to keep in step with the garments. Just as many of the collections were gender neutral the footwear and the bags too could be interchanged by the couples should the need arise.
ACCESSORISE RIGHT
Jewellery and accessories have always been a major part of a fashion collection and are necessary to complete the total look. Designer Aratrik Dev Varman from Tripura added beautiful silver strands for necklaces, along with long rows of coins, loads of beads for the neck and clusters of mixed metallic neckpieces to highlight his garments. The addition of turbans gave a rustic tribal look to the collection.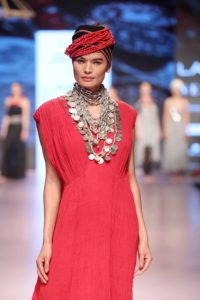 Designer Shantanu and Nikhil went totally tribal with their jewellery for their collection "The Tribe – The India Story". There were silver palm cuffs, necklaces, bracelets, belt buckles and rings all in intricate designs for both men and women.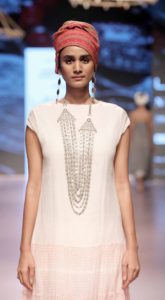 The SVA label too added chains of silver for the necks; while the Verandah label by Anjali Patel Mehta brought Boho Chic resort-cum-cruise wear to the forefront with her "Cruise 18 T91" collection inspired by tiger and Chhatris. Cummerbunds clasped the waist, while large tasselled, fabric earrings added to the safari inspiration.
CAPRESE COLLECTION
When it comes to handbags, the Caprese brand has a loyal following of fashion trendsetters. The Caprese label for stylish women's handbags is exactly what the name means – something that comes from or is the style of Capri – an Italian island off the coast near Naples.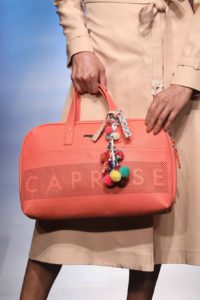 Speaking about the new collection, Sudip Ghose, SVP, VIP Industries Ltd said, "The Caprese brand is dedicated to bringing international high-fashion handbags and accessories to Indian women and this Spring/Summer collection from Caprese has been designed to appeal to every modern Indian woman who deserves the best of everything in life."
True to the international high-fashion lineage of Caprese, the latest Spring/Summer '18 collection offered a brilliant mix of high fashion and functionality. Crafted in modern contemporary silhouettes with a fresh and vivid colour palette consisting of both pleasing pastels and bold favourites like coral and olive, the collection offered a handbag for every occasion and need of today's modern woman.
This new collection from Caprese comprised a wide array of handbags like elegant totes, timeless satchels, sophisticated hobos, smart sling bags, functional laptop bags, and trend-setting backpacks along with awe-inspiring small accessories like chic wallets and clutches. These trendsetting handbags included in the collection exuded quiet opulence and subdued glamour, while they also came with a host of greatly desirable features for the modern woman.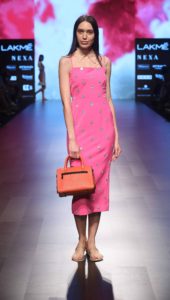 Spacious interiors, multiple compartments, detachable and adjustable shoulder straps and easy access zippered pockets made the brilliant new collection a must-have in every woman's Spring/Summer wardrobe. Handbags in the collection were attractively priced at Rs 1799 upward, sling bags onwards of Rs 1399 and wallets started at Rs 999.  The Caprese collection matched perfectly with Nishka Lulla's colourful clothes that had pops of hues for the easy silhouettes.
BAGS FOR ALL
A bag is a 'must have' for all women and at a fashion week they add the style quotient to a garment. Dhruv Kapoor's cute waist pouches in different sizes and colours added to the look of his collection, which had a tribal/Japanese vibe.
Falguni and Shane Peacock launched their menswear line. The collection called "Louche' was stylish and dazzling with glitter for men's wear. They added interesting portfolios and travel bags with wild colours, prints and slogans like "Fully Psycho', since the line was obviously aimed at the millennial dresser. To match the quirky quality of the bags there were embroidered shoes and loads of silver rings for the men to flash them at every event.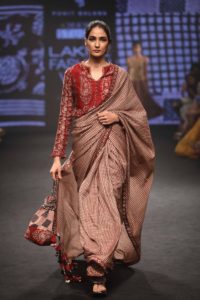 Jenjum Gadi from Nagaland used his Loinloom fabrics not only for his interesting garments but also used them for cross body travel bags.
Karishma Shahani Khan's Ka-Sha label matched the duffle bags to her creations. They were colourful with tassels and looked just right with the fun vibe of the clothes.
The Maku label brought by Santanu Das for his "In Transit" collection in indigo had practical medium-sized soft cloth bags in checks and solids for daily use.
Punit Balana's "Rose Garden" collection was all about pretty embroidered fabrics for his saris and ensembles, so it was multi-coloured fabric potlis that were ideal for his look.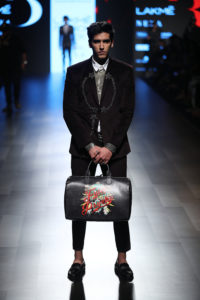 Designer Sonal Verma is known for her accessorise so for her label Rara Avis, Sonal added interesting bags and belts. From fanny packs or waist pouches as they are sometimes called, to large totes in bright colours and leather Obe belts, Sonal had a total accessorised look.
The holiday, cruise, resort, hopping style of Verandah was seen in the roomy bags in cane and clothe, either in the duffle or barrel shapes that can take all the holiday shopping and knick knacks comfortably.
The Vrisa label by Rahul and Shikha for their collection "Chapter of the Forest" added cross-body sling bags in pretty colours and fabrics. The sling bag has stayed on the fashion charts for years and for the next season too it is one of the ever-popular looks that women will love to have in their wardrobes. The designing Vrisa duo also added tasselled slippers and matching fanny packs – a cute combo that will be ideal for summer.
STEP IN STYLE
When it's summer fashionistas like to be very comfortable in the heat so the footwear normally revolves around flats that are easy to slip in and out of. Those stilettoes often take a back seat for many designers and sneakers seem to creep in for men as well as women.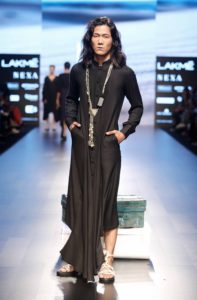 New footwear styles are a popular choice for trendsetters who like to keep in step with each season and they have to match the rise and fall of the mercury. Designers made it a point to add appropriate shoes to their collections to complete the look. Nakita Singh's nude laceups were just the right choice for her fluid, flowing, layered, looks.
Aikeyah by Isha Dhingra had a black and white theme for her garments called "Yin-Yang" so the black studded with white moccasins proved to be the right footwear. On the other hand there were some comfy black and white, lace-up, flat slip-ons that did go well with the theme.
The Amrich label by Amit Vijaya and Richard Pandav felt ankle high booties would be just right for their "Ties that Bind" line. They added on silver long chains as shoulder dusters for the ears to give a feminine look. Anamika Khanna too for her Lakmé Absolute Grand Finale inspired by the 'Nudes Reinvent' look added black boots to her ultra-glam garments.
The Anaam label by Sumiran Kabir Sharma for his gender-neutral clothes ensured that the footwear would please HIM and HER so strappy gladiators were in the forefront with long silver necklaces that could be shared by the fashion forward couple if required.
The "Songs of Summer" collection by Anita Dongre was a colourful, floral, bridal wear fantasy, so the embroidered slip-ons worked really well with the long ornate lehengas, cholis and dupattas.
Anvita Sharma and Asit Barik presented for their label TwoPointTwo a collection called "Gyne-Andro-Philia" that brought high platform wedges in black and white for women and gave the men just black summer sandals.
Ayushman Mitra's abstract printed line in bright colours was teamed with sober, black, white and red platform oxfords.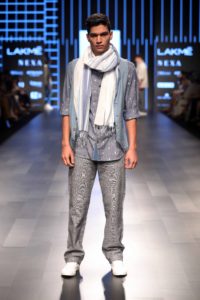 The Northeast designer Daniel Syiem from Meghalaya felt that simple black strappy slippers would work best with his garments.
Keeping the look simple and sporty, the Good Loom brand by GoCoop added plain white sneakers for the show. Jenjum Gadi of Nagaland ensured that his footwear reflected the feel of his home state so the white sneakers were hand painted with Nagaland scenes and images.
Ka-Sha by Karishma Shahani Khan had macramé as the medium for the slippers to match the vibrant colours of her clothes.
Oxfords are in again so Kuzu from Sikkim added them to her line in black, while Sayantan Sarkar chose them in brown. For a formal look nothing can beat gold or coloured platform sandals. They are comfortable and formal so both Lajjoo C and the label Vineet Rahul selected them.
White moccasins appeared for Padma Raj Keshri's Gen Next collection, which was in Yak and Merino wool, while Padmaja Krishnan gave a thumb's up to cloth wedged espadrilles and Rajesh Pratap Singh teamed his colourful Tencel  line with orange tracking boots.
Going a little unconventional and rebellious were Saaksha and Kinni who selected white rubber slippers seen on the beach or in the washroom and teamed them for their layered look.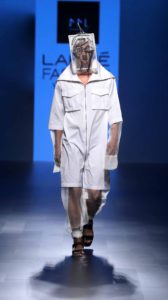 Slippers can be stylish too and for summer they can turn into elegant sandals with nude elegant Roman-inspired designs as visualised by Urvashi Kaur as well as Verandah for their summer wear.
Flat brown-layered ones work really well according to the brand Tahweave for the heated months ahead but The Label Ritu Kumar also gave a positive nod to white sneakers.
Tarun Tahiliani stayed loyal to transparent uppers for his Cinderella like heels that were perfect for his starry celestial "Tarakini" collection.
NEW REEBOK LAUNCH
Making its debut for the year 2018, Reebok came together with designer Gaurav Khanijo to infuse quintessential classic with contemporary pop fusion. Revisiting heritage roots, Khanijo's collection inspired from the Malgudi times, witnessed a creative collaboration with Reebok's Classic and Pump Supreme range that added a monochrome edge to the show.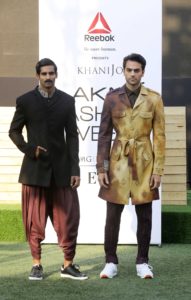 The collection was teamed with Reebok's Classic and Pump Supreme collection, which are today's renditions of the classic style era. Together, they created a sport-inspired look, symbolizing the creative interlinking of fashion and sneakers on the runway.
Adding to the Black and white theme of the show, the Reebok Classic collection made an effortless statement combing contemporary and vintage in its design, complementing the "Circa Malgudi" style. The models were also spotted wearing the newly launched Reebok Pump Supreme in India that gave the look of Functional Fashion.
The subtle hues of Khadi were supported by the interplay of the monotone Reebok collection, making the apparel a modern take on classic style.
Commenting on the association, Silvia Tallon, Senior Marketing Director, Reebok India said, "Reebok defines fashion as a personal style statement, celebrating the individual creativity. With the label Khanijo, we saw an instantaneous affinity showcasing the coming together of Modern and Retro, giving athleisure a defining element. The Reebok Classics and Pump Supreme are flexible yet fashionable accessories that complement the "Circa Malgudi" collection with their silhouette and looks."
By Meher Castelino