Lakmé Fashion Week Summer/Resort 2016 was a colourful fashion presentation for garments as well as for foot wear, jewellery, head gear and bags. Keeping the season in mind, the designers worked around printed fabrics as the basis for most of the foot wear and bags, which matched the garments perfectly. Styles were simple and practical making them easy to wear and ideal for the rising mercury. Foot wear seems to get more basic as comfort is the key word for the feet. Keeping sustainability in mind, leather was seen in very few styles with faux leather, canvas and fabrics being favoured by many designers.
– by

Meher Castelino
ACCESSORIES
DEEPA GURNANI – DECONSTRUCTED JEWELLERY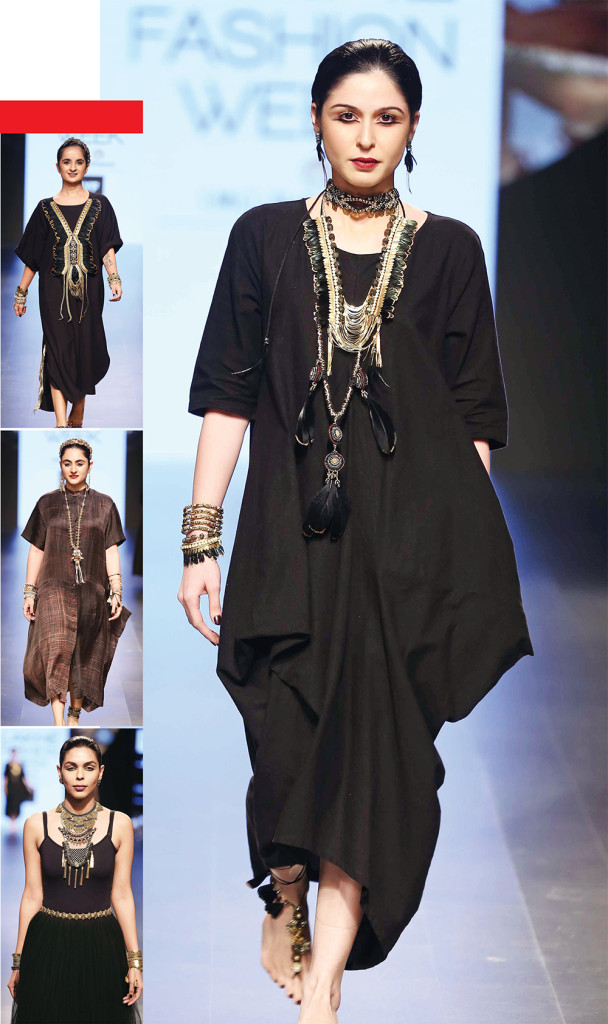 Deconstructed and reimaged jewellery by Deepa Gurnani along with Jay Lakhani called 'Oblivion' was presented in an innovative form under the arc lights with the theme being 'Live as One'. Brass was combined with mini pompoms, and crystals; while blood red stones glittered on antique metal and gilded feathered pieces. Semi-precious stones worked with embroidered jewels but the watery hues of blue, grey, soft waves, rivers, streams and faded pastels came seamlessly together with mother of pearl, metal, sequins for aemone flowers.
The richness of the earth and desert also inspired the jewellery and were visible with geodes of rocks, Druzy and lava beads with colours like red, earth tones and sun splashes. Hair accessories were given pride of place in the collection as crystallised statements had black and glittering gold accents. The flowing black, very tribal inspired garments that formed the base of the jewellery, brought to centre stage Deepa's fashion design creativity.
Deepa Gurnani's handmade accessories called 'Oblivion' reflected the true beauty and grandeur of Indian colours jewellery and clothes, which are perfect additions for summer wear.
RELIANCE FOOTPRINT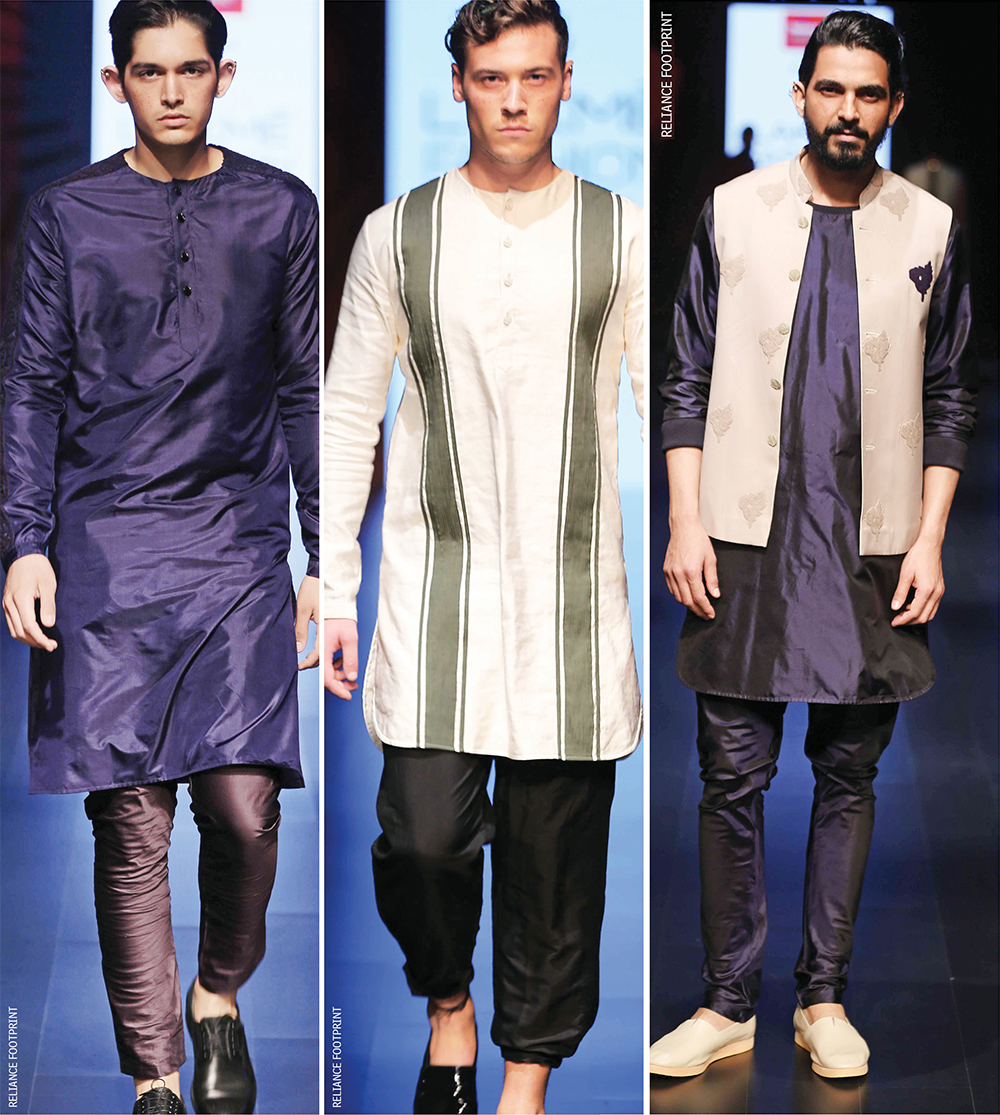 Adding to the masculine look of Kunal Rawal's "Between the Line" collection was the Reliance Footprint collection. Launched at the show was the Cristiano Ronaldo's CR7 collection. Available in select markets the Footprint will provide premium leather and quality Portuguese materials.
The very regimental ethnic wear was teamed with the footwear collection from Reliance Footprint, which featured brogue lace-ups, and some slip-ons in brown, black, two-tone patent leather options of black/beige or maroon/beige.
The Reliance Footprint store chain, which began in 2007 with the first store at Indiranagar in Bangalore now, has footwear and accessories stores in 120 cities and 250 stores.
FOOTWEAR, HEADGEAR AND BAG FASHION DIRECTIONS SUMMER/RESORT 2016
CROWNING GLORY
When it is Little Shilpa then there has to be some excitement for the Crowning Glory and the designer did not disappoint. A black and white head piece was form her spring summer 2016 collection called "Madness of Muchness" inspired by Lewis Carroll's classic Alice in Wonderland Book. The blue parallel giant curves on the head form the "Satellite 20.16" line was called "Earth Etc." created in neoprene polyester lace and in neon pastels. Shilpa's hand-crafted head pieces were outstanding in design detailing and execution; while the jewellery and apparel were inspired by her travels, cultures and global observations. Her medium for both the creations and the accessories was totally out-of-the-box as always, and Shilpa used nearly everything that can be turned into show stopping embellishments for the hair.

EVENING ELEGANCE
Get set for summer cocktail evenings in stylish high heels and wedges. Amit Aggarwal had them in beige with a gladiator like tie-ups around the ankle; Amrich preferred wedges with tassels and teamed them with matching leather overnight bag or 'T' straps deep beige ones with a comfy portfolio to carry. Amrich also added ankle strap black high heels with stylish shoulder bags but Nishka Lulla brought in multiple nude straps for high- heeled foot wear or silver straps with jute wedges. Anjali Patel Mehta's Verandah label created chunky white sling back platform wedges and teamed them with box suitcases for bags.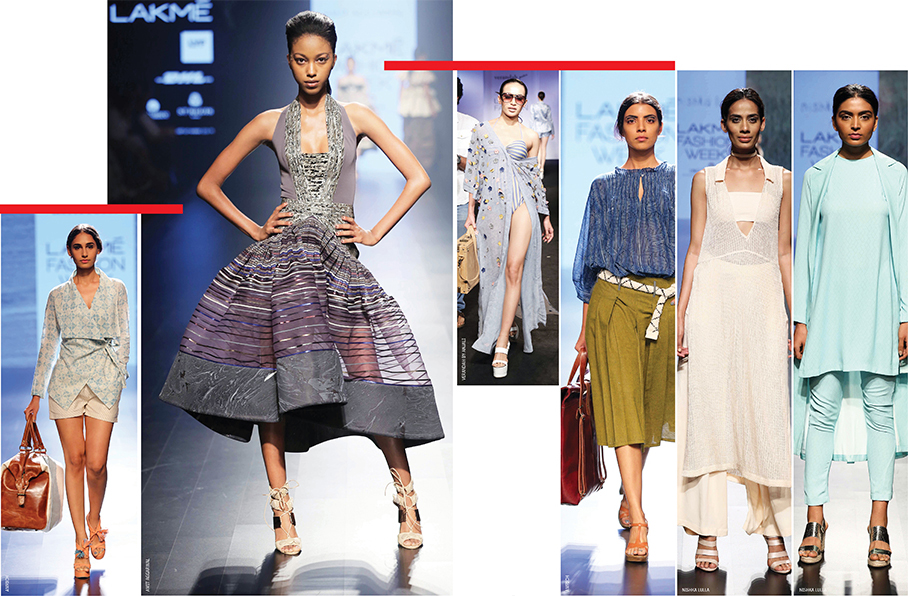 FLAT STORY
Keeping it comfortable and easy for the summer holidays flats were the favoured option for the feet. 11.11 CellDSGN showed simple white laceups, while Aiman had flat peep toe slip-ons. Archana Rao added summer foliage on brown laceups, while Doodlage kept it very basic with black canvas moccasins. Injiri's summer offering was feminine cloth Mary Janes in black or white with hand-knitted duffel bags. Payal Singhal's flat story matched the garments with mojris made from the same fabric. When it comes to Aneeth Arora, she had her individualistic look for this genre by having crochet booties for that angelic look.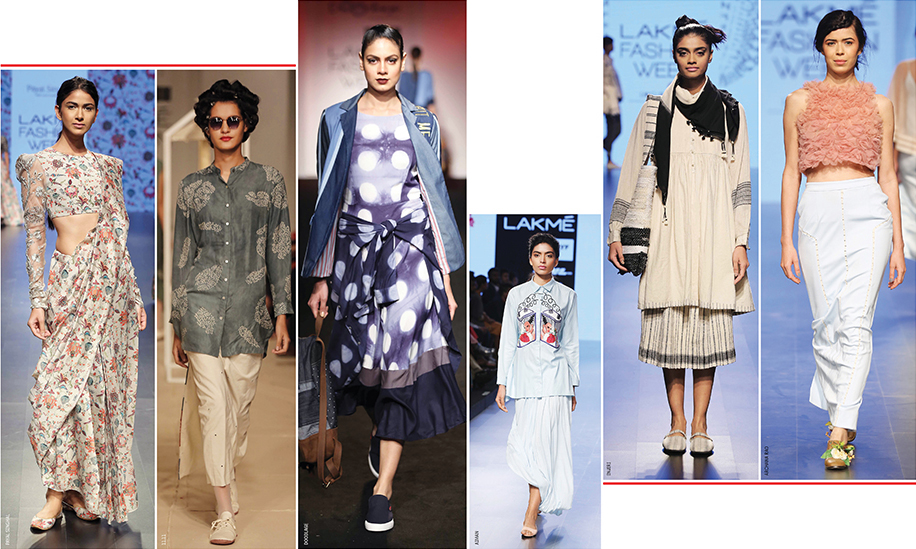 FUNKY LACEUPS
When it comes to funky laceups, Ajay Kumar presented a flower power look for matching shoes and printed duffel bags. From Dhruv Kapoor it was ankle high black bootees with contrast white laces, while Huemn went for the masculine black laceups with matching socks. Ka-Sha gave conventional sneakers a bright colourful look while Swati Vijaivargie and Vrisa created them in fabric to match their outfits along with roomy cloth bags.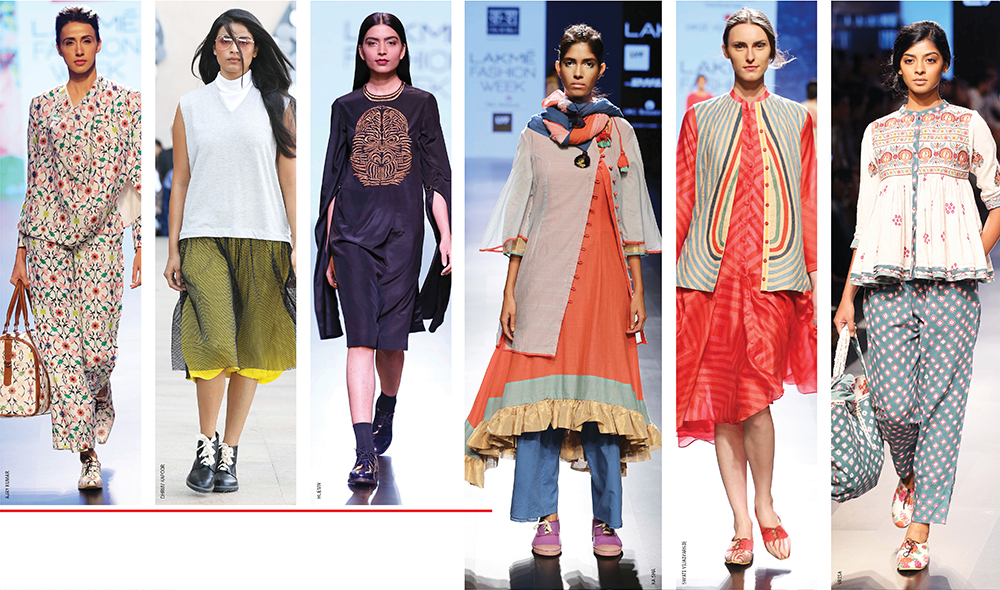 GLADIATOR GLORY
The gladiator look seems to have a permanent place for summer foot wear. Aish offered black mini gladiators with gold laces while Shivan and Narresh went for high heels and a futuristic look for the straps that encased the leg all the way up to the calves. Swati Kalsi presented her version with woven leather uppers and dual leather straps above the ankles. The Meraki Project remained true to the original Roman Gladiator style for the brown version that snaked up to the calves.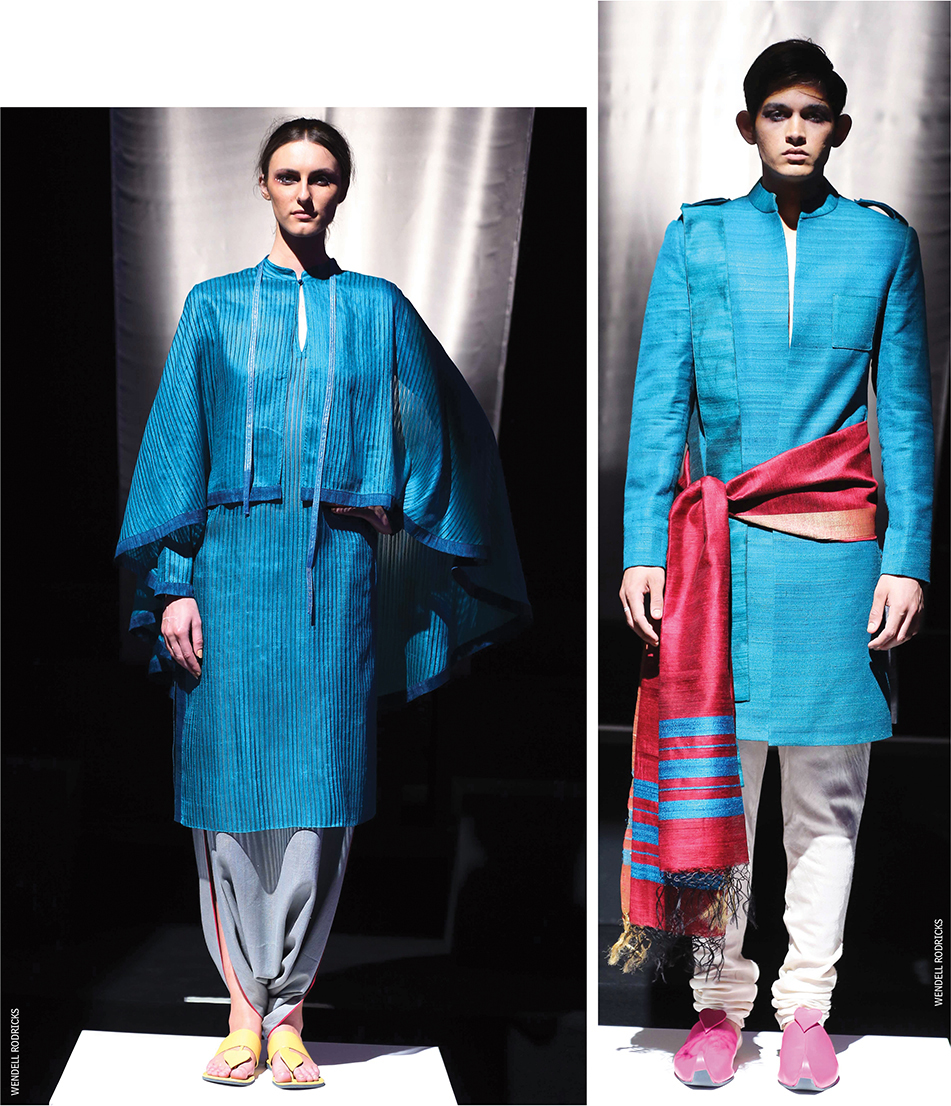 HERITAGE LOOK
There was a marked Indian touch for his "Indica Emporia" collection by Wendell Rodricks who went totally rustic with yellow tong slippers and dramatic pink mojris for men. Made from silk they were a perfect match for the very innovative Indian collection.
SUMMER BOOTIES
They are back for formal wear, and Sahil Kochhar had them in black ankle length styles as well as a platform version in nude leather.
SUMMER SANDALS
What is summer without sandals, and there is a wide choice to pick form. Aarti Vijay Gupta had them in a strappy brown version with ankle straps. Dhruv Vaish gave men a stylish thong style, while Poco and Jacky had multiple straps for beach wear lounging in beige or brown. Pratima Pandey's glittering sandals and Quirkbox's Granny cloth ones were perfect for the rising mercury. Sneha Arora had black or brown leather sling back styles for easy movement.

SUMMER SLIPONS
For long walks during summer evenings nothing is more comfortable than slip-ons in canvas. Rimi Nayak had them in indigo to match her collection while Rahul Mishra showed buckled white ones with his collection called "Knots of Love". Ujjawal Dubey kept them basic for men in white canvas again. Shimmer and shine appeared for thick soled glitzy slip-ons from Farah Sanjana.
WEDGE THEM
The wedges are the perfect summer footwear option. Dhruv Kapoor's brown cross strap style was comfortable. Urvashi Kaur went for chunky wedges in white with broad wrap around straps and Mrinalini added slim brown straps to give a feminine look to this elegant comfortable foot wear.