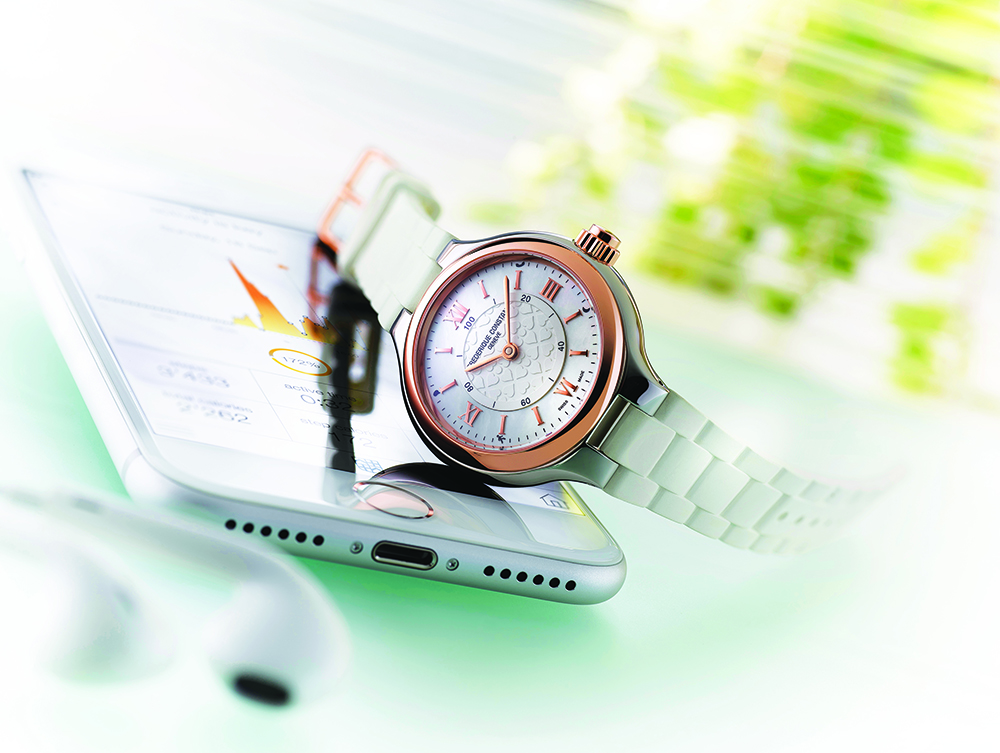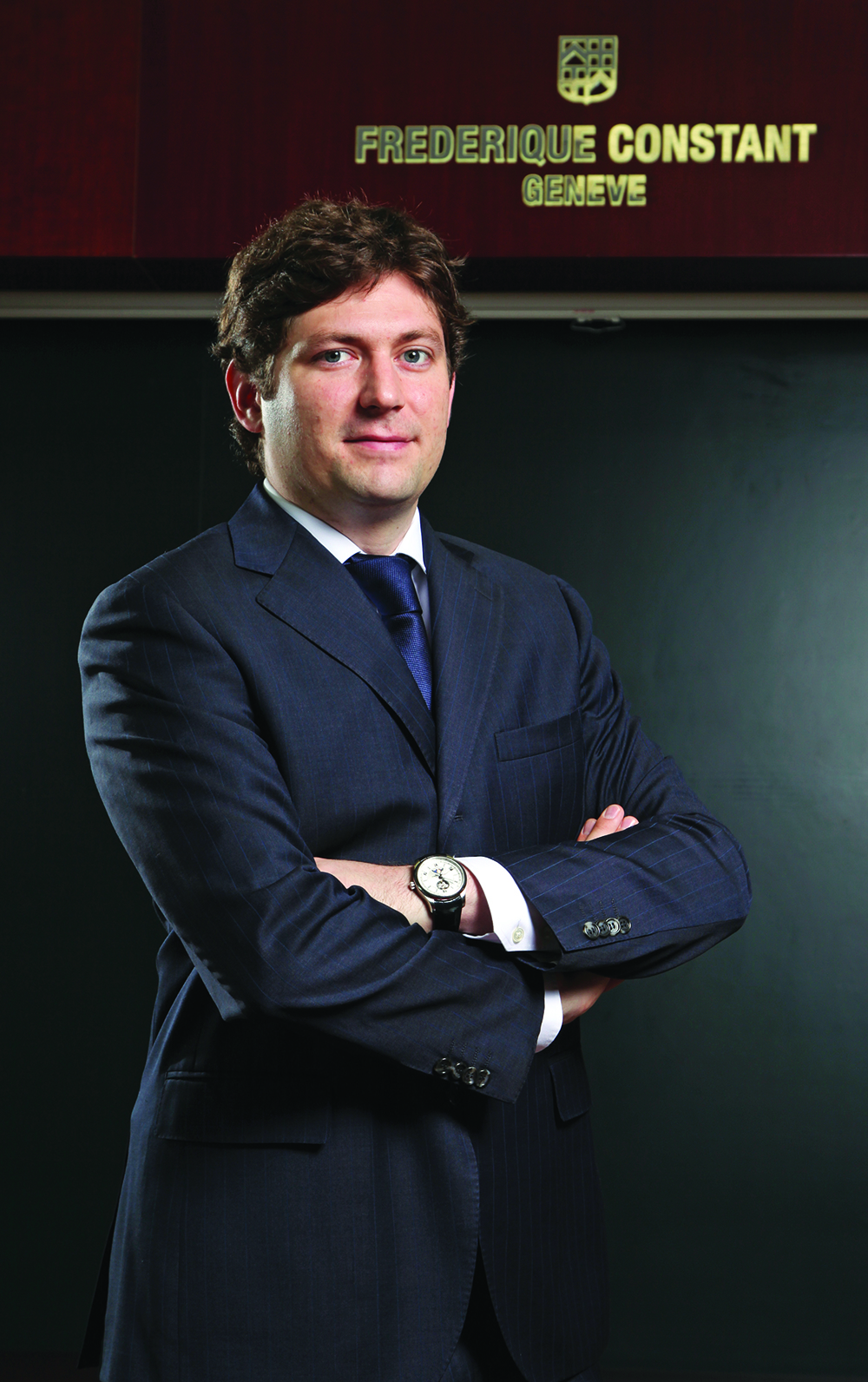 Frederique Constant has a passion for design of beautiful watches. Their perceived value through quality of design, materials and manufacturing is the key component of its success. Sebastien Cretegny, Managing Director, Frederique Constant shares his views with S&A…
Frederique Constant is a watch manufacturer based in Plan-les-Ouates, Geneva. The company is involved in all stages of watch production, from initial design to final assembly and quality control. Frederique Constant watches are defined by their high quality, differentiation and precision in design and manufacture. Each watch is assembled by hand and extensively controlled with latest equipment to ensure maximum quality and durability. The company innovates to offer creativity and exceptional value. Its 3200 square meters facility in Plan-lesOuates, Geneva is ultra modern and offers the best environment for its passionate watchmakers. Production has exceeded 138'000 time pieces in 2014 and watches are sold in over 2'800 POS around the world.
Tell us about the Smartwatch.
First Frederique Constant was the first Swiss Watchmaker to Develop and introduce a connected timepiece made-in-Switzerland, the Horological Smart watch, which was initially only available for Gents. We typically see that women are much more sensitive to health and well-being related concepts, it was only logical for FC to release a product, which was finally feminine, elegant embodying the latest technologies Ladies are looking for. This line was specially developed for women, its smaller and more sophisticated than other products available on the market, displaying functions by hands and vibration. Main features are ACTIVITY, SLEEP, CALL and MESSAGE NOTIFICATIONS.
Frederique Constant encourages women to Move More, Sleep Better, Improve!
Your understanding on Smart watches market in India and Globally. 
Since the launch of our Horological Smart watch, we have sold more than 25K pcs, so it is undeniable that a new market has opened up and we are happy to have been a pioneer in developing and contributing this new category. India has a close relationship with IT, it is therefore only logical that consumers are more attracted by the latest technologies and inclined in adopting them faster than elsewhere. In fact India has been one of our most successful market so far.
How challenging is to expand in India? After all, your products are a high-end brand and not a mass-market brand.
The main challenge in India remains geographical expanse. Expansion is limited by the territory constraints. However, the growth Frederique Constant is experiencing in India for the almost 10 years now, has been very steady and stable. There is in India a long history of watch making and watch aficionados, who recognize the craftsmanship of our time pieces.
Who is your target customer?  
Typically the young executive, active in the modern world with an International involvement. The one who are sophisticated enough to be willing to differentiate themselves from others and have a passion for details and classical time pieces. Price sensitivity is a crucial aspect; we offer beautiful watches at affordable prices.
How important is an emerging market like India for the brand?
Extremely important, in fact,Frederique Constant has been present in India for more than 10 years now and thanks to our partners, the Brand has enjoyed solid growths along the past years. Future perspective are very encouraging too, reason why we have decided to invest in India with local Ambassadors, etc.
Moving ahead, what will be the marketing strategy for the brand?
We will mostly continue applying what has been successful so far and the activities that have contributed to the Brand success in India. Understanding the local relevancy is key, therefore we tent to localize our Brand Communication and get involved in various domestic Events, such as Polo, etc.
First Frederique Constant was the first Swiss Watchmaker to Develop and introduce a connected timepiece made-in-Switzerland, the Horological Smartwatch…
How integral is digital media for the brand?
Digital Media is more than integrated for Frederique Constant; it represents more than 30% of our activities today. Especially in a market like India, embracing Digital era is part of every discussion my Team and I would have in terms of Brand Communication.
What would be the impact of GST on the brand?
GST is a very well conceived and extremely productive taxation process. The brand has taken suitable steps to ensure complete compliance with government guidelines. Implementing GST does not necessarily mean any change in earnings. It just means that the process is different. Therefore there will be no change in MRP either.
How is the Indian consumer evolving? What's your strategy to keep the consumer hooked to your brand?
We want to be relevant in their Community. We want the consumers to be proud of wearing their Frederique Constant; they are our first Ambassadors so it is our responsibility to deliver the promise. Consumers knowledge has significantly increased in the past years, of course internet,bloggers, etc. have largely contributed to this sophistication. Today, 60% ofthe potential consumers, research first about Frederique Constant online.
Is there any other strategy to grow your customer base?
We feel the Smartwatch has contributed to grow the potentialcustomer base. With this particular product, we have explored new territories outside of our typical Luxury boundaries; this has had a beneficial impact in increasing the Brand awareness amongst new audiences.
You can't always get it right. Has there been an instance where a strategy went completely wrong?
Strategies are never right and wrong. There is always a significant or marginal success in every strategy. For Frederique Constant we are happy to say that success has been significant.
How do you work and rework strategies at your company? Hasn't yourTarget customer changed anyway?
This is a constant process of brand evolution in a developing market. With every change in product configuration there is also a subtle change in either customer profile or perceived customer value. We continuously monitor these changes and accordingly decide on the strategies.
India, by virtue of being so diverse, is a tricky market for companies to market their products… how critical is India to the global revenues plans for you?
India is certainly diverse but its potential size allows even very focused segmentation to be hugely significant.It will therefore be a high focus area in the years to come.
Could you share with the readers the most exciting thing happening at the brand, in India?
This year the excitement comes from the introduction of the all-new Fly Back Chronograph for men and the Smartwatch for women.
To your mind, what is the key to getting the best out of your communications agencies?
Relevance, consistency and simplicity are the key to a good communication strategy.