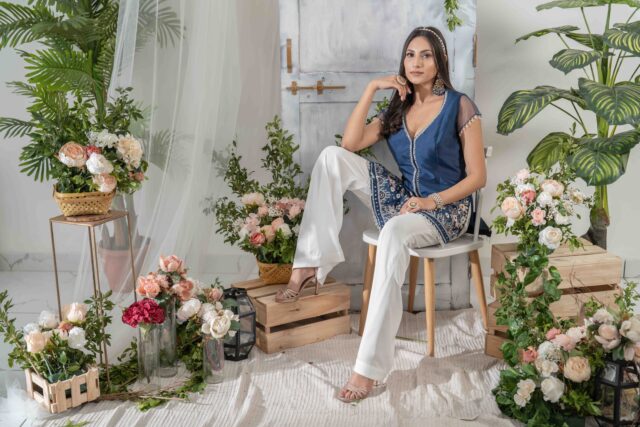 Tamaraa By Tahani has announced the launch of their new Festive Edit'21 collection Alaisa- A Perennial Odyssey.
This collection is dedicated to all celebrations and the joyous moments one finds themselves immersed in during this time of the year! Having said that, there are a lot of great silhouettes and craftsmanship incorporated in this collection, offering a new twist on classics. That you surely don't want to miss out!
The Indian Festivals have a special place in our hearts. Whether we're spending time with loved ones or dressing up for parties and celebrations – this is arguably the best season of the year! This year, Tamaraa by Tahani has launched its festive pret collection, which embodies the true spirit of our culture and traditions.
Alaisa- A Perennial Odyssey inspired by the vibrant colors, delicious foods, and fun vibes that characterize Indian festivals. The collection draws inspiration from the lively colours of the festivities like incorporating cherry red, navy blue, and green, but also combines new hues such as lime green, off-white, pinks, peaches, sky blue, emerald and maroon to create a colour palette for everyone. Mostly monochromatic, these spirited outfits don't even need any accessories to make an impact.
 "This season it's all about comfort combined with style. Our jacket styles are versatile and can be paired with jeans, trousers, dhoti pants, shararas and more. The drape sarees too can be styled in various ways while being extremely comfortable and hassle free,"explains Tahani Manaquib, founder and designer at Tamaraa by Tahani.
Adding a new take on the silhouettes, Tamaraa by Tahani has introduced exquisite corset strap blouses and jacket kurta sets in various lengths along with the brand's signature draping and sharara sets in their new collection- Alaisa. The elegant silhouettes in this collection are versatile and comfortable, perfect for weddings and parties alike. Handcrafted With Mirror Sequin, Cutdana and Resham Work on luxurious fabrics of organza, georgette, and silk, these regal creations are elegantly sewn with beautiful crystal tassels and details like a cherry on the cake!
"A common rule of thumb for styling is to never have a top and bottom heavy. Opt for either – if you are going for a heavier top and plain bottom, keep the jewellery light. If the neckline is broad you can add in a statement necklace complimenting the colours and embroidery or work on the top."
Aalisa is an ethereal collection that brings the awe and majesty of Indian festivals to the next level through exhilarating craftsmanship and high-spirited colours.