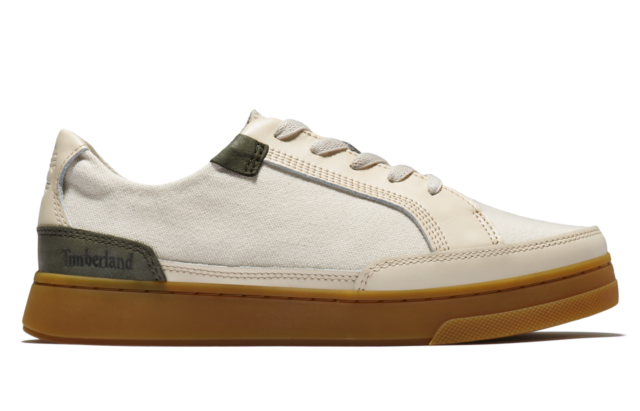 Timberland has launched new footwear made of Community Cotton grown in Haiti, after the company re-introduced cotton farming in the country in partnership with the Smallholder Farmers Alliance (SFA). The company set out in 2016 to create a new supply chain for sustainable cotton, while at the same time advancing the reforestation of Haiti.
Timberland products using Community Cotton fibre are part of its Spring 2021 collection. Styles include the women's Atlanta Green EK+ Sneakers, men's TrueCloud EK+ Sneakers and Caswell EK+ Bags. The EK+ nomenclature indicates that these are Earthkeepers Edition styles, representing Timberland's eco-innovations, the company said in a press release.
"Five years ago, Timberland set out with a vision to bring cotton farming back to Haiti after a 30-year hiatus. Today, we are incredibly proud to have a new source of responsibly-grown cotton. We branded it Community Cotton, because the agroforestry model plants trees, increases farm productivity, and enhances farmers' incomes and lives," said Atlanta McIlwraith, director of global community engagement and activation for Timberland.
Timberland first partnered with SFA in 2010 to plant five million trees in five years in Haiti. To fulfil that commitment, the SFA created its Tree Currency agroforestry model to engage smallholder farmers to grow, transplant and care for trees.
By the end of five years, not only had SFA planted five million trees, but they had also delivered significant benefits to the farmers. On average, the 6,000 SFA farmers engaged in the programme saw a 40 per cent increase in their crop yields and a 50 per cent to 100 per cent increase in their incomes. Encouraged by these results, Timberland decided to explore cotton as a crop that farmers could grow and the brand could use in its products – evolving from a supporter of the Haitian smallholder farming community to a customer.
The new cotton supply chain is open to other brands and industries, not just Timberland, to expand the opportunity and ensure diversification for the farmers.
Timberland also recently pledged to plant 50 million trees worldwide by 2025. The SFA will plant 25 million of the committed trees in Haiti as part of this effort.