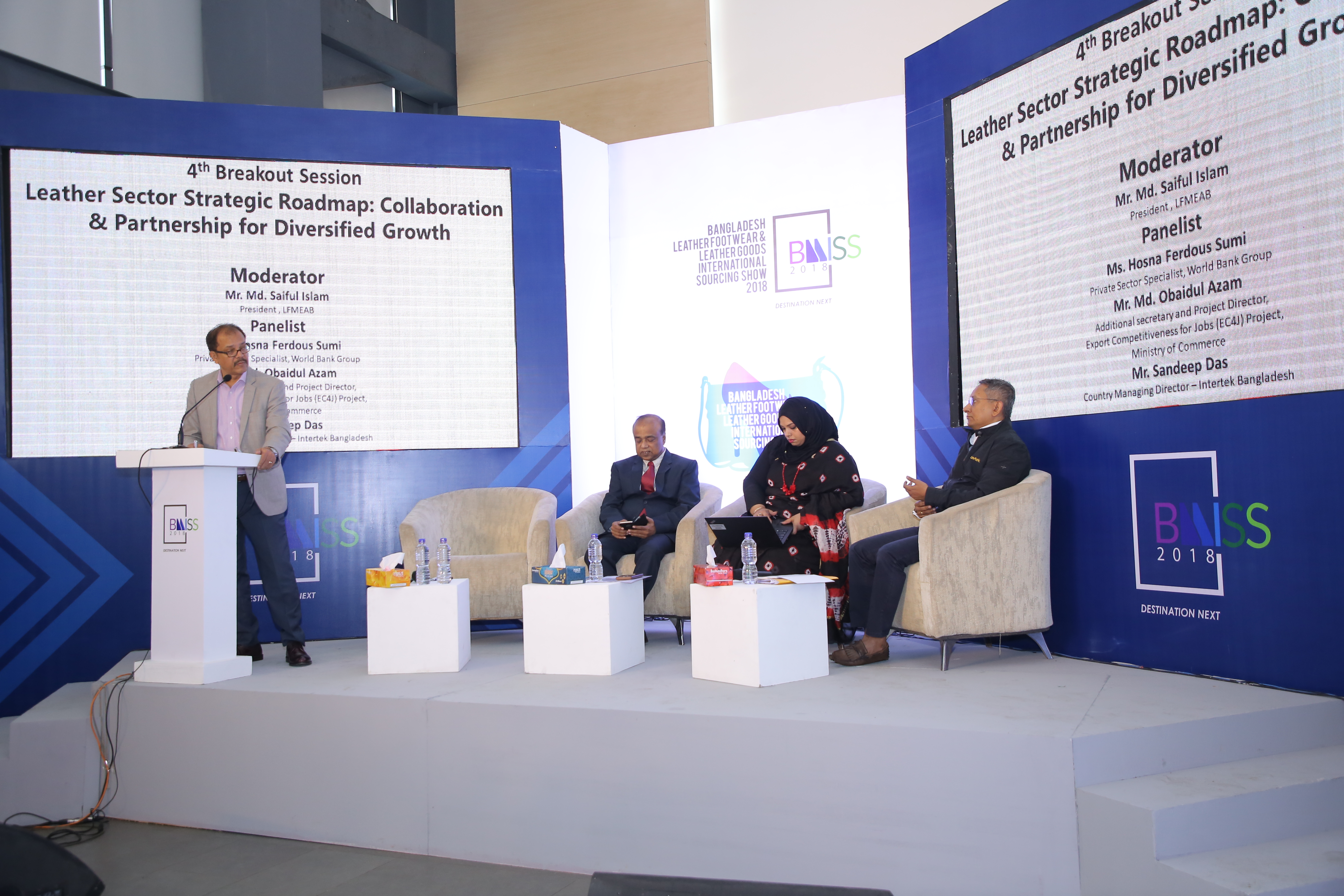 Being organized in third consecutive years, BLLISS 2019 (Bangladesh Leather footwear & Leathergoods International Sourcing Show) is set to strengthen its position as an effective and future proof sourcing platform in global leathergoods and footwear competitive supply chain.
Leathergoods And Footwear Manufacturers & Exporters Association of Bangladesh (LFMEAB) Jointly with Ministry of Commerce, Government of the People's Republic of Bangladesh is going to organize the 3rd edition of BLLISS 2019. The event will be held from 31st October – 2nd November, 2019 at International Convention City, Bashundhara in Dhaka, Bangladesh. The show will be inaugurated by Sheikh Hasina, Prime Minister of People's Republic of Bangladesh.
Different brands and buyers from Hong Kong (SAR), Germany, Australia, Italy, Japan, France, United States of America, China, Belgium, United Kingdom, Sweden, India, and Ethiopia are expected to visit BLLISS 2019, where one could discover quality, reliability, competitiveness and emergence—a complete package to fulfill the sourcing needs.
At present, Bangladesh leather goods and footwear industry has preferential market access to 3 billion people around the world. With its liberal foreign investment policy, the industry has been able to attract substantial foreign investment. Last year, FDI in leather goods and footwear sector has increased by more than 40%. Currently, it is one of the fastest growing footwear industries in the world, 6th in production, 11h in consumption, 20th in export, and 73rd in import, GSP facility EU – 28 countries, and GSP facility others – 10 countries and exported in more than 107 countries in 2018.
Besides, bold local entrepreneurship, drive for export diversification of higher domestic value addition and government's support scheme are facilitating industry to emerge as future proof sourcing in global supply chain. Footwear Distributors and Retailers of America (FDRA) has marked Bangladesh as one of the major potential hubs for global value chain of footwear; and the industry is materializing international compliance awareness such as ISO 14001, ISO 45001-2018, beyond compliance initiatives, Occupational Health and Safety Management, eco-criteria, sustainable consumption and production, and green growth practices as part of consolidating our place in global supply chain.
The third edition of BLLISS will focus on the effectiveness of Bangladesh as a future proof sourcing destination. In the recent trade international trade climate, Bangladesh will play an important role as a manufacturing hub. BLLISS 2019 will put emphasis on Bangladesh's growth story, move towards adapting new technology, consciousness towards sustainable manufacturing and the reaping of the demographic dividend of Bangladesh.
BLLISS aims to be more than just a sourcing trade show. It is a platform which creates opportunities for manufacturers and brands to form connections and meaningful partnerships which will facilitate the formation of future proof sourcing solutions. BLLISS 2019 will showcase the leading leather goods and footwear manufacturers of the country and will provide opportunities for investors and brands to gain a holistic idea about the leather sector in Bangladesh. The breakout sessions will also provide in-depth views about issues pertaining to the development of the sector. BLLISS 2019 will offer the opportunity for both manufacturers and brands to create synergies through collaborations and partnerships in the leather sector.
As part of BLLISS 2019 you can also participate in our "Buyer-Seller Meets" by the sidelines and Catch up with "Factory Visits" to get a first-hand look at the factories and get in-depth knowledge on productivity, efficiency and sustainability drives they are undertaking. Looking beyond sourcing, you will be able to explore investment opportunity collaboration and joint venture. You can meet the Government officials to know more about support schemes offered and why Bangladesh is an obvious sourcing and investment destination in this part of the world!!
DATE & VENUE
Inauguration: Wednesday, 30th October, 2019, Bangabandhu International Conference Center (BICC), Agargaon, Sher-E-Bangla Nagar, Dhaka, Bangladesh.
Opening: Sheikh Hasina, MP, the Honourable Prime Minister of the People's Republic of Bangladesh will inaugurate this grand show on Wednesday, 30th October, 2019.
Exhibition: 31st October – 2nd November, 2019 at International Convention City, Bashundhara in Dhaka, Bangladesh.
4 pillars of 3rd edition of BLLISS 2019
Bangladesh growth story, Technology and adaptability, Moving towards sustainability and Demographic dividend in Bangladesh
Breakout sessions
Sustainability, Empowerment of women in mid-management and  Strategies to penetrate new markets
TARGET GROUP
Brand Representatives, Buyers, Distributors, Sourcing Agents, Designers & Industry Experts, are expected to visit the show both from overseas and Bangladesh; as well as potential investors, ancillary service providers and government agencies will also attend.
TYPES OF EXHIBITORS
:Showcasing the products made & sourced from Bangladesh
:There will be 10 pavilions and 30 stands.
:Leading local manufacturers & global brands sourcing from Bangladesh will be exhibiting products.
EXHIBIT CATEGORIES: MANUFACTURERS & EXPORTERS (includes but not limited to)
FOOTWEAR
Children: Boot& High top, House Slipper, Pump, flat oxford, derby, moccasins, brogue, loafer, platform, Sandals& flip flop, Sports footwear & sneaker
Men: Boot& high top, House slippers, Loafers, oxfords, brogues, mules, boat shoes &moccasins, Sandals& flip flops, Sports footwear & sneakers
Women: Boots & High tops, House slippers, Pumps, flats, oxfords, brogues, loafers, platforms, Sandals& flip flops, Sports footwear & sneakers
BAGS: Brief cases, school satchels & messenger bags, Handbags, clutches & shoulder bags, Other bags & cases, Purses, pouches & wallets, Travel bags, toilet bags, rucksacks & sports bags, Trunks, suitcases & vanity cases
ACCESSORIES: Belts & Gloves
Fore more: www.blliss.net   www.lfmeab.org  www.leatherbangladesh.org