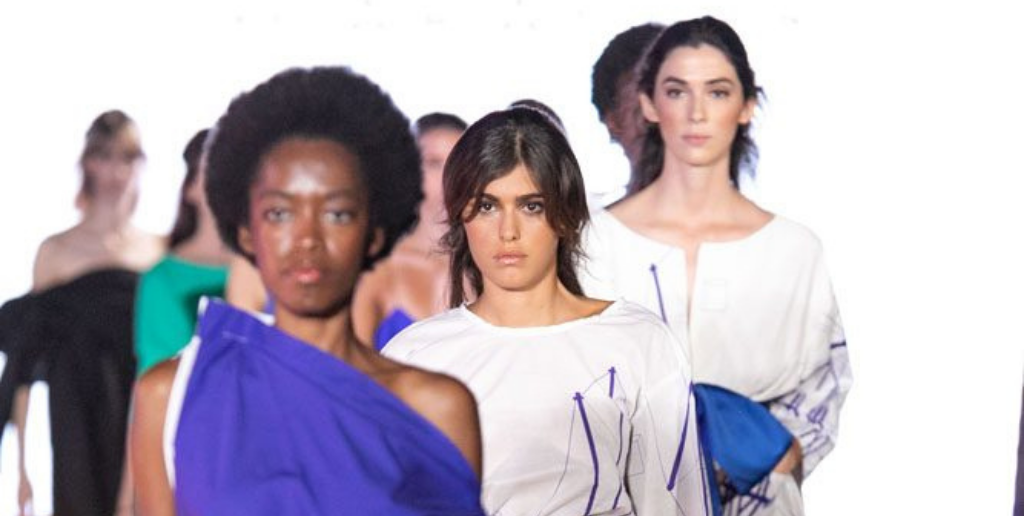 WHO IS ON NEXT? 2020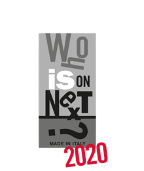 Despite the global health care emergency, the most awaited initiative of the Rome Fashion Week, Who Is On Next?, has not stopped. The fashion scouting project for young talents, now in its sixteenth edition, announces its finalists. Altaroma and Vogue Italia renew their partnership aimed at supporting the search for and promotion of emerging designers in the prêt-à-porter and accessories' categories. This is a unique opportunity, which allows the selected brands to present their creations to a jury of experts and to receive support to consolidate their positions in national and international markets.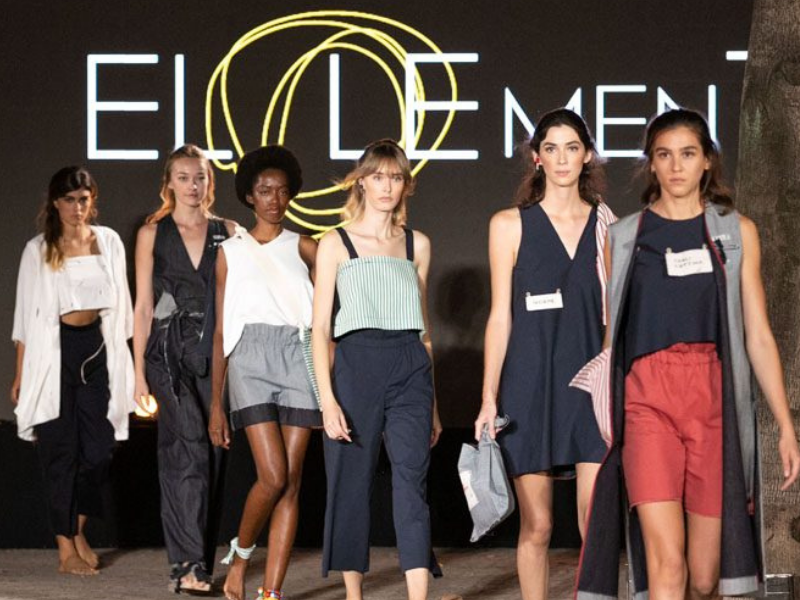 The Committee, formed by Sara Sozzani Maino, Deputy Director of Vogue Italia, Head of Vogue Talents and International Brand Ambassador of the National Chamber for Italian Fashion, and Simonetta Gianfelici, Fashion Consultant, Talent Scout and Head of the "Who Is On Next?" Project for Altaroma, has selected the 12 finalists of this edition from over 200 participants.
The finalists in the prêt-à-porter category are: AC9, Alexandre Blanc, DALPAOS, Des Phemmes, Dima Leu, Francesco Murano, Gall, Roi du Lac and Vaderetro. In the accessories' category: IIndaco, Melip and ZEROUNDICI Eyewear.
Prêt-à-porter:
AC9
AC9 was launched in September 2019 by Sicilian designer Alfredo Cortese with the spring-summer 2020 collection. Its essential, clean lines inspired by Northern design – combined with Italian taste – are the distinctive feature of the brand. Its fluid, charming, natural and versatile garments are a powerful way to express oneself through linear, simple and at the same time sensual collections. ac9world.com
ALEXANDRE BLANC
Alexandre Blanc was created as a ready-to-wear brand, using a haute couture approach based on small, sustainable collections. The brand mainly focuses on the volumes of garments to create looks for an aristocratic, natural, slightly bohemian woman, who is not afraid of showing her vulnerabilities and her freedom to wear garments that express her true personality. Through a distinctive combination of colours and prints, garments are constructed – but never constrictive – and they are designed for everyday use. All fabrics and garments are designed and made in Italy, with a local supply chain and a local approach to development and production. Alexandreblancparis.com
DALPAOS
DALPAOS originated as a capsule collection of unisex clothes made with fabrics recycled from furniture, unsold garments and unique artists' designs. This has remained the basic brand concept: the combination of design and materials, of artistic inspiration and ethical products. Every season, with the expansion of collections, the brand has taken shape and evolved gradually. Classic garments are reinterpreted in a modern way. High-quality fabrics, fine tailoring, ease of wear are all combined in the search for the perfect balance between classic and new. DALPAOS has worked with mostly natural products since the very beginning. Indeed, nowadays true research is about sustainability & ethics. dalpaos.com
DES PHEMMES
The main focus of the brand is creating an effortless and contemporary look that transcends seasonal trends and promotes an intellectual and timeless aesthetic idea, dismantling the stereotypes of femininity. The distinctive features of the brand are the research in fabrics, the marked interest in colours and the strong taste for haute couture in proportions and details. The brand appeals to a well-educated woman with a strong character and a spontaneous, personal approach to fashion.
DIMA LEU
DIMA LEU is a menswear and unisex brand which was founded in Italy in 2015 by its eponymous designer. The brand redesigns sportswear in a sophisticated way, bringing together sport and tailoring and mixing traditional men's suits with two-piece tracksuits. Its collections combine the freedom that sportswear leaves to the body with the style and elegance of classic fabrics. This is how sporty, comfortable and easy-to-wear garments are created which, thanks to their construction and to the choice of fabrics, can replace a suit. Furthermore, the brand has adopted a sustainable approach to production since the very beginning, offering its clients some limited-edition garments entirely made in Italy with dead stock fabrics. Starting from the SS20 collection, thanks to the collaboration with Italian textile producers and to the use of fabrics they had in their archives, this approach has been extended to most of the collection. dimaleu.com
FRANCESCO MURANO
Francesco Murano, an IED graduate, won the Milano Moda Graduate award in 2019 with his collection "Ossimòro Plastico". His garments were chosen by Beyoncé for the video of "SPIRIT", her song from the soundtrack of the live-action remake of "The Lion King". At the 2020 Roc Nation Pre-Grammy Brunch, she wore an outfit that was specifically requested and designed for her personal wardrobe. In November 2019, on the occasion of the 25th anniversary of IED Madrid, Francesco Murano designed two outfits inspired by the architecture of New York City's Guggenheim Museum. The outfits were presented during the fashion show "IED 25" which took place in the wonderful setting of the Bilbao's Guggenheim Museum.
GALL
Justin Gall is an American designer who combines his skills in human physiology, art, graphics and fashion design to create the modern world of GALL. Justin Gall is one of a rare breed of designers, very proud of doing everything on his own: from his modular design to his abstract prints and graphic patterns, through the photos of finished products in every lookbook, which he personally takes. Working in this way, his vision and his creations can evolve constantly without distractions. gallclothing.com
ROI DU LAC
Founded in 2016, Roi du Lac has a ready-to-wear womenswear collection, a menswear collection and a collection of accessories for both men and women. The brand's most distinctive features are Marco Kinloch's hand-drawn prints and his commitment to offering clients a product entirely handmade in Italy. Since its creation, Roi du Lac has been known for its "Home" collection, which includes wallpaper, textiles, dinnerware and scented candles. The brand is present in several Countries, from the US to Japan, with more than forty sales outlets. roidulac.com
VADERETRO
A bit anachronistic, a bit old-fashioned, Vaderetro is a brand which champions anti-modern looks. Its unique and genderless style transcends all social barriers to convey a vision of effortless outfits. The brand selects, rediscovers and rethinks the essential garments of the past and, by reinventing them, it creates something new. Vaderetro is a sort of rebellion which celebrates individuality and self-creation and resists a world of uniformity, like mass fashion. Through its collections, it demonstrates that there is no need to be the whole to be part of the whole. vaderetrolab.com
Accessories:
IINDACO
The IINDACO brand originated from the passion of two Italian designers, Pamela Costantini and Domitilla Rapisardi, as an ambassador of a mix of design, art, culture and craftsmanship. It finds its natural expression in a line of shoes intended for women who pay attention to details and artisanal quality and who wish to buy something more than just a product. IINDACO goes beyond ideas and intuitions: it is a lifestyle. iindaco.com
MELIP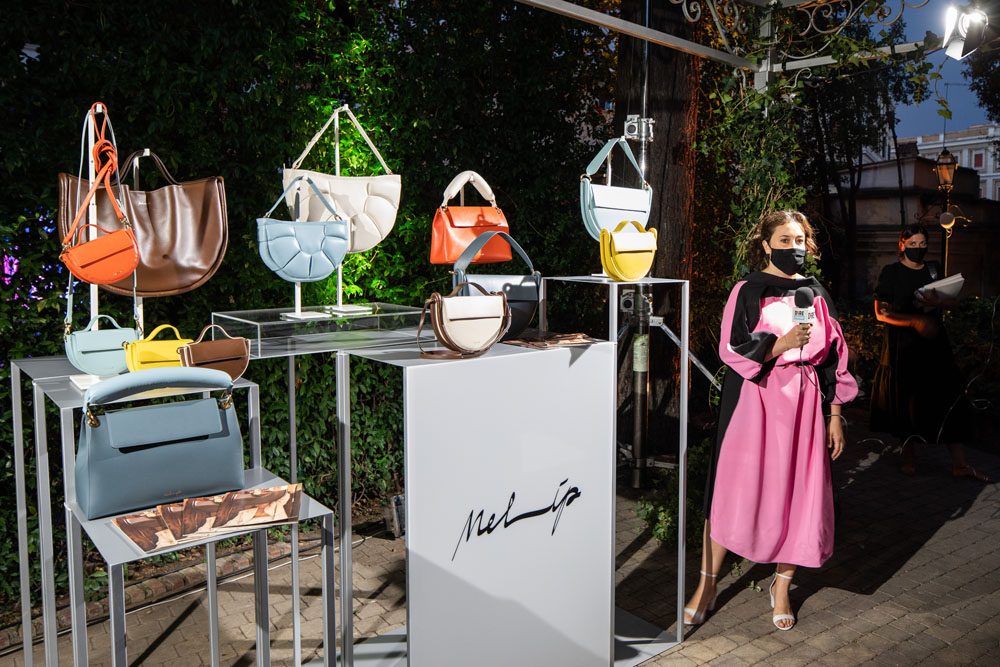 Melip is an Italian brand of leather bags which was founded in 2019 by fashion designer Melissa. Melip has a very precise identity, made up of an honest authenticity, craftsmanship and an essential design which celebrates shape with practicality and focuses on simplicity and natural beauty. The style is linear, clean and bold (fearless, plump, pulpy, rounded), with practical designs and a leather processing technique inspired by the best of Italian craftsmanship. The brand blends the Scandinavian-Japanese style characterized by geometric minimalism with reassuring curved lines and oversize proportions. Melip bags are entirely designed, developed and produced in Italy, in the Veneto region, where many of the best Italian leather craftsmen are based. melip.it
ZEROUNDICI EYEWEAR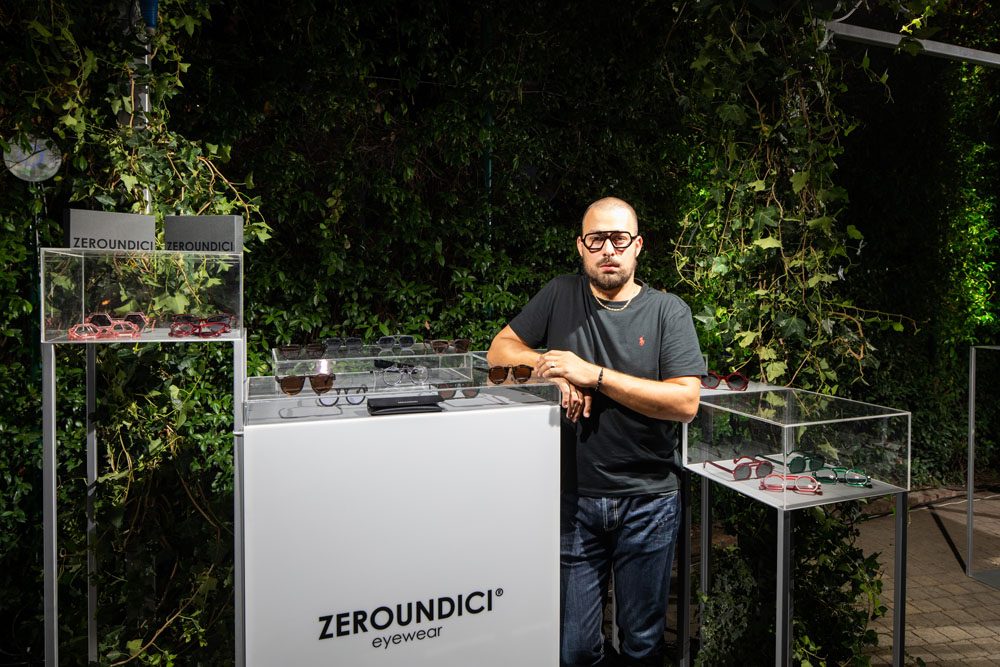 The creatives behind the brand are two brothers, Simone and Daniele Testore, who have turned their common passion into a successful business idea. They have tried to combine their skills to create an innovative design product. A refined style, innovative shapes and attention to materials are the distinctive traits of the ZEROUNDICI eyewear collections, designed to emphasize one's own personality and style. Italian tradition, international essence. An exclusive project with an urban, post-industrial inspiration. zeroundicieyewear.com
---
"We are very happy to have kept this commitment in such a delicate time. This project is an important moment of introspection for us and for the young designers who choose to participate. Besides, this year we have the new menswear and genderless categories. Altaroma is the ideal framework for an innovative and experimental approach to design, while preserving at the same time strong ties with the artisanal traditions and excellence of Italian production". – Silvia Venturini Fendi, President of Altaroma –
"In this unprecedented, challenging time. It is essential that everyone does their part to keep on supporting young talents and emerging entities, which more than others risk being overwhelmed by the crisis. For Vogue Italia it was therefore natural to confirm and – if possible – even strengthen its support for Who Is On Next?. With the addition of new categories, this edition also confirms how Who Is On Next? is open to the signals coming from society". – Emanuele Farneti, Director of Vogue Italia –
---