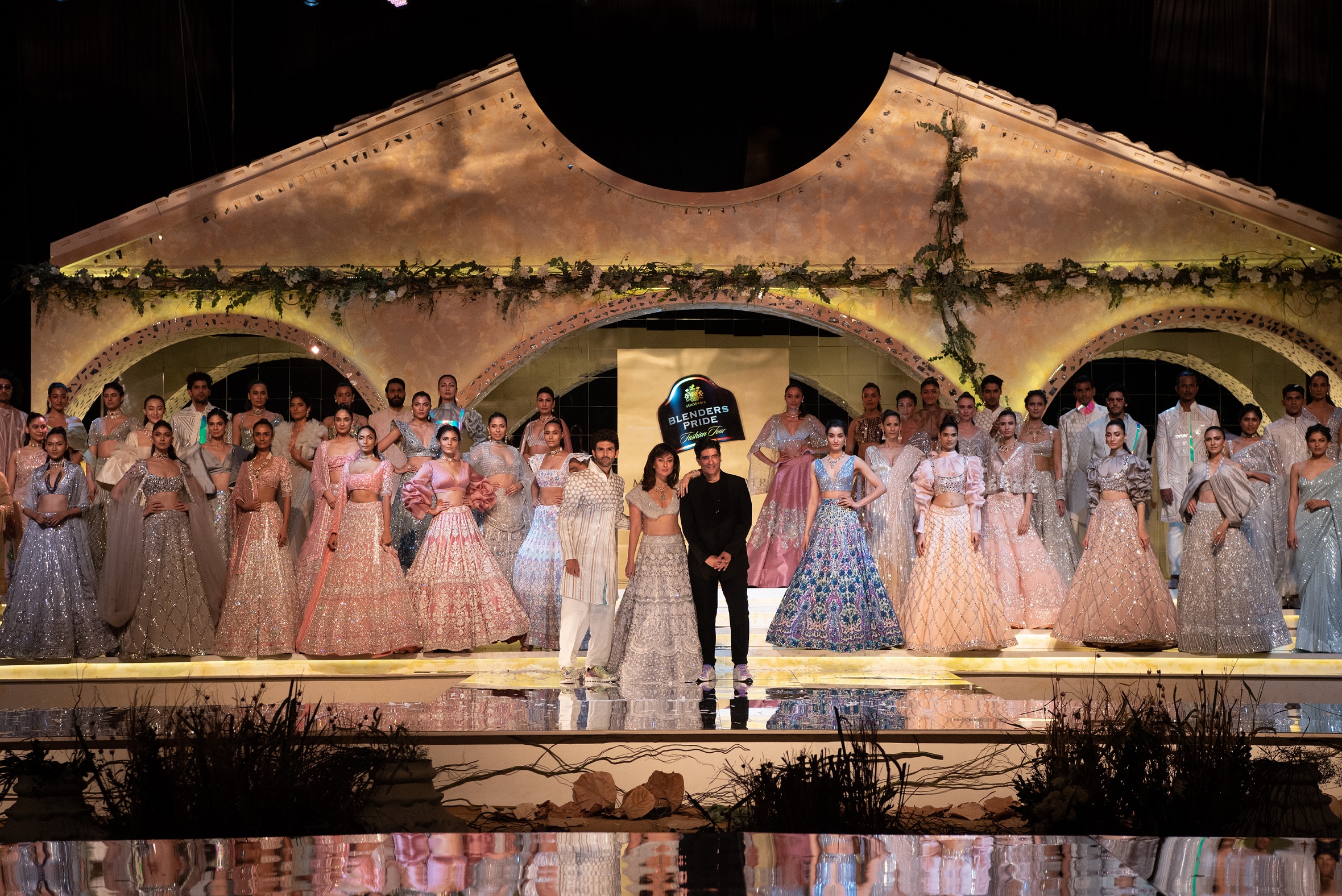 Bringing the universe of pride to life, the celebrated Blenders Pride Fashion Tour goes beyond conventional runway shows in its milestone 15th edition to unveil a breathtakingly new face of fashion. The tour travelled to Hyderabad with designer Manish Malhotra curating a breathtaking experience that showcased a distinctive 'identity' through magnificent designs. Adding to the grandeur of the evening was showstopper Kareena Kapoor Khan, who looked spectacular in a masterpiece by Manish.
Charting a unique course, the iconic 15th year of Blenders Pride Fashion Tour comes with a path-breaking format with designer Ashish Soni as curator-in-chief, and an exclusive collaboration with the Fashion Design Council of India (FDCI), the industry thought leader. By focussing laser sharp on fashion, the tour will present festivals of fashion and create a universe of pride through its three themes – Craft, Blend and Identity. The fashion extravaganza will culminate in a larger-than-life finale, 'The Pride of India', in collaboration with FDCI, in Mumbai with 15 eminent designers.
While 'Pride' as a meaningful expression of success and individuality continues to take center-stage in this edition, it is actually India with its indigenous 'craft', 'blend' of diverse influences, and a distinctive 'identity' that will become the canvas of expression this year.
Stepping into the fashion spotlight as always, the tour also launched a new element – The Showcase – to provide a breakthrough opportunity for aspiring fashion designers and models to be mentored and display their talent at this year's Blenders Pride Fashion Tour.
The festivals of fashion at Blenders Pride Fashion Tour in Hyderabad included segments such as the Collection Gallery, The Showcase, and Style Forum, each of which celebrated a whole new facet of fashion. An artistic display of 58 iconic pieces, The Collection Gallery was spread over three zones – Craft, Blend, Identity – including over 45 famed designers such as Abraham & Thakore, JJ Valaya, Shantanu & Nikhil, Gaurav Gupta, Wendell Rodricks, Amit Aggarwal, Rohit Gandhi Rahul Khanna, Anju Modi, Varun Bahl and Rajesh Pratap Singh. The Showcase presented the work of winning designer Sushant Abrol, who presented his first collection, 'Beyond the Clouds', inspired by the Indian Army and dedicated to his brother who lost his life serving the country. He likes to play around with classic silhouettes with minimal technique in predominantly natural textiles – linen, blends of cotton and silk, and khadi cottons.
At the Style Forum, industry stalwarts such as Ex-President, FICCI FLO, Aparna Pinky Reddy, designers Shantanu & Nikhil, Asmita Marwa, Archana Rao, Former Editor Hi Blitz, Shalini Sharma, and Ashish Soni as the moderator, came together for an intellectual exchange of ideas in the fashion arena, focussing on the topic 'How important is brand consistency and design language in order to remain relevant in today's fashion industry?'
Speaking on the occasion, Kartik Mohindra, Chief Marketing Officer, Pernod Ricard India, said, "In its 15th year of spearheading fashion in India, Blenders Pride Fashion Tour moves beyond conventional shows to become a celebration of all things fashion with a new vision. With its path-breaking format, the milestone edition of the tour aims to enhance the appeal for the youth and set the tone for innovation in   the years to come. The journey of 'Pride' that the brand undertook last year, continues to take center-stage this year as well, to bring alive distinctive expressions of 'Pride'. We are also thrilled to collaborate with the industry leader, FDCI, in this landmark year, to take the property to new heights, together with illustrious designers and artists from across the country."
Expounding the concept 'My Identity, My Pride', Manish Malhotra showcased how identity is an extension of the self. His collection was a celebration of the sponge trend, the most pervasive and dominant trend of today's times – our own style, our own identity. The garments from the collection retained the strength of the designer and celebrated everything glitzy and all things splendorous. Hints of tropical florals, anti-fit silhouettes and long trails were the highlights of the collection. Happy sorbet shades, iridescent freshness and spruced silhouettes established a dynamic connect between design and wearability and brought alive a regal repertoire.
Designer Manish Malhotra, talking about his theme 'My Identity, My Pride', said, "Evolution represents the merging of traditional values with modern expression. The fashion industry is a fast-paced, ever-evolving space, whose limits are constantly tested by everyone. It's an absolute honor to be associated with Blenders Pride Fashion Tour 2019-20, which will paint a picture of tradition on a canvas of technology, and that will be an expression of my identity in a unique fashion."
 Talking about the association, Sunil Sethi, President, FDCI, said, "We are proud to associate with Blenders Pride Fashion Tour in its iconic 15th year, and further add to the magnanimity of the property. With both FDCI and Blenders Pride Fashion Tour being definitive names in the fashion space, we feel that we are perfectly positioned to showcase our combined strengths with our shared synergies."
As curator-in-chief of Blenders Pride Fashion Tour 2019-20, designer Ashish Soni said, "The 15th edition of Blenders Pride Fashion Tour takes the next step in the fashion arena with a new format to include festivals of fashion, in addition to the runway shows. With this tour, we are thrilled to expand the horizons and understanding of fashion in the country by going a notch above."
Moving ahead from Hyderabad, Blenders Pride Fashion Tour will travel across cities such as Delhi and Mumbai.