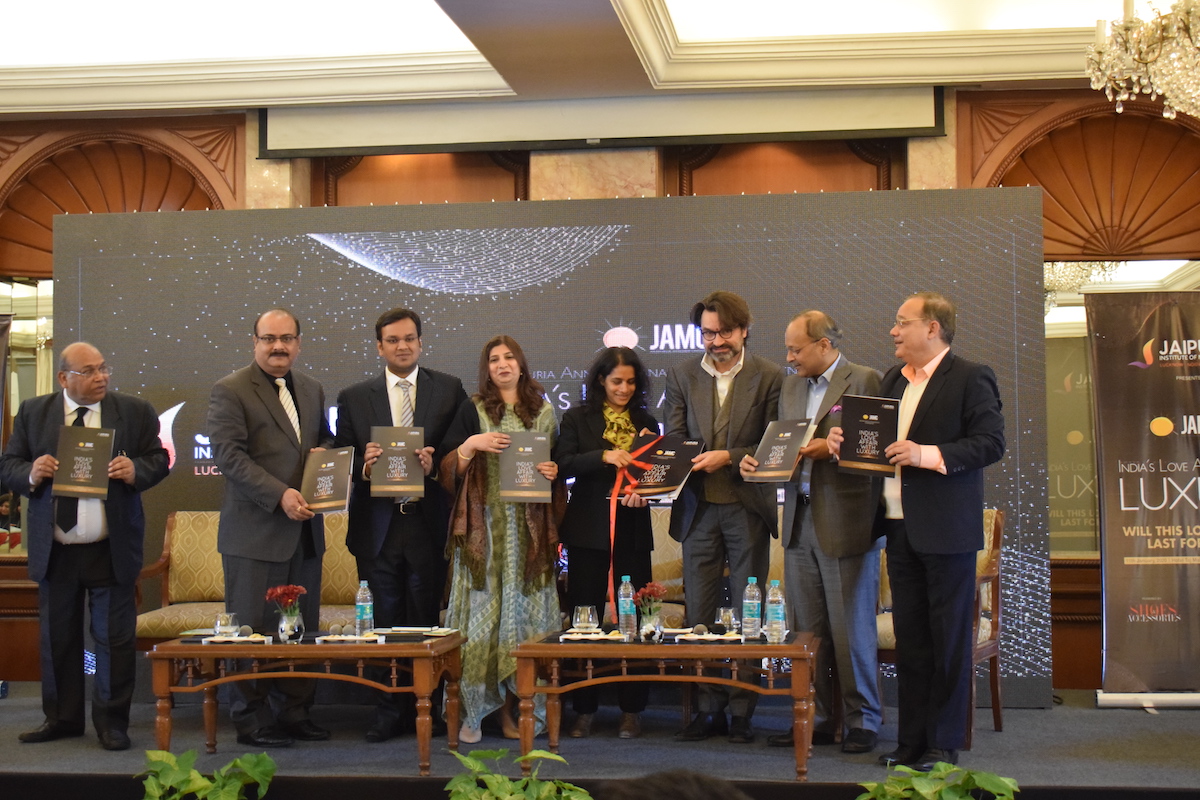 Jaipuria Annual Management Conference (JAMC) 2020 brought together leading names from
the world of luxury and premium quality brands to discuss and debate the direction of today's luxury industry; from its democratisation to its marketing; from investing in luxury brands to investing through luxury products.
The forum once again saw an excellent support from both the speakers as well as the attendees. Jaipuria Institute remains unswerving in its determination to support the retail industry, bringing fascinating personalities to share their views to enable profound understanding on various aspects of trade and business.
Though the conference began its planning six months ago and it only lasted six hours, thanks to Prof. B.D. Nathani's vision and constant endeavour, its impact will remain with many of the attendees for years to come. The event featured multiple keynotes and panel discussions delivered and participated by the industry's top executives, creatives and professionals from the fashion, luxury and retail industries. It was a packed agenda with thought provoking conversations which left the delegates inspired to rethink their strategies.
This year's luxury conference analysed the value of the Indian market in the global luxury and fashion industry context. The event organised by the students and faculty members to promote engagement and interactions among the dignitaries from all across the industry and academia, including international and regional organisations, private sector and academia, took an in-depth look at industry-specific trends, exploring everything new and next in the sector that is set to affect the future consumer in the next 3–5 years. Guest speakers included industry leaders and innovators who presented valuable insights in Q&A session.
The varied industry speakers list included dynamic speakers: Emilia Cartier, Attaché from Academic, Scientific and Technological Cooperation – French Embassy in India; Renaud Palliere – Senior Consultant PVR Luxury Cinemas; Rishab Soni, Managing Director SSIPL; Roasie Virq – Managing Director, India Sotheby's International Realty; Shivani Malik- Director, Da Milano; Abhaya Gupta-Founder & CEO, Luxury Connect; Radeshwer Davar & Tarun Puri Reliance Brands Limited; Abhijit Das -Marketing Head Delhi Duty Free, Ruchita Bansal – Managing Director Izhaar; Raja – CEO Da Milano; Jaipuria Institutes' Chairman Sharad Jaipuria, Director Dr. D.N. Pandey and Convener Prof. B.D. Nathani.
In his welcome address Prof. Nathani, Chairperson-JAMC said, "In 2020, brands and consumers will continue to question what luxury truly means. With vast technological innovation meeting conscious Gen Z consumers, we are entering the era of neo-luxury – and our Futures Forum will help you identify the trends and opportunities that lie ahead". Dr. Pandey, Director-JIM Noida followed with his address. Sharad Jaipuria shared his views on Luxury Market in India and how this industry has seen immense growth in the recent years in his inaugural speech. Cartier cited that India and France have strategic relations, and India is an emerging hub of new customers for luxury products. She added that foreign designers get amazed after witnessing the history, craftsmanship, manufacturing, and creativity of Indian artists and art in India is very unique.
In his keynote address Palliere highlighted the combination of entertainment and luxury with respect to PVR cinemas which is a 21-year-old brand, carrying many different brands under its influence. He expressed that luxury is the metamorphosis of Indian customers and luxury never sells itself.
A report "Luxury market in India" by Dr. Sheetal Jain was formally unveiled by Cartier Along with the sponsors Ketan Vyas – Managing Director Pro and Amit Chopra – Managing Director, Shoes & Accessories. Post high tea, the first panel discussion was carried forward by Malik, Palliere and Puri, which was moderated by Gupta. Interestingly, one of the panelists stated that this affair depends on the strength of the image that brand has in the minds of customers and how strong the training department is in providing training to their employees to deliver excellent services to the customers. At the Q&A session, Malik stressed the need for cruelty-free fashion. "Now brands are coming up with man-made leathers which are sustainable as well as fashionable. So, big luxury brands are nowadays involved in lot of research to find out substitute of traditional leather."
The second session explored "Luxury trends & Inclusivity Paradox" which was presided by Soni, Raja, Virq, Davar, Abhijit Das, Marketing Head Delhi Duty Free Services, Bansal, and moderated by Dr. Jain who is also the founder of Luxe Analytics & Professor. Puri resonated that when you start using luxury brands, and you will never step back from using them, that's the power of the impact which luxury brands have on the minds of consumers."
Dr. Jain opined, ''India is one of the fastest growing luxury markets across the globe. The size of Indian luxury market is projected to reach from $30 billion in 2018 to more than $200 billion in 2030. Over the next decade, the market is well poised to see positive growth through economic development, and it will offer plethora of opportunities for luxury companies to serve the young, affluent, connected and confident Indian consumers.''
Appreciating the views of various panelists, Gupta said, "The conference brought out the true essence of expectations of young India. What was Western luxury brands' biggest consumer base during the time of India's maharajas and nawabs is once again the target market for the same brands. This time, it is the new maharaja, the new corporate HENRY, the new young pulsating India, that is driving sales of luxury goods. Brands simply need to adopt and service them differently. India's new breed of consumers buying luxury goods and services expects a more cherished luxurious experience. Brands focusing on an India-specific strategy and connecting with the local Indian consumer will triumph in the coming years. Luxury from the maharaja to masses is here to stay." Das resonated, " The diverse speaker line up was brilliant, and being from retail industry I can say is not easy and needs lots of deliberation and follow through. The event production in terms of pre-event marketing is actually worth special words and can be explain
of how to properly use digital/ marketing channels. The students were very enthusiastic and energetic which made the event very vibrant."
Dr. Jain added,"In the future, we are going to witness big brands collaborating with each other to create unique, comprehensive and amazing experiences for the customers."
The panel unanimously concluded that today sustainability is the key, as businesses are facing major issues related to environment. So in the near future, Luxury will no longer be in having branded clothes or expensive watches but rather in Having A Pure Air to breathe in and Pure Water to drink. They collectively urged the house to be more cautious about the environment, there is no harm in enjoying luxury and purchasing products but not unnecessary consumption. "Be sensible and intelligent buyers and consumers of the products rather than being mad shoppers. The future of luxury is in Sustainability. There is no rarity that clean air and water in the current times. As the planet battles a climate crises, all brands need to take cognizance of this aspect and reduce their carbon footprints and help create a better eco system for our planet," Virq concluded.
The power-packed conclave co- ordinated by Misra and student coordinators wrapped up with a networking lunch.