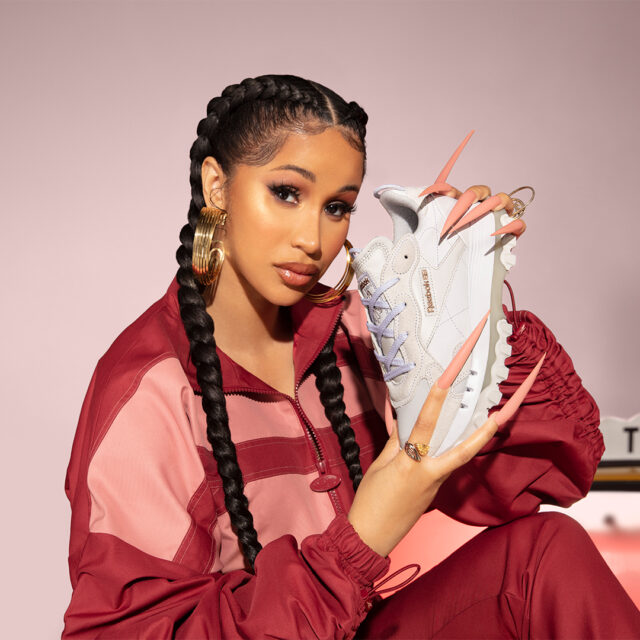 Following the mass success of her first collection, Reebok and Cardi B are thrilled to reveal the next chapter of their collaboration with the launch of an all-new footwear and apparel capsule collection this fall. Officially dropping on August 27, the 'Let Me Be…In My World' capsule collection featuring a new Cardi B Classic Leather sneaker, is inspired by Cardi's hometown of New York City and carries a piece of Cardi's legacy with every element of design.
Pieces from the 'Let Me Be…In My World' capsule collection build on Cardi's signature outlines and details from her first drop, this time taking cues from the concrete world where Cardi grew up hustling. Every detail on Cardi B's new Classic Leather sneaker takes design inspiration from her personality – transparent details show off her down-to-earth attitude, bold & fierce color infuses her personality, an asymmetrical design nods to her different hustles while the stacked midsole and aggressive lugs on the outsole display her different dimensions. Available in eye-catching colorways, the iconic Classic Leather shoe is built to carry any hustler from day to night.
In true collaboration, Reebok designers worked with Cardi and her team from start to finish on the 'Let Me Be… In My World' capsule collection; from beginning ideation and design stages all the way through to the full creation cycle capturing her fashion sense and attitude for a signature look. Cardi B worked with Reebok designers to bring the story, colors, and designs to life from sketch to sample form.
"I was so happy to see the love for my first Reebok apparel collection so I'm really excited to introduce this one," Cardi said. "This NYC-inspired collection features some of my favorite pieces to wear—from corsets to tracksuits to fly kicks, all inspired by my time and love of New York." The apparel collection of Let Me Be…In My World' capsule will be launched soon.
The all-new Cardi B Classic Leather shoes in the 'Let Me Be…In My World' capsule collection in inclusive colors and sizes starting at INR 8,999/- on shop4reebok.com, select retailers, VegNonVeg and Superkicks. The collection will also be available on Myntra soon.