Dow Polyurethanes, a business division of The Dow Chemical Company, has launched two new soling systems, to serve the athleisure and protective footwear markets. The ENERLYTE Polyurethane (PU) Elastomer is a system designed for the active consumer, bringing lightweight, durable, high "energy-return" and soft-touch soles to the athleisure market.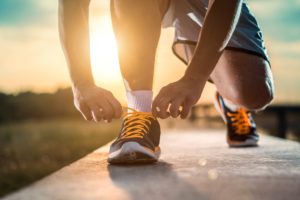 With the new VORALAST H2, Dow broadens its footwear portfolio with a polyurethane soling system specifically designed for protective shoes requiring a combination of comfort and protection in a variety of working conditions and addressing the needs of the industrial, agriculture, cold store, trekking and wellington professional shoe manufacturers.
"If you're asking whether to focus on comfort or performance, you're asking the wrong question. End customers expect both to be taken into account." said Akil Sahiwala, Marketing Manager – Footwear, Dow Polyurethanes. "ENERLYTE and VORALAST H2 are designed with both in mind. ENERLYTE outperforms EVA and standard PU foams when it comes to ball rebound and energy return, delivering high sole resilience and elasticity at very low density. And VORALAST H2 brings comfort, flex fatigue and elasticity, while also offering enhanced hydrolysis resistance, abrasion endurance, and excellent anti-static and grip properties."
"From Polyolefin Elastomers and Olefin Block Copolymers, to high performance polyurethanes, Dow takes pride in delivering products designed so our customers can make the best possible soles and midsoles. Expanding our range of polyurethane soling solutions to include ENERLYTE and VORALAST H2 shows our dedication to ensuring our customers have the ingredients they need for a winning formula" commented Jon Penrice, Vice President Dow Polyurethanes Europe, Middle East, Africa and India.