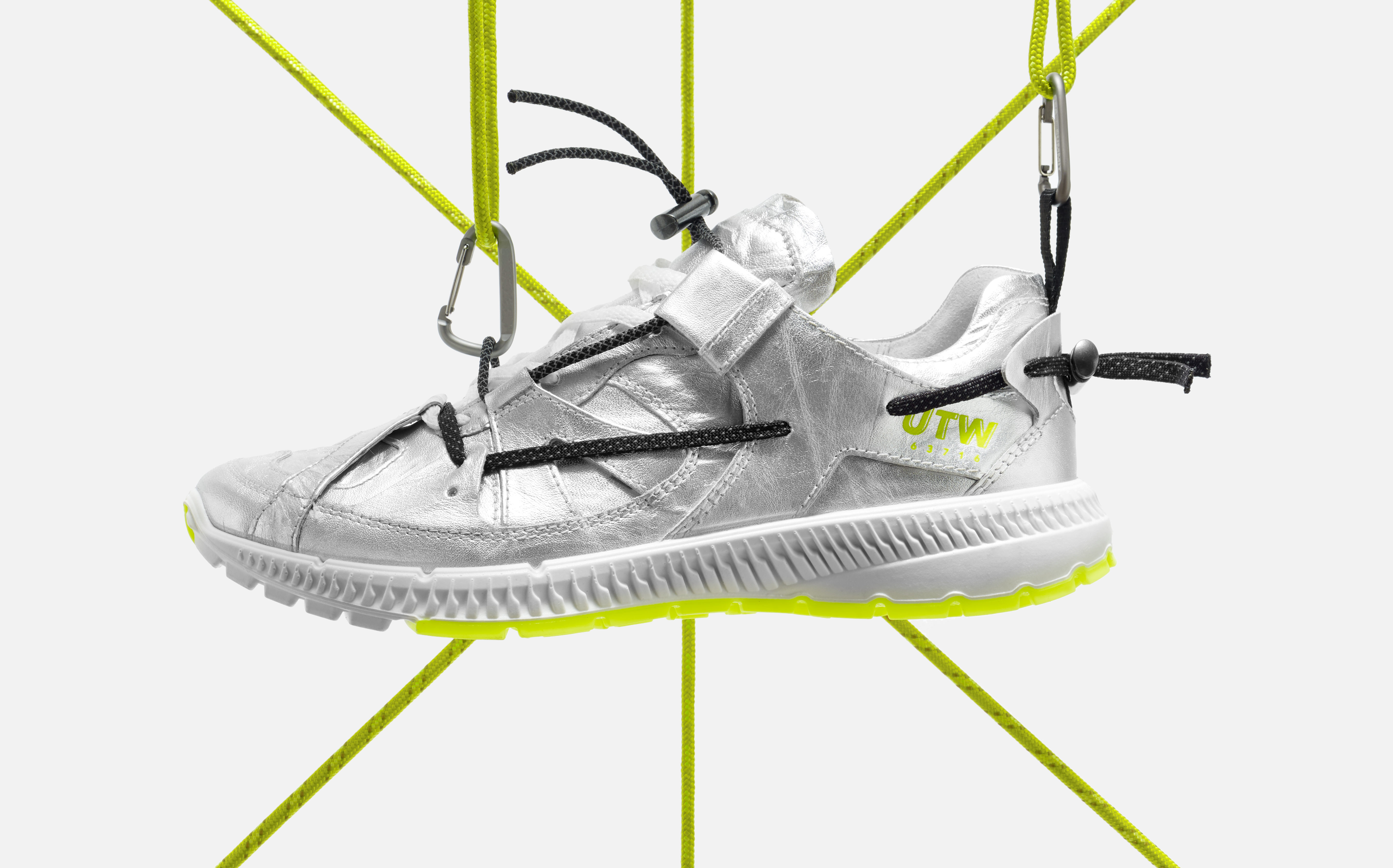 Sneaker provocateur Studio Hagel teamed up with Danish comfort innovators ECCO to create an exclusive collection of 18 shoes. Backed by a one-of-a-kind leather library, the UTW63716 collection is destined for the cult hit-list of collectors worldwide.
Techwear in a different context
"It started as something playful," says Mathieu Hagelaars of Studio Hagel about his collaboration with W-21, ECCO's experimental store in Amsterdam.
"Right now techwear is a major trend in streetwear. We look like we're ready to climb a mountain but we're living in the city," says Hagelaars. "Clearly we don't need all that functionality. So what happens when you put functionality in a different context, and start having fun with the language of function? What if we translated this thought into sneaker design?"
"When Mathieu shared his concept, I was intrigued and said let's go for it," says Panos Mytaros, executive vice president of the ECCO Production group and initiator of Ecco's HOT-SHOP which annually invites a selection of the best designers worldwide to tinker and experiment with new leathers. "We already had a click with Mathieu for a few years and liked his work. And I was curious: here was a guy who is known for his mockups, so what happens if he makes a whole line?"
Shoes to explore
The UTW63716 collection is rich with nonfunctional covers, un-pullable pull-tags, bottomless pockets, ornamental zippers, complicated patterns, overly fluorescent colors, and gratuitous lacings. Like a mountain, every one of these 18 shoes (10 men's, 8 women's) begs to be explored.
Only 24 pairs of each style were made. These super limited editions are only available via ECCO's experimental store W-21 in Amsterdam. A select range will also be available at ECCO's other experimental store K-9 in Copenhagen.
All shoes were engineered using ECCO's signature direct injection, state-change Fluidform comfort technology that builds on the brand's renowned lasts and outsoles. In addition, all Hagelaars' variants are crafted from ECCO Leather's cutting-edge materials. So, almost paradoxically, the UTW63716 shoes are utterly functional in that they provide lasting, state-of-the-art comfort.
Hagelaar worked directly with ECCO Leather on developing the leathers used for the project – such as Neo, a leather bonded with world's strongest fiber Dyneema – to come up with a one-off leather library. He also applied his concept over the line's packaging, hang tags and image photographs.
Studio Hagel's sneakerpedia of the absurd
Play – i.e. making – is a key feature of Studio Hagel. After 10 years working in the sales side of sneakers, Hagelaars decided to go for the design of sneakers and founded Studio Hagel in 2015. His rise was fast.
Through his Makers Monday project, he began to post his often hilarious sneaker hacks and experiments on Instagram. "I said I was the worst sneaker collector possible. So with those big releases everyone was after, I would just make my own – DIY, MacGyver-style."
Big viral hits included a pair of Air Max 95 remade as sandals, a Balenciaga Speed Trainer fashioned out of an IKEA Frakta shopping bag, and a woolen sock version of the Adidas Yeezy Boost 350 V2 'Beluga'.
"But it's actually through these spoofs that I was able to explore new directions in sneaker design. These prototypes are about innovation: a way to come up with fresh silhouettes, styles, details, etcetera."
Maker's mark
Online fame brought Studio Hagel to the next level: designing immediately wearable shoes through collaborations with design legends such as Takashi Murakami and Virgil Abloh. Studio Hagel now serves as a footwear designer/art director for various brands, which have included Off-White and Puma. "It could be about anything from creating a whole collection, to a single product or offering some creative impulse around new ways of approaching design," says Hagelaars.
"Most designers just start drawing. I start making. The design inspiration arises out of the process. At the same time, I'm not a shoe maker, I'm a footwear designer: 99% of my designs are not wearable. They are sketches/prototypes. They're not meant to be wearable. Making them wearable is the developer's speciality. My speciality is coming up with new footwear designs."
ECCO click
Since founding his studio in 2015, Hagelaars has participated in the annual 4-day ECCO Leather HOT-SHOP at the ECCO Leather tannery in Dongen, the Netherlands. These events bring together designers, futurists, artists, material specifiers, marketers and leather technicians from the worlds of fashion, industrial design, furniture and electronics to challenge conventions in the leather industry.
"There was really a great connection with ECCO. It also confirmed my thinking: making stuff is a way to design," says Hagelaars. "When I went for the third time, Panos invited me as 'guest hacker' and he told me: 'If you have a good concept, there are no limitations. Just go for it!'"
Having access to ECCO's production prowess at their factory in Portugal provided Hagelaars with his kid-in-a-candy-store moment. After choosing from established fit profiles and outsole-platforms and their range of cutting-edge materials, Hagelaar set to work. "Within two days, I had my first sample. Within two months, the line was ready."
"The developers and staff at the factory really got into it: seeing these popular ECCO programs such as Exostrike™, Biom™ and Flexure™/Soft 8 cupsole models getting transformed," says Mytaros. "It was a challenge as well as extremely gratifying from the perspective of craftsmanship."
"Sure, it all started with a bit of a joke," says Hagelaars. "But we ended up with seriously exciting products that all of us really love."