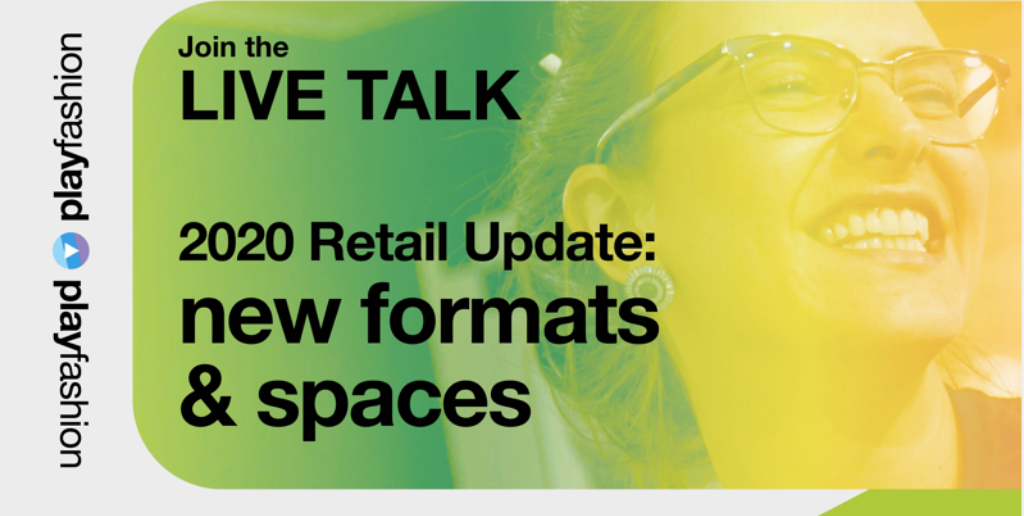 "2020 RETAIL UPDATE, NEW FORMATS & SPACES": THE SECOND #PLAYFASHION LIVE TALK SCHEDULED TO TAKE PLACE ON 29TH SEPTEMBER
Expo Riva Schuh and Gardabags return to analyse the most pressing and current issues for the footwear and accessories sectors, with a focus on the world of retail and changes in purchasing habits.
And this will be the theme of "2020 retail update, new formats & spaces," the second in the #PLAYfashion series of live talks,the in-depth space that supports and strengthens the exhibition organised by Rivadel Garda Fierecongressi.
The debate is scheduled for Tuesday 29th September at 14:00 (CEST), and taking part will be Maria Eugenia Errobidarte, Senior Consultant for WGSN Mindset, and Enrico Cietta, economist and CEO of Diomedea: these two sector experts have been entrusted with the task of analysing the current scenario and the future prospects of the retail sector. The pandemic has, in fact, radically transformed consumer habits and experiences, and retailers are now developing new strategies to cope with these epochal changes.
The role of e-commerce and social media, the interaction between the physical shop and the virtual space, the growing importance of off-store spaces: the purchasing experience is in constant evolution and retailers the world over are on the lookout for new ways to communicate with consumers. The aim of this live talk is to look deeper into the retailers' strategies and offer new retail sales experiences through the various physical and virtual distribution channels.
Transmitted via direct streaming, in Italian and English, the live talk will offer a key training and update opportunityfor companies, buyers, representatives and trade bodies and associations as well as workers and journalists.
"Following the success of the first talk in July, which enabled us to take a snapshot of the world's footwear production trends – says Alessandra Albarelli, Managing Director of Riva del Garda Fierecongressi – we now want to analyse what is happening in the retail arena, via direct testimonials from sector experts. Looking to the future, discovering opportunities that provide visual and digital innovation to distribution and analysing the latest retail news are important issues for our exhibitors and visitors, and it is with them that we want to share useful information and strategic tips."
The date has been set for "2020 retail update, new formats & spaces" on Tuesday 29th September at 14:00 (CEST).
Use this link to registerhttps://exporivaschuh.it/it/registrazione-webinars.
FORTHCOMING ON-LINE EVENTS:
10th November –"2022 Fashion market, shifts & strategies"
Contact:
Diomedea Milan – Expo Riva Schuh and Gardabags Press Office | Tel. +39 02 89546251 | press@diomedeamilano.it