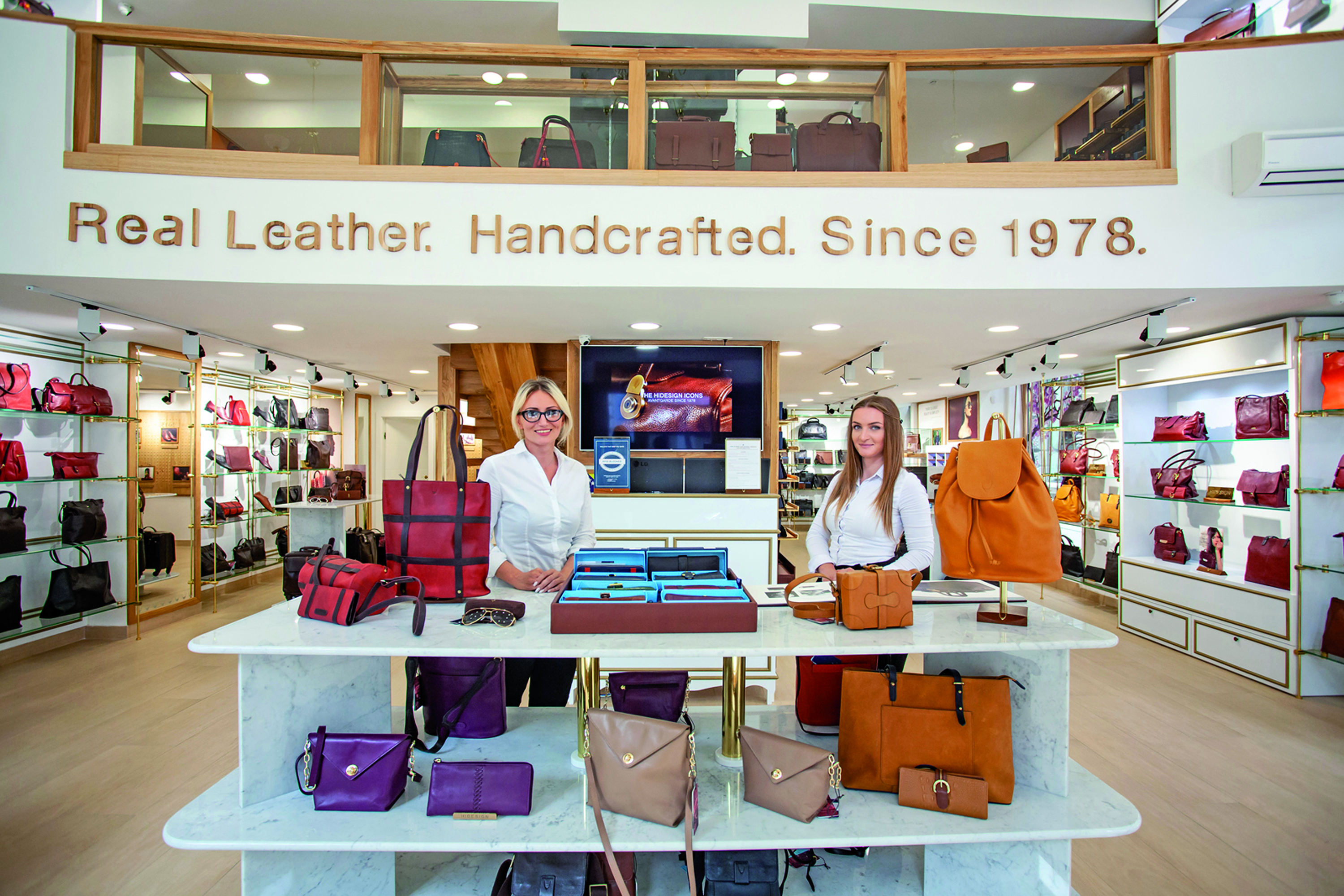 Hidesign has opened its flagship store for Europe in the heart of Sarajevo's heritage town. Spread over two sprawling levels, the store exudes the values of the iconic leather brand: luxury, heritage, craftsmanship, and warmth – all of it "au naturel".
Built on two levels, the Hidesign store in Sarajevo is spread over 1800 square feet. It is housed in a heritage building on Vladislav Skaric 10 right next to Hotel Europe. Four tall arched windows offer magnificent glimpses into the store. The window designs highlight the natural leathers and handcraftsmanship that Hidesign is well known for. Custom designed and made completely in solid wood, and Hidesign's veg tan leathers and brass, the store invites you to touch and immerse yourself in the elegant craftsmanship of its products. Marble tables and finely detailed brass shelves present the sleek modernity of the brand's designs. The timeline wall, vegetable tanning of leathers and design stories introduce you to Hidesign's heritage. Vintage furniture, large mirrors and chandeliers add to the luxurious warmth of leather.
Started in California, Hidesign is now an established brand in over 24 countries across Europe, America, Australia and Asia. "Sarajevo is at the crossroads of Europe – buzzing with energy yet steeped in a strong heritage, much like our brand; it is the perfect place for us to make our home," says Dilip Kapur, Founder and President of Hidesign.
The new store narrates the story of the brand, from its rebellious past using archival images and museum pieces including the first handbag ever designed by Hidesign in 1978 and the 'Boxy bags' that won Hidesign the 'Accessory of the Year' award in the UK. The store also highlights the brand's popularity with digital influencers that admire its authenticity and commitment to ecological practices such as vegetable tanning.
"We are proud to introduce a brand like Hidesign to citizens of Sarajevo. Stari Grad, a place where the past is inherited, will be the central Hidesign location for Europe and will offer the complete selection of Hidesign's latest collections," adds Raif Turko, Hidesign Sarajevo.
Hidesign claims that its stores are custom made from high quality materials that are natural: solid brass, real leather and wood.
The brand is known for its classic contemporary look and simplicity is key to its design language. Hidesign's portfolio includes a wide range of leather goods and fashion accessories such as briefcases, handbags, computer bags, back packs, laptop sleeves, clutches and evening bags, city bags and satchels, duffel bags, wheelies, garments, wallets, wash bags, belts, sunglasses, and small leather goods.