The 51st edition of Shoetech and the 12th edition of Kanpur dedicated to Footwear Components, Finished Leather, Leather Goods, Accessories & Machinery will take place at the CLE, Multipurpose Hall KLC Complex, Unnao from 15th to 16th December, 2021.
With the reopening of exhibitions by the Indian government and the gradual improvement of the international situation, IFCOMA is organizing the 12th edition of Kanpur Shoetech 2021 in association with Council for Leather Exports (CLE), Agra Footwear Manufacturers and Exporters Chamber (AFMEC), Indian Shoe federation (ISF), Kanpur Unnao Leather Cluster (KLC) & Indian Industries Association Kanpur. The organisers are boastful that the event would be a success. Last year the show was held virtually, due to the pandemic that had hit at global level. This year IFCOMA considered it reasonable to reposition the show as a physical event.The event comprises of the Exhibition of Footwear Components, Finished Leather, Leather Goods, Accessories & Machinery.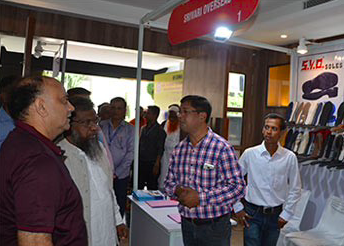 Last year's virtual edition was inaugurated by Shri Nitin Gadkari, Minister of Micro, Small and Medium Enterprises, Government of India. In this edition IFCOMA would be introducing digital platforms of Linked in and Facebook for promotion. While, IFCOMA would be initiating a focused promotion of the event in Kanpur & Agra targeting the footwear manufacturers. IFCOMA members are being offered a built up stand for display with 2×2 meters size at a cost of Rs. 25,000 plus 18% GST, while Non-members could exhibit for Rs 30,000 plus  18% GST.
SNAPSHOT 2020 Edition

89% EXHIBITOR SATISFACTION RATE

650+ HAPPY CUSTOMERS

1,200 Existing Facebook followers

1,890 Youtube Viewers

10,000+ ATTENDEES AT THE CONFERENCE

1200+ BUSINESS VISITORS 15.6 % OVERSEAS VISITORS

70% OF VISITORS DISCOVERED NEW PRODUCTS/SUPPLIERS AT THE EVENT
ABOUT IFCOMA
The Indian Footwear Components Manufacturer's Association with the support of Footwear Design & Development institute (FDDI), NOIDA, within the purview of Ministry of Commerce, Govt. of India, New Delhi IFCOMA has set up a unique display centre exhibiting the latest footwear components and upgraded technology adopted by the manufacturers of footwear components and members of IFCOMA. The association has a strength of over 300 members comprising of manufacturers of Sole, Insole, Lasts, Toe puff and Counter, linings, Interlinings, adhesives, Metallic fittings, Chemicals & Compounds, Clicking Dies, Eyelets, EVA Sheets & Compounds, Finishes & Polishes, Labels, Laces and much more.
---