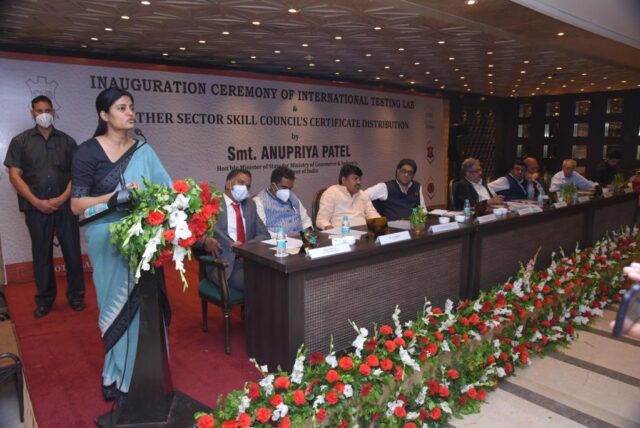 Union Minister of State for Commerce and Industry Anupriya Patel laid the foundation stone of International Testing Laboratory in Kanpur on 23

rd

 

Oct,21. 
The testing laboratory will be set up as per the MoU signed between the Council of Scientific and Industrial Research (CSIR) and the Central Leather Research Institute (CSIR-CLRI), an institute under the KLC Research Council, in the presence of the Minister.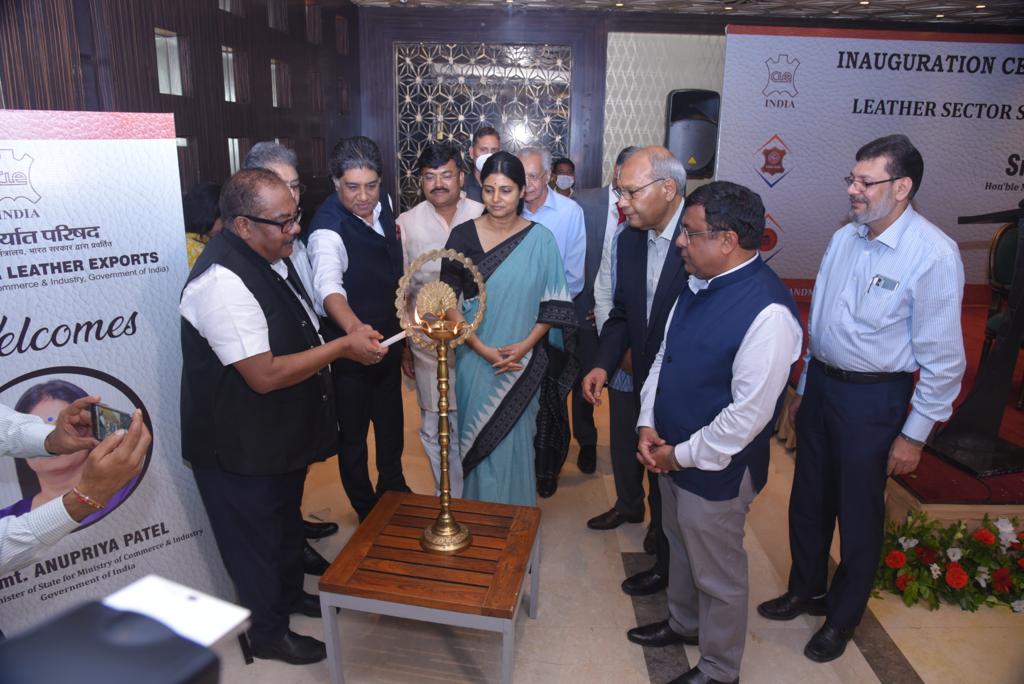 The testing laboratory at Kanpur will be a major boon to the leather industry in the region and will help in meeting the testing requirements of export products as per the conditions of overseas buyers. Leather Sector Skill Council (LSSC) is taking various skill development initiatives in Kanpur Leather Group. LSSC had organised apprenticeship training for youth in Kanpur cluster.
The Leather Sector Skill Council (LSSC) has been undertaking various skill development initiatives in the Kanpur leather cluster, including apprenticeship training for the youth. Minister Patel awarded Skill Certificates of Leather Sector Skill Council to an individual youngster who had recently completed their apprenticeship training. On this occasion, Union Minister Anupriya Patel welcomed all the distinguished guests, industry members and participants. She expressed that "Today is a moment of pride and happiness because Kanpur is my hometown." She expressed her sincere gratitude to the members of the industry for setting up dedicated international testing laboratory for the leather fraternity present in and around Kanpur region.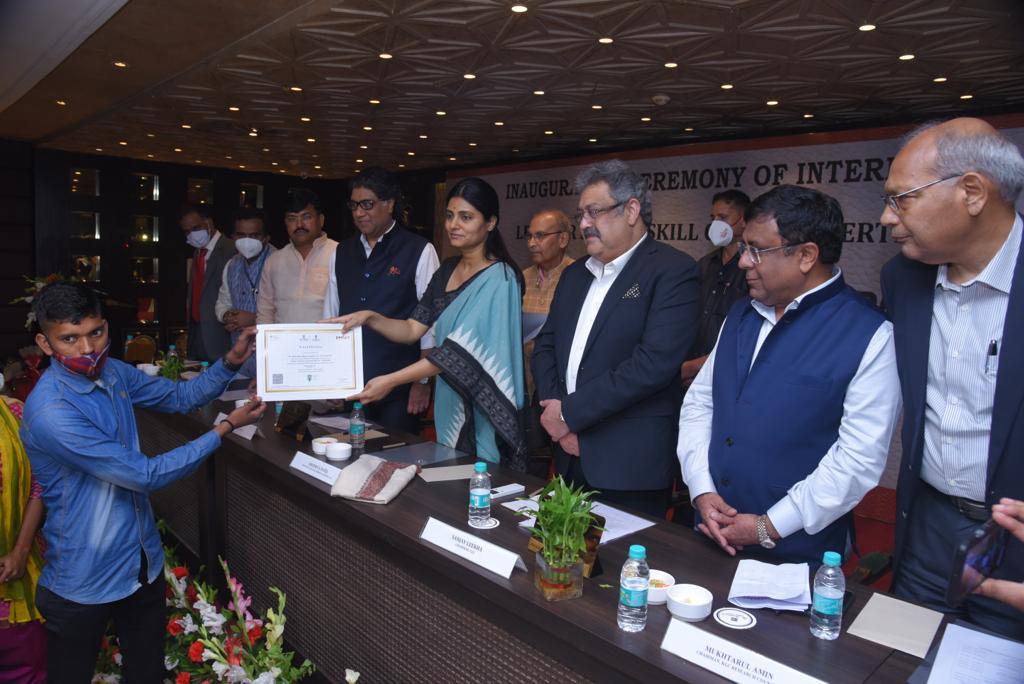 The Kanpur region has a special identity as a major leather group in India. The region is known for their continuous contribution to the export segment and is a hub for saddlery and harness manufacturing and exports. She said that the Uttar Pradesh government provides assistance for export growth and industrial development. Kanpur, Unnao and Agra districts have been included under the ODOP scheme which will give additional impetus towards achieving the export targets. She said that DGFT is planning to strengthen every district as an export hub known for making handicraft items. She said that CLRI, LSSC and other institutes play an important role in leather industry in terms of skill, technology and training to the workforce. She assured all support and redressal of their concerns raised by the leather fraternity today. She said that the vision of Prime Minister Narendra Modi is to make every district as an export hub, for which DoC is planning to implement by identifying new markets and new products across the globe.
Union Minister of State for Commerce and Industry Smt. Anupriya Patel lays foundation stone of International Testing Laboratory in Kanpur
Certificates Distributed to youth under skill development
Supports the demands of the leather fraternity, assurance given to redress the demands
On this occasion, Jails Minister of Uttar Pradesh Government – Ajay Kumar Singh Zaki, Chairman of Council for Leather Exports (CLE) – Sanjay Leekha, Vice President of CLE – Rajendra Kumar Jalan, Chairman of KLC Research Council – Mukhtarul Amin, Chairman of Leather Sector Skill Council –PR Aqeel Ahmed,   Executive Director of CLE – R Selvam, Regional President CLE -Central- Javed Iqbal, CLE CoA Members – Assad Iraqi, Shakeel Mirza, Ashraf Rizwan, CLE Regional President – ​​East- Ramesh Juneja, CLE Regional President – ​​North- Motilal Sethi, President UPLIA – Anwarul Haque and a large gathering of industry representatives and stakeholders were present at the event.
Kanpur – A major leather group of the country
Kanpur is one of the leading leather conglomerates in the country which has a long history and success. Kanpur has the distinction of being the largest manufacturing base of industrial safety footwear and saddle and harness items in the country, apart from being a major production center for finished leather and value-added leather products and footwear. This cluster has also been notified as "City of Export Excellence" in the Foreign Trade Policy and Kanpur district has been listed for "Leather Products" under "One District One Product" scheme of Government of Uttar Pradesh. The export of leather, leather products and footwear from Kanpur cluster during 2019-20 was Rs 5208 crore and the total production of these items from Kanpur cluster is around Rs 6000 crore per annum. The leather industry in Kanpur directly and indirectly employs about 5 lakh people. The leather industry in Kanpur Cluster has taken a significant step to increase the production level by taking initiative for setting up of Mega Leather, Footwear and Accessories Development Cluster (MLFAC).
The Department for Promotion of Industry and Internal Trade has already given in-principal approval for this in Kanpur. The establishment of MLFAC will lead to a significant increase in exports from Kanpur in the years to come, as well as create employment opportunities for the youth.Many big brands and manufacturers want to increase sourcing from India: LeekhaLeather Export Council President Sanjay Leekha said that many big brands and manufacturers want to increase sourcing from India and the time is right to move to higher scales of production. A leather park scheme can provide the needed impetus.Therefore, the leather sector can be included in the leather park scheme on the same lines as the announced scheme for textile parks, as there is substantial similarity between the textile and leather industry. He said that in order to achieve higher production and attract domestic and foreign investment, the leather industry needs Production Linked Incentive Scheme (PLI) support.Further the brands have been requested to restore the basic customs duty exemption on wet blue, crust and finished leather, in order to increase our exports. To meet the additional working capital requirements of the industry to meet its export commitments, additional loans with lower interest rates and flexible repayment options may be considered, he added.
---