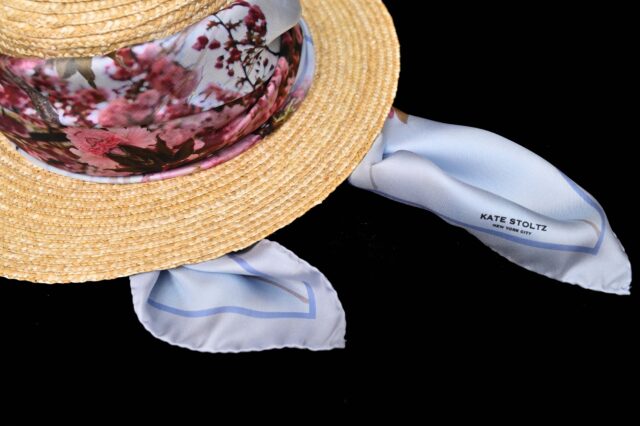 Myaraa by Namrata Lodha x Kate Stoltz collection is an ode to the iconic 50s and 60s which brings back the classic styles of the era such as Brigitte Bardot's classic pink satin ribbon on a straw hat – a stark contrast to the overly casual style. With hues of petal pink with contrasting fuchsia, city grey with illuminating yellow, saturated oranges, reds, island blues and clear blue skies integrated together, the pieces are created to resonate with the current times and yet take you on a trip down the memory lane.
The collaboration entails a fusion between light straw hats by Myaraa complemented with scarves crafted out of luxury fibers by Kate Stoltz. The designs are finished with hand-embroidered motifs in vibrant colours and intricate detailing, which showcase the individuality of each creation. From a classic blend of luxurious crepe satin silks to lightweight linen creations, the captivating styles in this collection are wonderfully transportive.
Speaking about the latest collaboration, Namrata Lodha says, "I am extremely thrilled to be announcing this collaboration as it's a great interpretation of style and fit. These beautiful scarves add a contemporary touch to our hats and bring out the best of both worlds. Through this collection, our artisans had a great opportunity to showcase their skills internationally."
"It's so important in a collaboration to have a partner that's willing to work out details to get the styles to a point where you both feel good about each piece- I'm grateful I found that in Namrata. The collaboration served to increase my eagerness to showcase the pieces, along with my appreciation for the ability to do business with someone that's on the other side of the world and in direct contact with artisans that specialize in these products," shares Kate Stoltz.