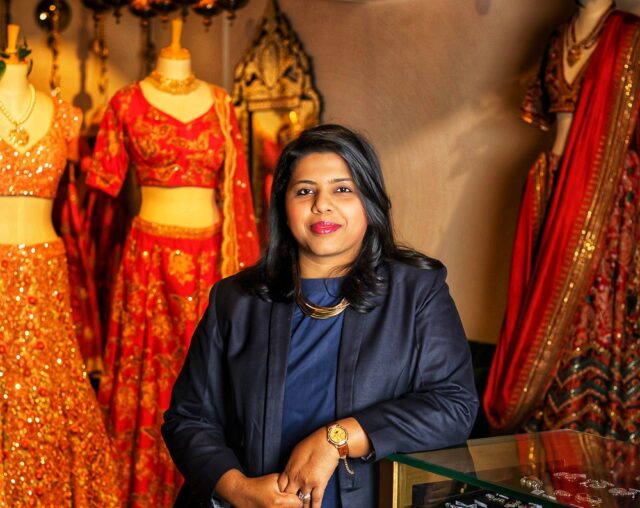 Founded in 2017, Amoha is the brainchild of Pooja Singhal who saw potential and a need for a multi-designer store in the west of Delhi. With most multi-designer outfits being situated in the other part of the city, Pooja wanted to create a curated designer experience that showcases the exquisite culture rich and contemporary designer labels from across the country under one roof, Amoha. 
A fashion aficionado who followed her interest in multiple capacity as an interior designer, merchandiser, visual artist and more for a major part of her life, Pooja always believes that she has a strong eye for fashion, and that eventually saw her fulfill her long-standing dream of having a multi-designer store at Central Market in New Delhi. 
Academically, Pooja was a brilliant student and graduated from Delhi University with a bachelor's degree in Commerce. After which, she completed her further education at the South Delhi Institute in Interior Designing. Pooja's first stint in a working environment came when she assisted her father in his technology business where she creatively contributed with her inputs to help promote the brand.
While she was good at what she did, she soon realized that her heart is set elsewhere, and she wanted to push her creative boundaries by delving into fashion. That is when she started restoring a few clothes from her mother's wardrobe. What started purely out of interest, turned into a passion project, which led to a lot of people noticing, and working with her as clients. 
In the past three years, Amoha represents a roster that comprises household names like Ridhi Mehra, Dev R Nil, SVA by Sonam and Paras Modi and upcoming talented homegrown designers like Bodhi Tree, Munkee See Munkee Doo and Myoho. 
Pooja has built Amoha around the philosophy of the soulful desires of the Modern Indian woman; who is equal parts rooted and contemporary, nostalgic and strong, practical and wild. 
When she is not working, which is very rare, Pooja enjoys creating oil paintings, and practices Indian classical dance form Kathak, as she is a trained Kathak dancer.