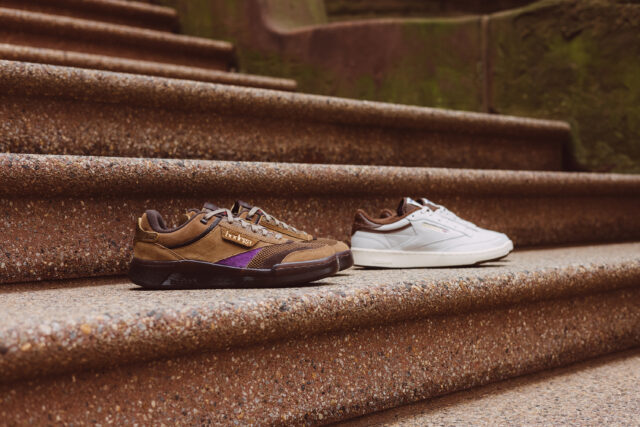 Reebok and Bodega reveal their latest product collaboration: a refresh of Reebok's Club C Legacy. The streetwear boutique and Reebok teamed up to celebrate Bodega's fifteen-year anniversary and commemorate the brands' long-running relationship.
Founded in 2006 by Dan Natola, Oliver Mak and Jay Gordon in Boston, MA, Bodega is recognized as one of the top sneaker boutiques in the world. Its high-end stores are uniquely hidden in plain sight. Natola, Mak and Gordon created Bodega with the notion that all the best things are worth searching for.
With Reebok and Bodega collaborating on several releases since the early 2000s, the brands were excited to work together once again. "We've had a great partnership with Reebok, so this collaboration is fitting as we celebrate our fifteenth year," said Matt Zaremba, Director of Marketing at Bodega. "Having an opportunity to design and re-envision such a classic silhouette and be a part of its storied lineage is an honor. We're excited to contribute something really special and hopefully reach a new generation in the process."
Inspired by the rich heritage and tradition of the Club C on both the court and streets, Reebok and Bodega's goal was to create a unique, timeless rendition of the silhouettes. The Club C
Legacy will come with a co-branded blank key that reads, "Cannot be Duplicated," representing the space that creatives practice their craft and the idea of being the keyholder of your life. "The key also speaks to the nature of the Club C," Zaremba explained. "It's an everyday essential, similar to the key to your home, your studio, or your business. There's an effortless style the Club C, allowing you more time to unlock your potential and focus on your next move."
The Club C Legacy features a bold brown, earth, and purple colorway, and includes high-quality materials such as leather, suede, and mesh uppers. The silhouette includes an outward facing gold foil Bodega logo, to help bring more attention to its revamped upper.
The Club C Legacy is priced at INR 9,999/- and will be available on www.shop4reebok.com starting August 7th, 2021.