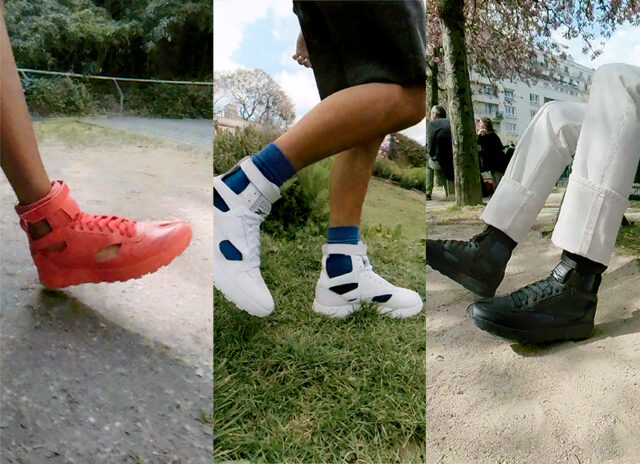 Maison Margiela and Reebok announce the launch of the Classic Leather Tabi in bianchetto, a new sneaker to be released on June 18th,2021 as part of their ongoing collaboration. The visual genetics of Maison Margiela and Reebok intertwine in the Classic Leather Tabi High, a new high-top leather trainer. The latest collaboration between the French fashion house and the American sportswear brand reinterprets Reebok's Classic Leather runner from 1985 through the haute couture language of Maison Margiela. The archetypical Reebok icon is imbued with the memory of a gladiator sandal through the technique of decortiqué.
Developed by creative director John Galliano, decortiqué is the technical term used by Maison Margiela to describe the deconstruction of a garment or accessory to its core structure. By cutting around the architectural framework of an object – the components that hold it together – its innermost construction is revealed. A figurative process, decortiqué embodies values of authenticity and individualism central to Maison Margiela. It further nods to the house's concept of anonymity of the lining: the practice of exposing and elevating the humble insides of a garment or accessory traditionally covered up.
The Classic Leather Tabi High is designed from Reebok's original base and pattern of the iconic Classic Leather and features the split-toe derived from Maison Margiela's signature Tabi shoe from 1988. Employing the technique of decortiqué, leather panels are cut away to reveal the fabric lining of the trainer – effectively creating a cage-like form – while an ankle strap reinforces the image of a gladiator sandal. The high-top trainer is available in tonal black, white, and red leather. It also comes in Maison Margiela's signature 'Bianchetto' technique: a hand-executed white-painted black leather base, which purposely chips with wear.
The Reebok X Maison Margiela collection will be available from 18th June exclusively at shop4reebok.com starting INR 39,999.