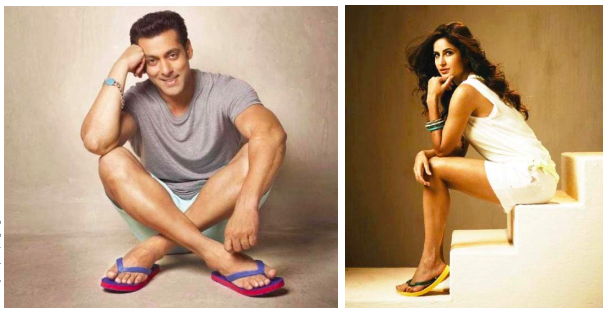 JOURNEY FROM CHAPPAL TO FLIP-FLOPS
"The guy who owns the mansion wears them, and the guy that cleans the swimming pool wears them too" – Fernando Tigre (Former President – Havaianas)
by Lavi Pal Singh, AVP Retail – AstorMueller Shoes & Amit Chopra, Managing Director – Shoes & Accessories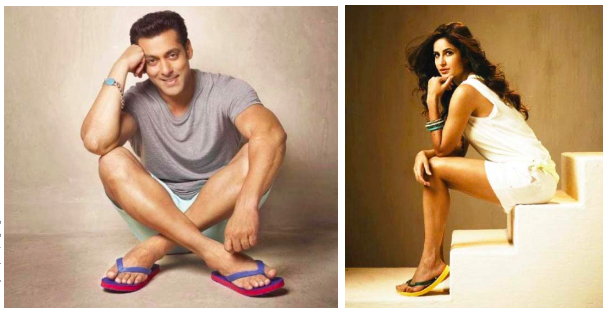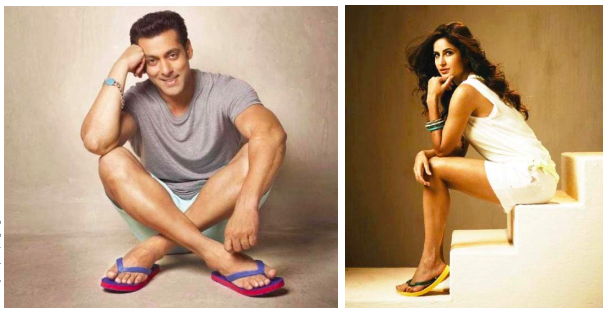 The humbleness of Hawaii chappal and the role it plays for every Indian can be ascertained from the words of Indian PM Narendra Modi, "My dream is to see 'hawai chappal' wearing citizens fly," made during launch of UDAN Scheme in 2018. This simple economical rubber open sandal with a Y-shaped toe, named Flip-flop because of the sound it makes on the ground when worn, still remains embedded and captured in Indian minds as a "chappal". It went on to become the maximum selling design in the world and is still the maximum consumed footwear category across India for decades.
History
The shape has been in existence for over 6000 years and appears in most cultures under different names, with different toes and materials to anchor the foot to the sandal. From the Japanese Zori, a flat and thonged Japanese sandals made of fabric and rice straw that dates back to the Heian Period (794-1185), to ancient Egypt's made from Papyrus, a flip flop isn't a flip flop all over the world.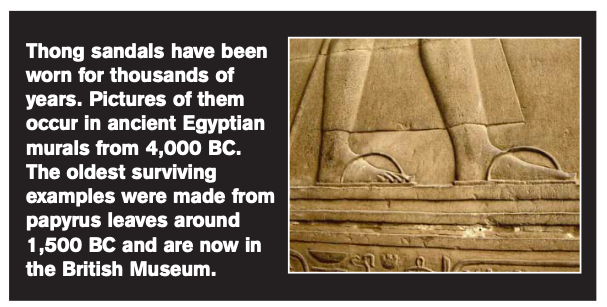 Wearing them weren't always a next- to- the-big-toe thing. The ancient Greeks had it right and wore the toe strap between their 1st and 2nd toes. But the Romans wore the strap between the 2nd and 3rd toes and the Mesopotamians wore it between the 3rd and 4th toes.
Terminology
They're called "thongs" in Australia, "Slops" & "Plakkies" in South Africa and Zimbabwe, "Zories" on the East Coast in US, "Clam diggers" in Texas, "Slippers"in Hawaii and Myanmar, "Jandals" (short for Japanese sandals) in New Zealand, "Tsinelas" in Philippines (adopted from the Spanish phrase "Chinela" meaning slipper or sandal) and "schlapfen" in Austria.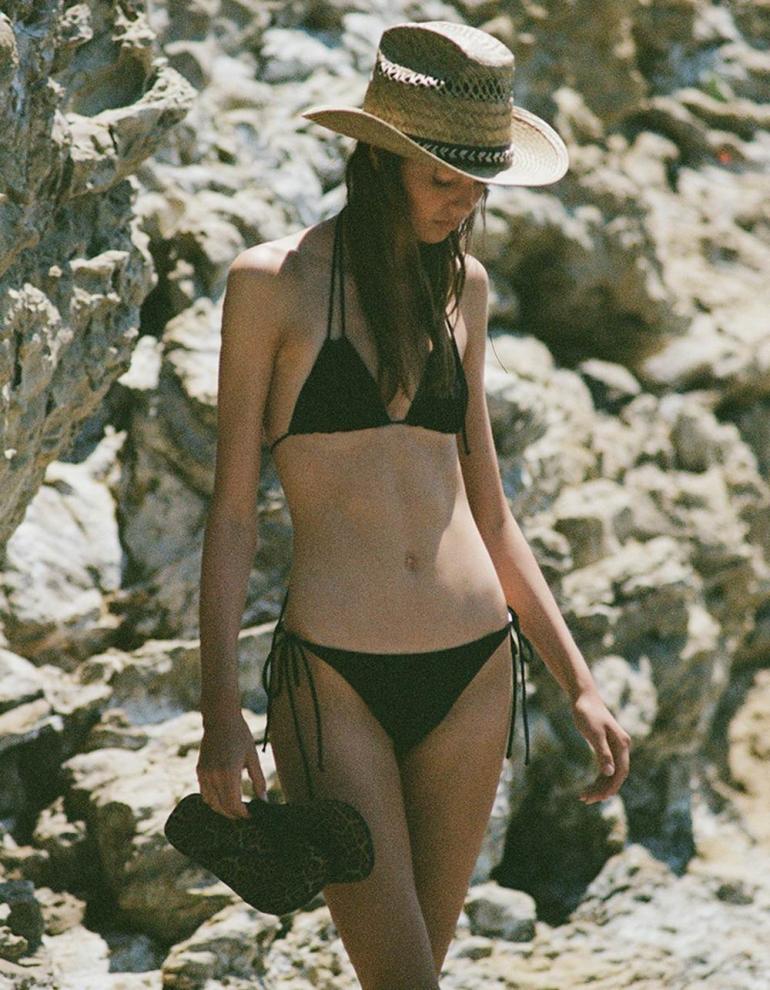 The Origins – Trip from Japan to India
The production of rubber-soled versions, began in Kobe, Japan, in the 1930's,which helped to stoke Japan's recovery after World War II, as cutting and assembling them took little capital, machinery and expertise. They were in such demand— that many Japanese families and entrepreneurs got back on their feet making flip-flops. As per Phillip Nutt, a Toronto-based shoe industry consultant, Mitsubishi, the Japanese conglomerate, bought out many of those businesses and became a big early exporter of thongs. Another version was manufactured by John Cowie in Hong Kong in the late 1940s. A major Australian footwear company Dunlop Footwear, in its official history, mentions that in 1959, it brought in 300,000 pairs of thongs, its first imports.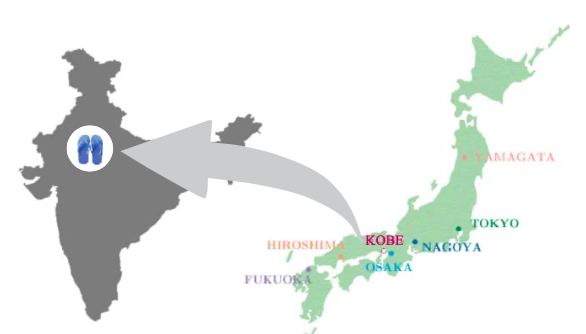 In India, the concept was introduced by Bata in the early 1950's. Bata was the largest exporters of footwear during those times and were having their own retail stores in India. Bata got "Hawai" brand registered in 1959. The Hawai concept was a refinement, from product and price perspective, to the sandals manufactured from "Leatherite sheets". The 50's made Carona Sahu Shoe Company (Carona shoes) and Banik Rubber Industries (now Ajanta Footwear), also start manufacturing of Hawai to meet the growing Indian market needs.
The rubber flip-flop was a simple solution to India's economic state in the '60s. It had millions of poor people and needed a basic and inexpensive footwear that suited it's hot and tropical climate. Hawai was as an affordable footwear option for an overwhelmingly vast impoverished population.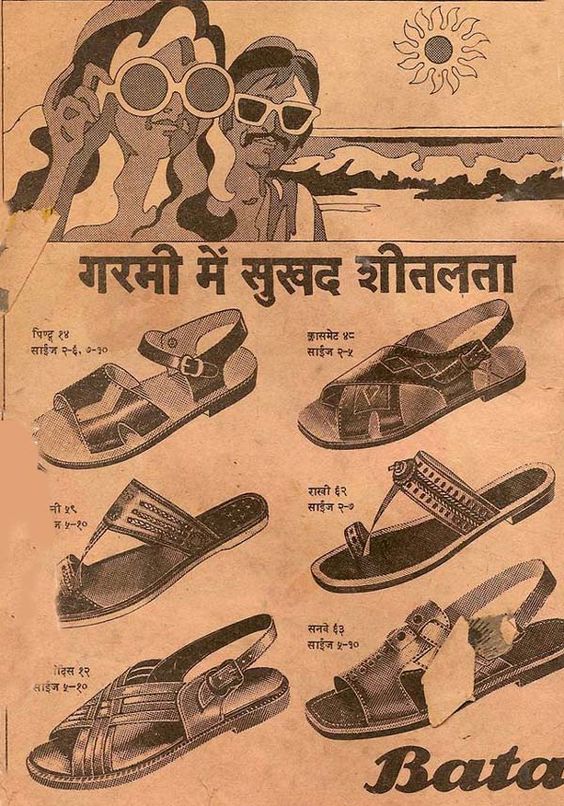 The 1970's decade was the one when many entrepreneur's set-up manufacturing and assembling of Hawai chappals as small projects. Hawai became their core product, giving them strong foundations over years to power India's growth for footwear industry, to become world's 2nd largest producer (2.6 billion pairs) and consumer (2.56 billion pair) of footwear with 95% being manufactured locally.
The rubber chappal became the most commonly used form of footwear in India. Worn by mostly everyone at every level of society, by both the rich and the poor. Blue and white, with thongs firmly grasping the Indian foot, striding proudly down the street, and shuffled about in most Indian homes. Hawaii chappals were not fashion; they were utilitarian items of footwear that answered the Indian requirement of cheap, cool and comfortable footwear in a hot and tropical climate. Most Companies started on a very small scale with production of just a few thousand pairs a day. The demand for Hawai category saw an exponential growth with millions of pairs being worn by Indians. Local rubber plantation in South India provided sufficient support for easy raw material availability. Till mid 1980's most flip flops were rubber- sole based. With the demand rising, the brands started introducing newer designs like cross strap; toe ring; and others with colours going beyond the basic blue white to grey, black, brown and more. However, with rubber as base, the colourways remained basic due to rubber compounding constraints.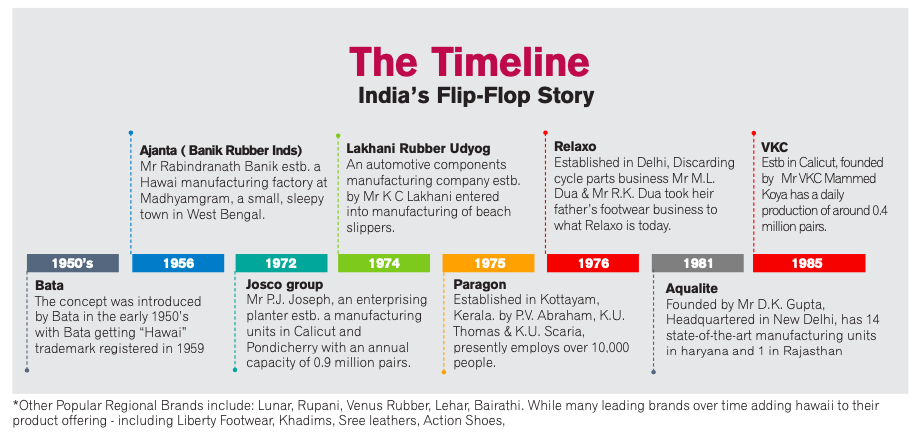 Name Game
From Hawai to Hawaii to Flip-flop: Transformation to the new fashion avatar
The first major product transformation came in the 60s, with a plastic polymer called Ethylene Vinyl Acetate (EVA), used for its manufacturing. In 1980's NOCIL company introduced the EVA polymer compound to Indian manufacturers of Hawai. The changeover was easy as the steam heated presses used in manufacturing for compression moulding of rubber-based ones could be adapted to compression moulding of EVA with minor change in temperature setting to cross link the polymer. EVA, being colourless allowed incorporation of colour pigments, providing options of manufacture with brighter colours, thus, offering opportunity for much wider colourway for consumers.
The rubber slippers have natural properties like flexibility and durability but are less abrasive. EVA, being plastic, has better abrasive properties, better life but are poor for wet resistance. Deeper bottom design of sole helped it overcome the anomaly. The rubber thong straps were still being preferred over plastic ones for flexibility, durability and comfort between toes during wearing in the earlier versions.
Indians called their chappals as "Hawai" for decades, being a common mass used name. Bata which held the trademark name "Hawai" in India for over 5 decades, decided to sell the brand to Alparagatas, a Brazilian company in 2008, globally recognised by brand name "Havaianas". Thus, Hawai got renamed as "Hawaii" in marketing terminology, though not much impacting the way common man called it. With the advent of new printing; processing and manufacturing technologies in the late 2000's and 2010's, the humble Hawaii in urban India managed to upgrade and uplift itself beyond its shower-shoe and in-house status, to something stylish and cool, and was renamed "Flip-flop".
The new versions started appearing with EVA bottoms and straps of multiple thickness made from plastic, EVA, textiles, canvas and others besides the rubber ones used since beginning, thus offering a much wider choice to the consumers.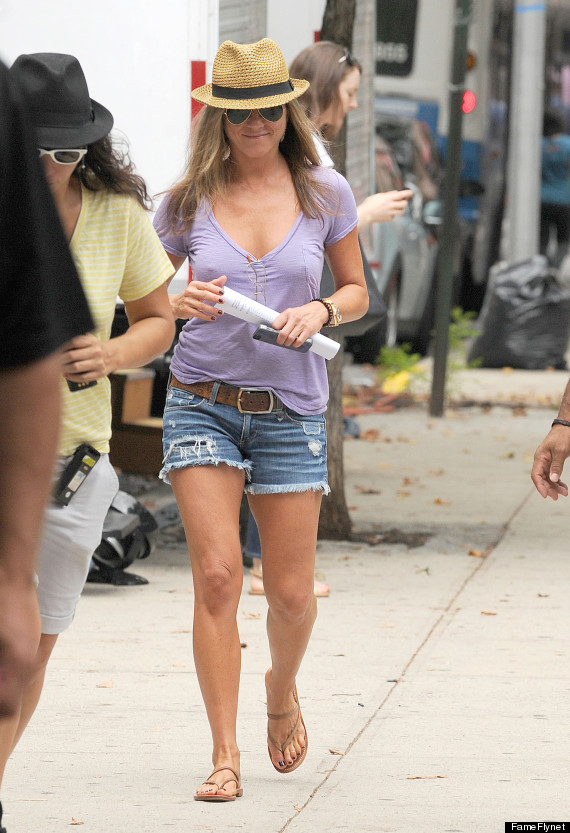 Considering the huge demand, the big multinationals like puma, Nike, Adidas, Tommy Hilfiger others, too started representing this category, with their premium version of flip-flop for Indian market. Be it in parks, colleges, casual workplace environment, cafes, restaurants and discotheques, boys, girls, men and women of all age groups started flaunting their V-strapped flip-flops, stocking many available colours and designs to suit every place and occasion. They adopted cool in colours like blue, yellow, red and green and multi-prints and designs! They were simple and inexpensive; and could be used for staying at home, go for a stroll, on a casual outing with friends or family, or for a movie, flip flops became the go-to easy option for all such events.
The World glory and Indian Humbleness
When world speaks of flip-flops, they talk big of Havaianas, a Brazilian brand (est. 1962), who carried them from a simple footwear form worn by dockworkers of Sao Paulo to the high-fashion glory world. They collaborated for SAINT LAURENT X HAVAIANAS, marketed the label as worn by celebrities like Kim Kardashian West, Kate Hudson, Megan Fox, Sandra Bullock, and being walked with during fashion weeks in India & Copenhagen being few. The other global designers too added on to its glory.
India though an early entrant, never claimed its share to glorify its humble Hawaii aka flip-flops. Many Indian celebrities from North to South, East to West limited the idea to be the brand ambassadors for promotions. From Ajith Kumar playing cricket or cycling in Miami Cushion or Ashok Kumar sitting leisurely in lawn at ease having his cup of tea with Relaxo Hawaii. Salman Khan being a savior for female fatale wearing one or walking down the ramp quoting "walk in style". Jyothika Saravanan dancing with her Paragon Hawaii heels, being a just few brand cases but limited to sales promotion. The Indian brands, designers and fashionista, still struggle to find an element to raise this product for the claim to level of world glory and create designs for fashion walks and ramps. It's time, the fashion and footwear institutions need to adapt them in their curriculum from design and heritage perspective. "Flip- flops" need to be taught as case studies, for how it easily sailed through over decades, and playing a critical role for our Indian footwear industry. They still carry such a vital role in everyday lifestyle and has achieved an "iconic" status though remaining humble and grounded.
A Point to Ponder
World over, doctors, podiatrists, chiropodists, and researchers for decades have made claims that wearing flip flops may cause unpleasant foot conditions and deformities. While the Indians and most south-east Asian countries, for generations have been wearing this humble footwear for daily use and even during long working hours.
Does it need further research, for how Asians feet are adapted to it without causing foot damages as claimed?