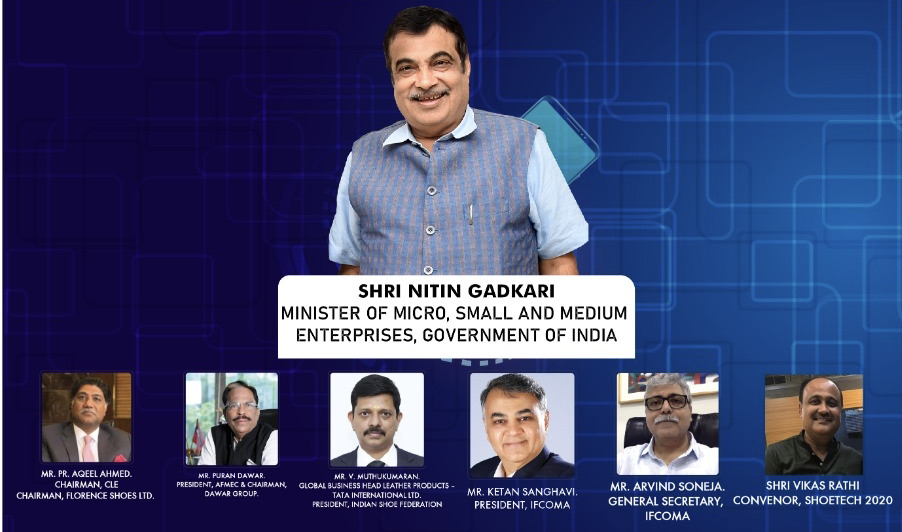 SHOETECH INNOVATION SUMMIT (SIS)2020
Shri Nitin Gadkari, Minister of Micro, Small and Medium Enterprises will inaugurate and deliver the Inaugural Address at the SHOETECH INNOVATION SUMMIT (SIS) organsied by Indian footwear components manufacturers association on November 23, 2020. The inaugural panel would host prominent dignitaries and stakeholders of the footwear components and footwear manufacturing industry; Ketan Sanghavi – President IFCOMA,  Aqeel Ahmed – Chairman – Council for Leather Export, Puran Dawar – President – Agra footwear manufacturers & Exporters chambers, V. Muthukumar  – President – Indian Shoe Federation, ARVIND SONEJA – General Secretary – IFCOMA and Vikas Rathi – Convenor SHOETECH 2020.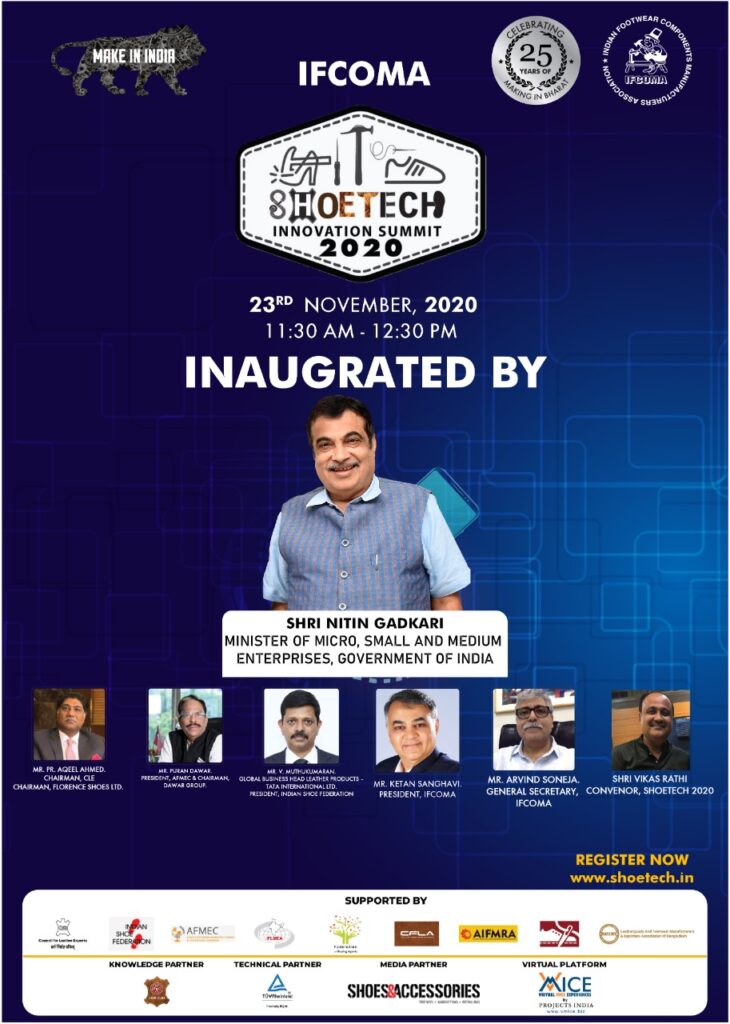 SHOETECH 2020 will be the 1st Virtual Expo in India on Footwear components and ancillary sector, and have finished leather, shoe components – soles, heels, insoles, fabrics, lasts and much more on display. The expo is being organized by IFCOMA to be held from 23rd Nov to 28th Nov, 2020. The event would be held via Virtual platform. Machinery is also likely to be part of this show. The show is being supported by major Footwear associations in India from Agra, Chennai , Delhi & Kanpur. This would be the 50th BSM in the series of events conducted by IFCOMA so far. The earlier BSM's have been highly appreciated by the Industry and this edition is expected to be of immense help to the local manufacturers as they could display and reconnect with the industry.
In addition, IFCOMA would be conducting six knowledge sessions spread over two days with expert's key note addresses and interactive discussions. The sessions are expected to be attended by delegates from more than 10 countries. 300+ Delegates have already registered for this conference. The BSM is expected to give the Industry a worldwide exposure on newly developed components and machinery. About 35+ companies are projected to take part in this BSM and exhibit their products/components during the event. More than thousand plus shoe manufacturers are expected to attend the virtual exhibition.
The Indian Footwear Components Manufacturers Association (IFCOMA) is a registered body under the Societies Registration Act and is the only trade association of Component Manufacturers in India. It is a non-profit organization managed by a duly elected apex body called the Executive Committee. The National Leather Development Programme and various ministries of the Government of India duly recognize our association. The growth achieved by IFCOMA in the last twenty years is a result of the true democratic spirit of a vast number of dedicated entrepreneurs and professionals who have worked ceaselessly for the cause of the industry. With the support of Footwear Design & Development institute (FDDI), NOIDA , within the purview of Ministry of Commerce, Govt. of India, New Delhi IFCOMA has set up a unique display center exhibiting the latest footwear components and upgraded technology adopted by the manufacturers of footwear components and members of IFCOMA. The association has a strength of over 200 members comprising of manufacturers of Sole, Insole, Lasts, Toe puff and Counter, linings, Interlinings, adhesives, Metallic fittings, Chemicals & Compounds, Clicking Dies, Eyelets, EVA Sheets & Compounds, Finishes & Polishes, Labels, Laces etc.
---