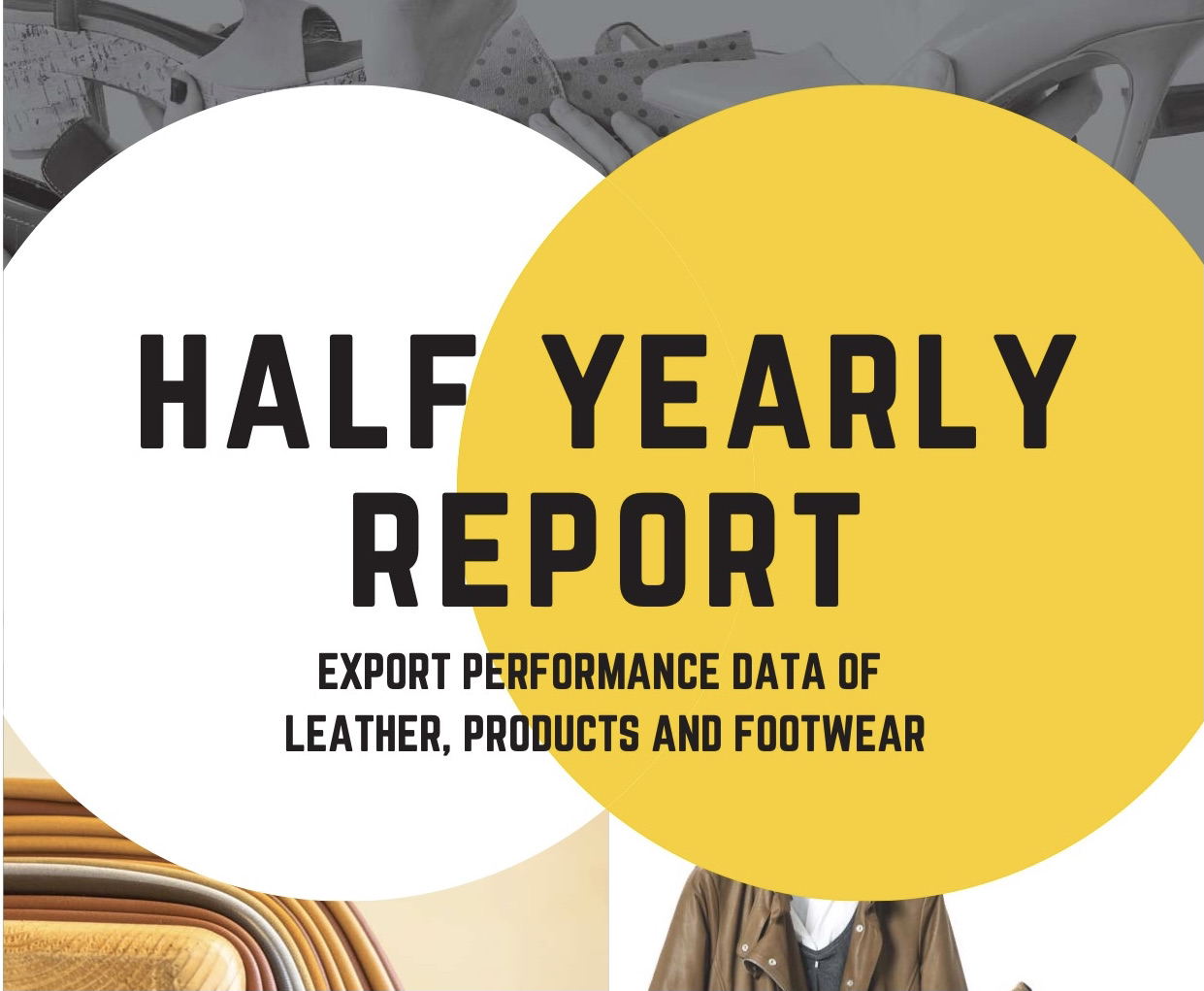 STEEP DECLINE TO PROMISING EXPORT OPPORTUNITIES
By Amit Chopra & Vikas Bagga
2020 continues to surprise.
Export promotional Councils (EPC) – The Council for Leather Exports (CLE) released the half yearly figures this month on the export performance of the leather, footwear, garments, components and goods past six months.
According to Mr. Aqeel Ahmed Chairman, CLE, " September'20 export figures are quite encouraging with footwear reporting 1.44% growth and overall exports were higher by 0.06% YOY growth. However, growth in India will understandably remain subdued in 2020 due to global covid lockdowns . As per officially notified DGCI&S monthly export data, the export of Leather and Leather products for the period April 2019-March 2020 touched US $ 5070.55 Mn as against the performance of US $ 5691.09 Mn in April 2018-March 2019, recording a decline of 10.90%." 
The Indian manufacturing sector had been slowly transitioning to Industry 4.0 over the past two years. The Covid-19 pandemic is significantly accelerating the pace. 
Industry 4.0 is the term now widely used for what is seen as the fourth industrial revolution – with the use of connectivity (IoT), advanced analytics (AI and ML), automation (robotics) and advanced engineering (3D printing). In this article, we have extrapolated the data for India from the report, and provided an insight to the economic impact of the pandemic on the sector as well as highlighted the manufacturing opportunities.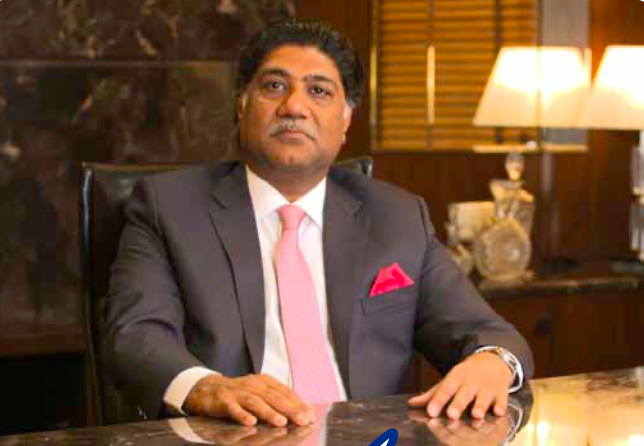 "CLE is optimistic for the chances of an rebound, once Europe & USA to emerge from the shadows of the Covid-19 pandemic. these markets will need to look for economical and trustworthy alternatives to produce much-needed merchandise in order to stimulate consumer demand. The production requirement could be partially met by india As India is a favourable destination for manufacturing."
Aqeel Ahmed PANARUNA, Chairman, COUNCIL FOR LEATHER EXPORTS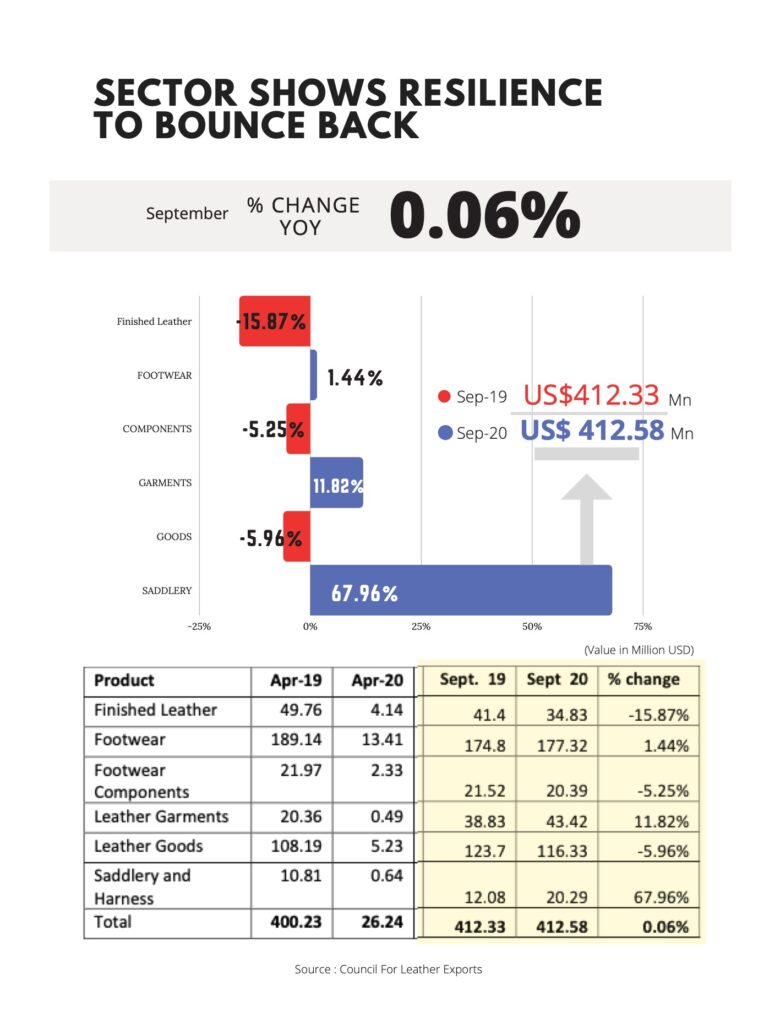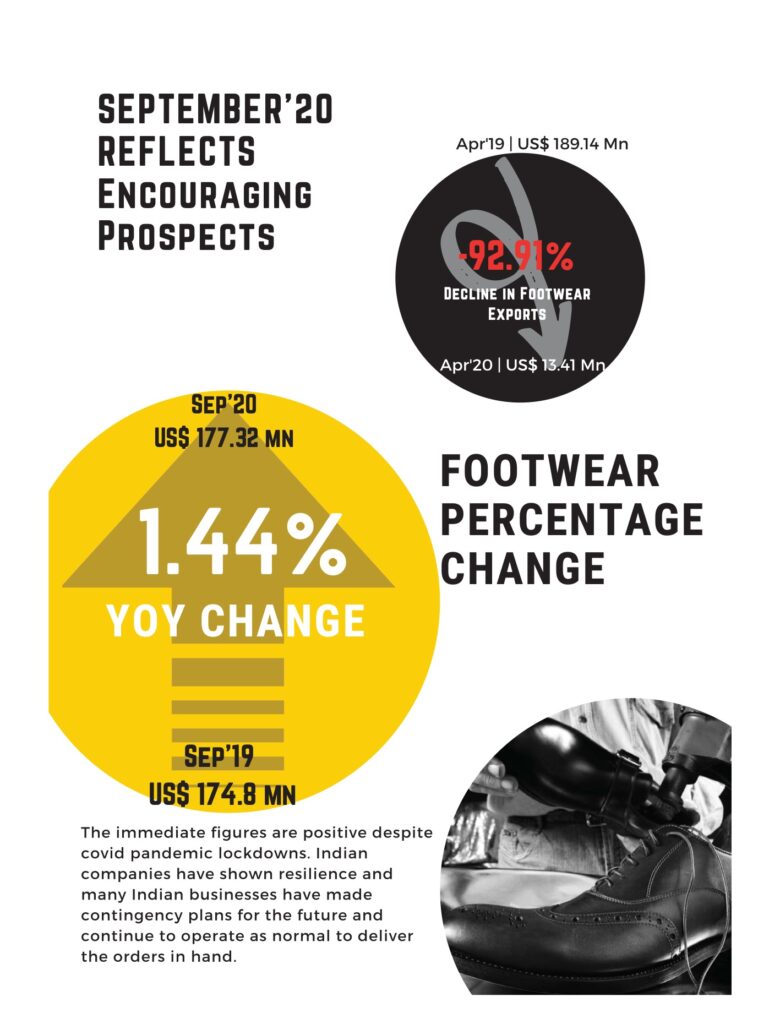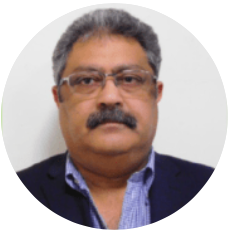 The Council is focusing on increased digitization, exploring new ways of reaching customers and unconventional ways of creating demand for the sector. We are confident that the industry would emerge stronger to give Indian footwear & goods sector a competitive edge in the world market." 
Sanjay Leekha, Vice Chairman Council for Leather Exports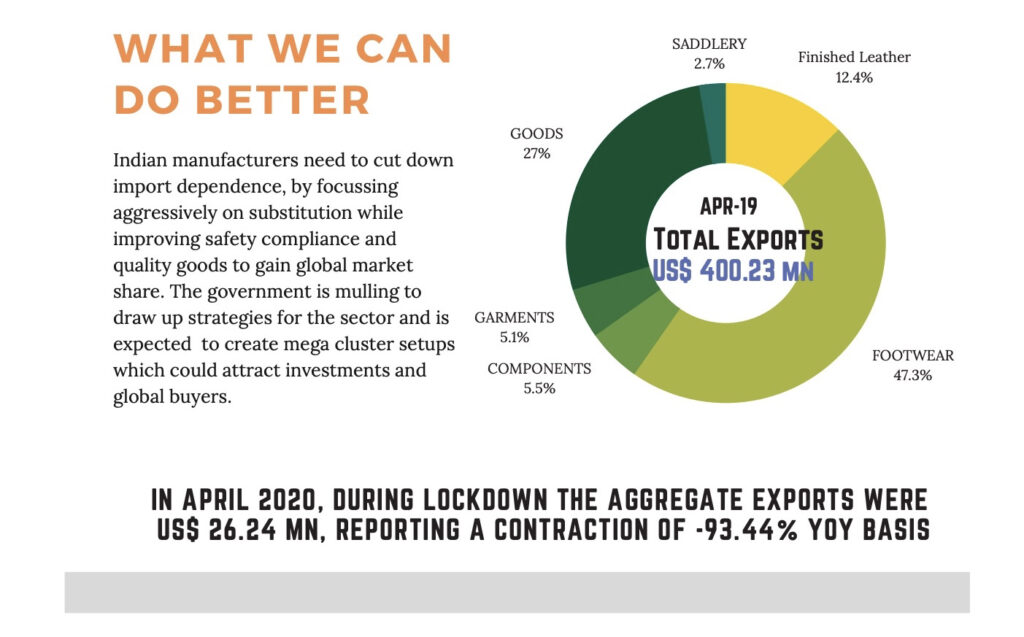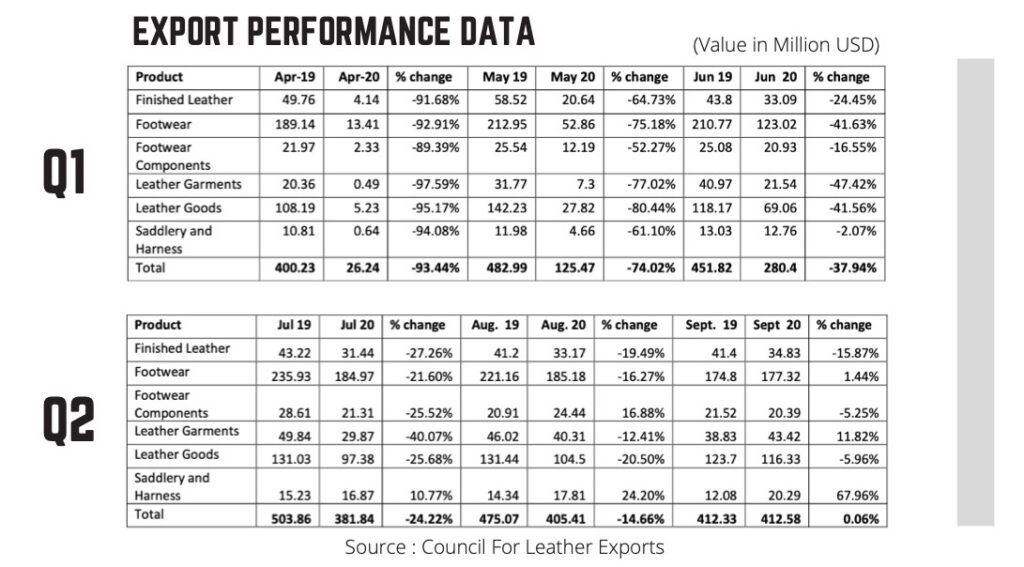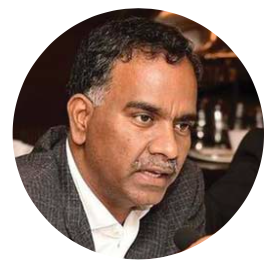 "To make India a global player and to offset disabilities faced by industries for reliable infrastructure, support would be provided for creation of a mega plug n play world-class infrastructure in various states . Meanwhile, due to the COVID-19 pandemic, all aviation & trade shows have unfortunately been cancelled or postponed. To mitigate the impact, CLE shall be organising 10 virtual exhibitions in potential & traditional markets."
R. Selvam, IAS, Executive Director, Council for Leather Exports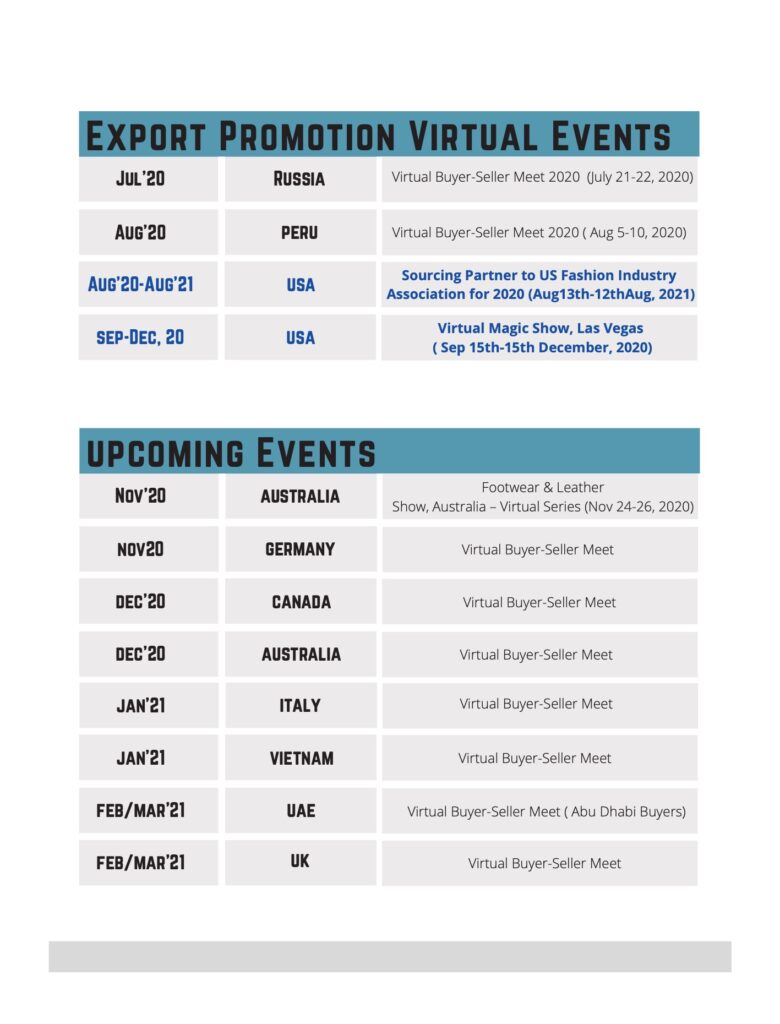 Certainly, September records are encouraging, however, with Covid cases still on a surge on the global monitor, the next quarter could be another story as it unfolds. The outlook for Indian manufacturing companies continues to remain tight for the October- December quarter.
---
SHOES & ACCESSORIES supplement edition on export performance data of leather, leather products and footwear. A comprehensive report that analyses the main trends within the leather, leather goods and footwear sector. The report provides an objective view on varied facets of the  Industry in India during the Covid times. This report was prepared by Amit Chopra, Managing Director – Shoes & Accessories, a professional with thirty years of experience in Management, Marketing, Brand Launches and Sourcing in footwear & leather industry, who has been instrumental in creating landmark changes in the footwear Industry in India through his varied experience in the sector and Vikas Bagga, Consulting Editor – Shoes & Accessories, a Strategy Consultant with thirty years experience in brand building, marketing, business development to drive value and has been engaged in corporate, SMEs and entrepreneurial start-ups, providing consultancy services and mentoring to assist in their development.