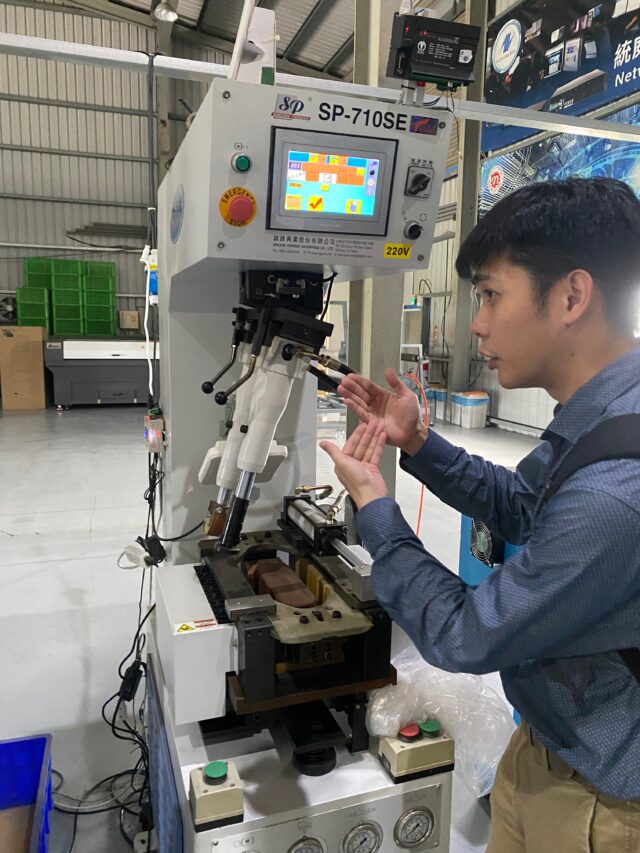 Over the last couple of years, Jim Chan, Special Assistant to GM of Taiwan Sincere Pioneer Enterprise Co. LTD, has experienced a rapid period of growth and expansion. He has successfully entered new markets and introduced new products that have outperformed initial sales forecasts.
by Ayaan Chopra
Jim explains "In situations where not all markets are performing well, the company's strategy
is to concentrate on the ones that are thriving." This rationale underlies his decision to enhance Taiwan Sincere Pioneer Enterprise Co.'s position within the dynamic footwear machinery sector by vigorously pursuing research and development initiatives.
Sincere Pioneer Machinery Co., LTD is guided by a commitment to the highest quality, sincere service, and the complete satisfaction of its customers. The company possesses cutting-edge equipment and an extensive after-sales service network, enabling us to deliver both exceptional products and outstanding service. In response to the increasing demands for equipment and product quality from its customers, they have conscientiously expanded their business scope, driven by an unwavering spirit of research and innovation, to address the genuine needs of its clients.
Sincere Pioneer Machinery Co. LTD. is an enterprise originating from Taiwan and operates two manufacturing facilities situated in Taichung, Taiwan and Dongguan, China. Sincere Pioneer used to be the manufacturer of ChenFeng machines, the Sincere Pioneer brand was established after the brand of ChenFeng been merged by ChenFull about 20 years ago. However, the management team, development team and experienced technicians are the same as 20 years ago and the company kept integrating machines and technology for the past 20 years.
SNAPSHOT
Main business: Professionals in lasting procedure
Main products: Lasting machines and sole attaching press.
Turnover: USD 10-15 million Approx. 
Machines exported: 200+ sets per year.
Average sale price: USD 30-80,000 
Major Markets: Vietnam, Indonesia, Cambodia, China, Europe
The China factory is staffed by over 20 Taiwanese experts, many of whom boast more than two decades of experience in their respective fields. The factory facilities cover an area of 12,000 square meters and are equipped with state-of-the-art CNC digital precision lathes, SUNNEN milling machines from the United States, and other advanced processing equipment. With a commitment to delivering high- quality products, impeccable services, and a business philosophy grounded in trust, innovation, enthusiasm, and teamwork, we have steadily and reliably served our customers through three distinct business departments: shoemaking machinery, firefighting equipment, and the vibration reducer department.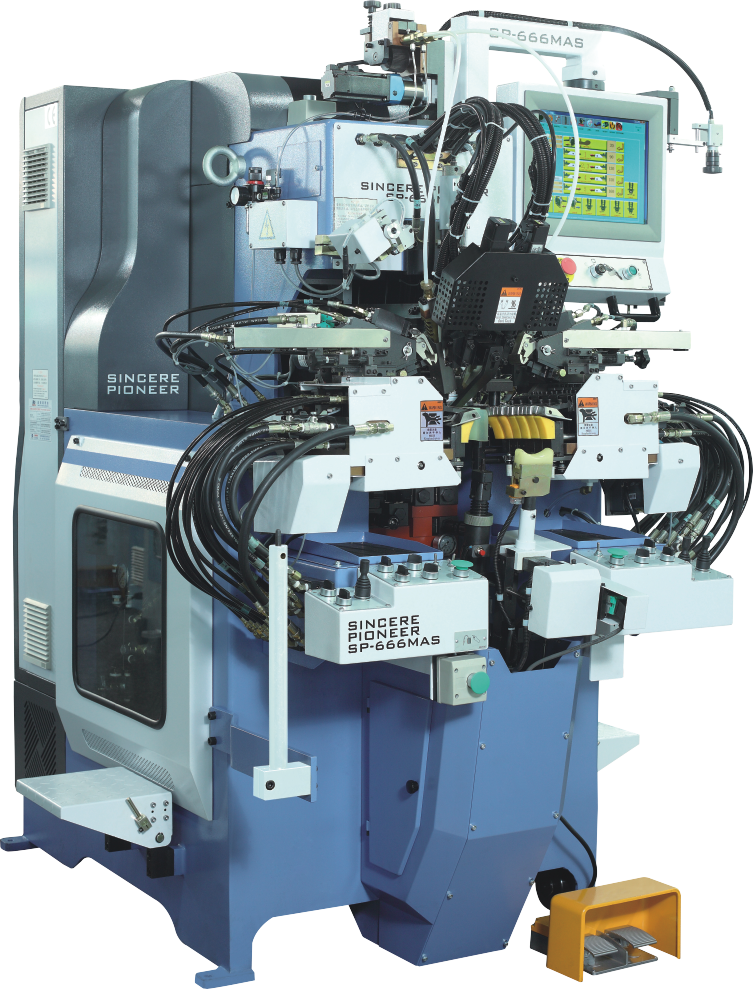 The Taiwan Factory, Sincere Pioneer Enterprise Co. LTD. Recognizes the robust growth of the footwear industry and the surging demand in Southeast Asia, India, Russia, Turkey, South America, as well as the local market in Taiwan. Its mission is to cater to and fulfill the substantial requirements of the international market. Moreover, the footwear industry has been experiencing significant changes in recent years, characterized by a shortage of labor in shoe manufacturing and a challenge in maintaining production capacity.
Consequently, the need to optimize production processes and replace manual labor with machinery has become increasingly urgent. Sincere Pioneer Enterprise Co. LTD. possesses a comprehensive supply chain in Taiwan and boasts a world-class development team dedicated to the creation of semi- automatic and fully automated shoe- making equipment. The company's highest objective is to drive innovation, conduct research and development, and elevate customer satisfaction to new heights.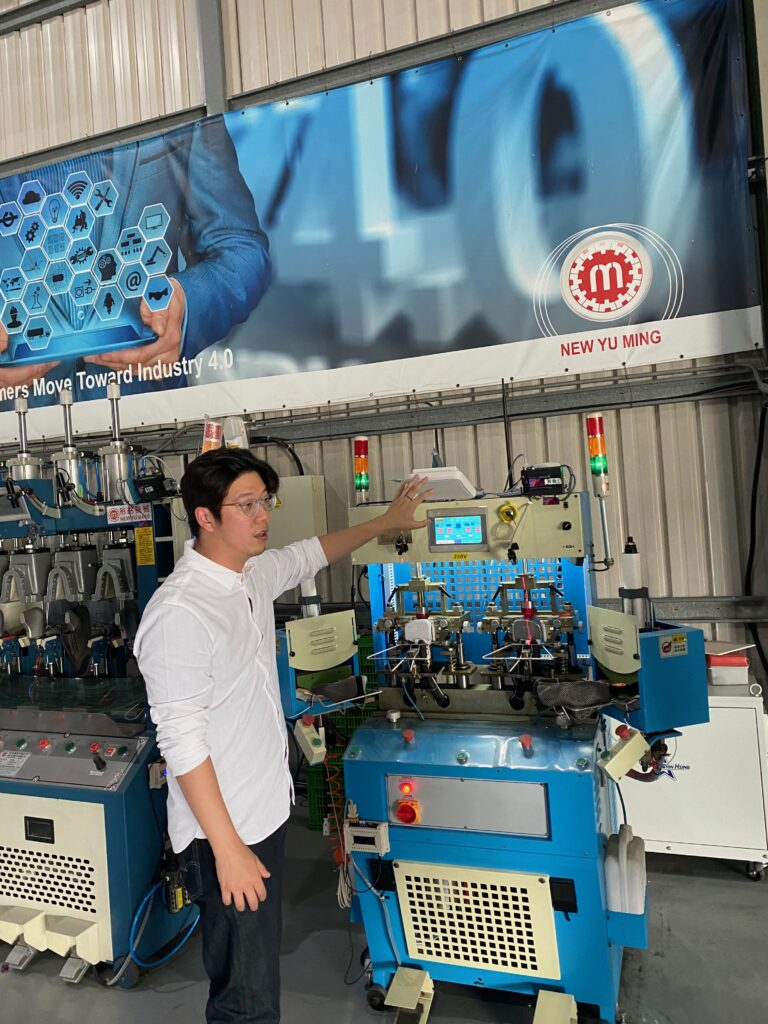 Jim states that "The innovation we've accomplished in the past two years has
led to enhanced machine efficiency and security. This, in turn, has resulted in a decrease in the total cost of ownership for our users, encompassing maintenance and repairs. Customers have acknowledged the improvements in machine availability and performance, which has contributed to the growth of our market share." Much of this growth is being invested back into the company, which is in an expansion mode and looking at new markets.
"Sustainability is a fundamental element embedded in every aspect of our operations. As we create solutions for our clients, our primary goal is to provide them with sustainable solutions," he explains. "This entails designing our products to be energy- efficient, thus reducing their environmental footprint. It also involves extending the lifespan of our machines."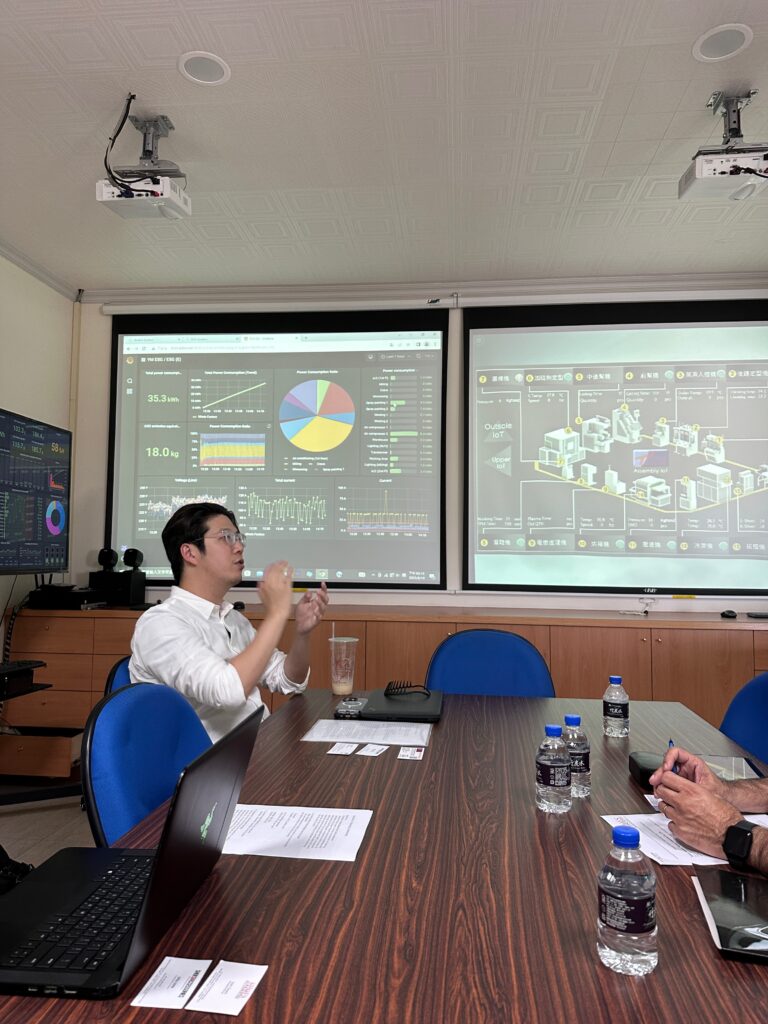 Sincere Pioneer has amassed a wealth of experience spanning two to three decades in the field of shoemaking machinery. Jim notes, "The company possess a deep understanding of customer demands and preferences, and our commitment lies in catering to the specific needs of our market. One prevalent challenge faced by our customers was the need to switch between different shoe types on their assembly lines, often resulting in reduced production efficiency. To address this issue, we engineered the toe lasting machine, designed to facilitate "Quick and Easy Change for Multiple Toe Last Shapes." Our primary objective was to minimize the time required for adjustments when transitioning between various shoe types, ultimately enhancing production rates—aligning perfectly with our customers' desires.
Our core focus is on "Innovative Differences," a principle that drives us to continuously enhance customer satisfaction. We remain unwavering in our dedication, persistently striving for innovation in both product development and service excellence."
MACHINES FOR HIGH HEEL WOMEN SHOES
The SP-818MA+ Computerized Automatic Cementing Toe Lasting Machine (featuring Servo-motor feeding), SP-666MAS Visual Locus Four-Axis Servo-Controlled Heel & Side Lasting Machine, and a heel and side lasting machine designed for ladies' shoes with heels reaching up to 13cm, have garnered recognition from numerous renowned shoe factories worldwide. These machines are advancing automation and cost-efficiency in the industry. Many countries with a prominent presence in the shoe industry have embraced these SP machines.
The company maintains service offices globally, including multiple locations in China such as Beijing, Tianjin, Hebei, Henan, Shandong, Hubei, Shanghai, Wenzhou, Jiangsu, Fujian, Jiangxi, Huidong, Chengdu, Foshan, Zhongshan and Dongguan, as well as overseas service offices and agents in Vietnam, Cambodia, Myanmar, Indonesia, Turkey, and Middle North America. "Our commitment to customer satisfaction knows no bounds. We aspire to address even minor machine issues promptly. To meet this goal, we organize shoe machinery training programs tailored to train operators and technicians among our customers' workforces. From 2006 to 2015, we successfully conducted 40 sessions of the Shoe Machinery Training Program, benefiting over 900 technicians. This comprehensive program encompasses hydraulic systems and theory, machinery maintenance, adjustments,
and configuration. We eagerly anticipate continuing our contributions to the shoe industry, providing the best we can offer." Jim stated.
Loyalty is the answer.
This doesn't mean that Jim doesn't encounter challenges in his role at the helm of Taiwan Sincere Pioneer Enterprise Co. On the contrary, the challenges he faces are, somewhat expectedly, a consequence of the company's impressive growth. Jim elaborates, "Recently, we've come to realize that some of our suppliers have limitations and struggle to keep pace with our expanding demands."
Jim's solution involves a blend of loyalty and transparency. He explains, "We make
a conscious effort to cultivate long-term relationships with both our customers
and suppliers. We adhere to a policy of steadfastness—we don't switch or make abrupt changes. Instead, we maintain open and transparent communication with them, and when necessary, we integrate additional partners into our supply chain to meet our customers' evolving requirements."
In this manner, none of Taiwan Sincere Pioneer Enterprise Co.'s suppliers ever find themselves surprised to discover that they share clients with their industry rivals and colleagues. The company's dedication to its suppliers aligns with its treatment of its workforce. Taiwan Sincere Pioneer Enterprise Co. is perpetually on the lookout for fresh talent. According to Jim, the key to building a robust team is also loyalty.
Jim asserts, "Similar to any organization, persuading employees to join is both essential and challenging. However, I can assure potential recruits of one thing – once they become part of our team, they tend to stay for the long haul." He continues, "When you value your employees and provide them with opportunities for growth, remarkable achievements become possible within a company. So, while attracting new talent may present its challenges, retaining them is second nature to us. It's ingrained in our corporate culture."
The future across the sea
Having found success in the southeast Asia and European market, Jim says
his current ambition is to harness the research, the positive company culture, and the environmental consciousness he has cultivated at Taiwan Sincere Pioneer Enterprise Co. to create new markets abroad. "We are being very boastful in India," Jim says. "It's not a huge volume – but it's still a very important move for us to have an industrial platform – market in India and to be able to develop products that are adapted to these environments."
He says he's also looking forward to upcoming plans to garner business for its products in India "When we launch products in a new country, we bring with us our high standards for safety, efficiency and working conditions, all while developing solutions specifically designed for that market," Jim says. While conquering the global market may be the goal for Taiwan Sincere Pioneer Enterprise Co., Jim emphasizes that a more attainable gauge of success would involve methodical and gradual growth. "I would like to see our performance improve in India. We have plans to organize our teams and launch a certain number of new products there – all we need to do is extend it to develop our market share," he says.
---