Inspired by shoes, styles and significant demand, the entrepreneurial couple Almas Nanda and Satyen Nanda crafted a premium footwear brand that isn't overly accessorized.               
By Amit Chopra
While family-owned businesses are not uncommon, working with loved ones presents distinctive challenges as well as advantages. S&A spoke with Almas Nanda and Satyen Nanda, a husband-and-wife team who co-founded Paul & Finch, to find out what it's like for spouses to work together in this industry.
Almas always knew she wanted to follow her family's footsteps by working in the industry she grew up in. But unlike many third -generation shoe retail owners who take the reins from their parents and work alongside their siblings, she also wanted to run her own company, separate from the one her grandfather and father started. While Satyen had a vision for his company, where he would connect the dots for customers; not just selling shoes, but helping them being fashionable too. Since launching their business venture together, the Nandas have relied on each other to carve out a market for their brand, each contributing their own Sense of style and knowledge in pursuit of success.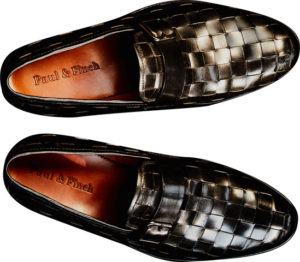 After 20 years of marriage, it's not surprising that Almas and Satyen Nanda have "a lot of synergy" in their working relationship. The couple expresses that one can innovate a traditional business by capturing the imagination and delivering the right product to make a brand. While Almas co-founded Inc.5 in 1998 with Satyen, the company has grown rapidly over the years and continues to grow at an astounding rate, through a combination of organic growth and being an early adapter of new innovative retail stores.
With Almas's business skills and Satyen's industry experience, the duo established the premium shoe brand – Paul & Finch in 2017. In an interaction with S&A they share the journey of Paul & Finch…
On Relationship
Almas: From the time we have known each other, our coffee shop conversations have been about our passion for style and business ideas. Our post wedding conversations haven't changed much! In 2017, discoursing over coffee we conceived the idea of Paul & Finch.
Satyen: Almas wasn't actively involved in her family business when we met, but was finding her ground. We founded Inc5, subsequently to us getting married. Over the years, we have learned how to work together, how to communicate more effectively and how to resolve foreseeable conflict faster through the work. Together, we kept riding that momentum and parlayed it into our second brand that we formed together: Paul & Finch.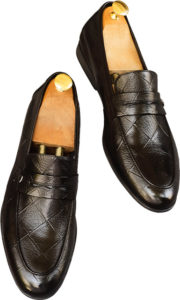 Almas: We make sure to constantly carve out time for ourselves. Both of us have our own lives outside of the business, Satyen's into biking …I'm an artist. We try to actively carve out time to be together and put the business conversations on hold. It's important to appreciate that your marriage is sacred and holds priority over your business. If you both share that mindset, you'll create a stronger understanding and bond with your spouse.
On Business
Satyen: Have fun! Starting or running a business with your partner must be fun. Paul & Finch's launch brought us a lot of excitement and we sure are having fun. Almas became my co-founder because she is qualified, not because she is my wife. She was always a part of the team running a successful business.
Whether inspiration flows from New York as with the sharp styles, or from the South American rich finished leathers, the founders create shoes they would enjoy urban men wearing in particular. "We've yet to retail shoes for women in particular, but we're starting to think about consumers in a different way and might introduce shoes to women."
Managing Collections
Businesses can be demanding, but finding and sourcing high quality products has posed the greatest difficulty for both, who are not immune to the industry-wide sourcing and taxations struggle.
"The greatest challenge has been right product at the right price and time," Satyen says. "It has taken me years to figure out the best sourcing units. This year I finally turned a corner and made good progress. I have some brilliant factories backing me up now."
For Almas, she has had to balance creating a trendy and comfort range for the season. "I get too possessed for the collection I would like to offer for the season, and sometimes that can be a problem,"
Challenges
Almas: Our greatest challenges have been employees and finding product lines for the summer months. Our area is a big fashion zone, where we go from about Rs 8000 onwards to over Rs 20,000. So, finding a product line to generate sales in the summer had been a challenge until we brought on the casual lines.
An evolving company, a changing industry
Almas had a vision for her company, where she would connect the dots for customers — not just selling shoes, but helping customers with the best fits and trends.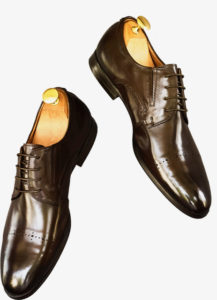 "When I started INC 5, I really enjoyed trendy designs and helping people with the best fits, not just on the sandals & slippers, but on the closed shoes too, and we really have accomplished that," says Almas, who has an Accessory Design Degree from NIFT Delhi. Subsequently, Almas and Satyen launched Paul & Finch and like many family-owned companies, each assumed a role based on interests, skills and passions. Almas used to manage the styling and trends side of the business, while Satyen has always managed sourcing and operations. Almas now oversees retail operations, marketing and public relations, but the changing retail market also demanded new roles for the couple."That's one of the problems we've had — he has never been as anxious to own a business as I have," Almas says. "But he has been a tremendous support. Being a few years older, he had more experiences in life and different experiences in life, and I would look to him for advice. Satyen has an amazing creative side and an eye for detail that borders on eccentric. This is what makes him so good at what he does."
The company
Satyen: I went on my own in 2001 and started a manufacturing unit. I had to be crazy. It was a difficult to handle labor and taxations. Today, It's a lot easier to source end products and retail. So that's when the idea for a brand came to mind. In 2017 when we launched Paul & Finch, and it's been fun dabbling into retail. On the wholesale side, we have yet to analyze and explore. We shall take it when we feel it's the brand has matured a bit and we see an opportunity. So far, it's an excellent business, and it really complements the family store."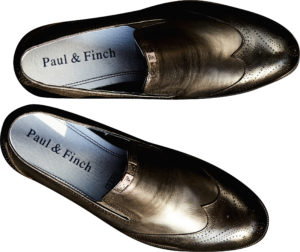 Almas says, "My passion is just shoe industry, really. I've always had an interest in it. I love being creative. At the end of the day I get a sense of achievement when I see one of my designs well executed. We reinvest heavily into the stores and picking up a new project would have been too demanding, but we found a huge gap in the market. So, we took baby steps to build Paul & Finch. Now, we intend to pick up pace. We're always doing something different and neat, and I love the creative side of it."
Best part about working with your partner
Satyen: The best part of working with each other is that we know that we are not in it alone. If I have a problem that I can't figure out how to handle or make work, I know that I can go to Almas and she will give me her opinion on how to solve the problem. We are always bouncing ideas off of each other and she is my voice of reason.
Advice for Couple teams
Satyen: Treat each other with respect. Just like a marriage, there are good days and bad days in business. You have to know that business is business and personal is personal and not confuse the two, otherwise problems can arise that may affect either one of those relationships.