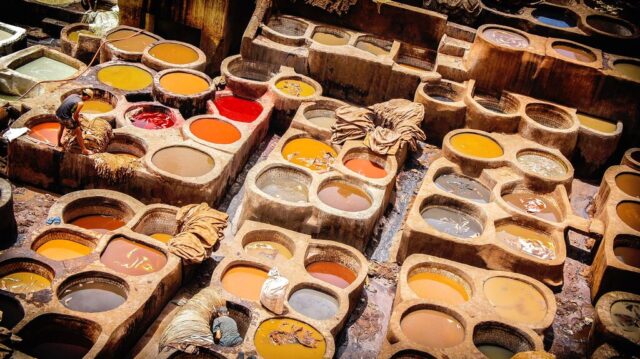 A report by SGS
The Indian leather industry holds a prominent place as a leading contributor to the domestic economy as well as in the global leather production landscape. With a robust production of 3 billion sq ft of leather annually, India contributes nearly 13% of the world's total leather production.  This sector is known for its consistency in high export earnings and is among the top ten foreign exchange earners for the country.
Authored by: Dr K A Vijayakumar, National Manager – Sustainability Services, Connectivity & Products, SGS India Private Limited
While these statistics affirm a very positive stance for the industry, a deeper delve behind the scenes, into the manufacturing facilities, reveals the massive challenge
on sustainability front. Tannery effluents carry heavy pollution loads due to a massive presence of highly colored compounds, sodium chloride and sulphate, various organic and inorganic substances, toxic metallic compounds, different types of tanning materials which are biologically oxidizable, and large quantities of putrefying suspended matter. Solid wastes include animal skin trims, animal hairs, flesh wastes, buffing dust and keratin wastes. All these wastes contain protein as the main component. This protein if not utilized properly, becomes hazardous for the environment. Poor management of chemicals at leather manufacturing facilities can lead to adverse impacts on human health (posing risk of cancer, neurological and reproductive impairments) as well as environment (ground and surface water contamination, aquatic toxicity, air pollution).
Leather manufacturers need to implement practices to minimize or eliminate human health and environmental impacts resulting from their operations. These practices should not be restricted to their facilities and need to extend beyond, to supply chain partners as well. A robust and scaleable Chemical Management System (CMS) is the answer. Better chemicals management can lead to better products, in the form of improved quality and consistency. It also positions the brand at the forefront as a leader in the emerging efforts of industry to publicly report and rank companies' chemical management practices, demonstrate compliance and build customer confidence.
Unfortunately, the common understanding of chemical management for companies is limited to implementation of Manufacturing Restricted Substances List (MRSL) and Restricted Substances List (RSL). A robust chemicals management program is much broader in scope, addresses various aspects and involves multiple touchpoints.
Does the facility meet all the local regulatory requirements on chemical management like storage and handling of chemicals, disposal of used/expired chemicals?
Supply Chain:

Forward Integration: Does the facility have a system to ensure RSL and regulatory compliance for the final products and across its supply chain?
Backward Integration: Does the facility have a system for sourcing materials that ensures appropriate chemicals management practices are in place?

Does the facility have awareness about the chemicals used during production processes, residuals in final products, and their impact on human health and environment?
Has the facility implemented proactive steps to innovate and use positive chemistries, and synchronize them with product performance needs?
Towards Greater Efficiencies
Poor and irresponsible management of chemicals can be hazardous and pose a significant risk to health and safety of personnel as well as environment. Implementation of Chemical Management System introduces a range of tangible benefits. These include:
Avoid excessive / replicative purchase of chemicals. Often, the excessively purchased chemicals get expired, requiring disposal in the effluent stream. This further loads the Effluent Treatment Plant and harms the environment.
Helps in cost savings, through more efficient practices such as correct storage, handling, use and disposal procedures.
Enables easy identification of hazardous chemicals in the chemical inventory.
Chemical Management helps to reduce chemical loading onto the Effluent Treatment Plant or ETP. Reducing duplication and optimizing exact dosage of use, choosing chemicals with lower inherent COD (Chemical Oxygen Demand) and BOD (Bio-chemical Oxygen Demand) values and reducing non-productive outputs that 'go down the drain' can ensure lower loads on ETP and thereby manageable effluent treatment costs.
Builds a better understanding of input chemicals and enables organizations to meet the stringent requirements of effluent, air and sludge discharges outlined in the License to Operate.
Builds Buyer Confidence and provides a competitive edge – Buyers prefer facilities that conform to their chemical restriction requirements and comply with all regulatory norms.
Execution Is Critical To Success:
One of the key elements of chemical management is the Chemical Management Team. The responsibility for the implementation of a chemical management program lies not with an individual, but with a team. Active involvement and participation of the following departments is critical:
The Environmental, Health and Safety (EHS) Department – The EHS Manager is a pivotal member of the Chemical Management Team and should oversee the entire chemical management system.
The Effluent Treatment Plant – The ETP Manager should provide insight and understanding of the impacts on effluent from chemicals used in the manufacturing processes.
The Purchase Department – should ensure that only those chemicals and raw materials which are complying with regulation to be purchased in the factory and that all documents related to the purchased chemicals are in order.
The Quality Department – should ensure that the chemicals used in the final product meet the chemical requirements of brands, regulations etc. along with other performance requirements.
The Operations or Production Department – must check that the chemicals used in production are applied as per the recommendations of the chemical supplier in terms of dosage and application conditions.
The factory management should first make a commitment for the implementation of a Chemical Management System. Once done, the management must initiate the below actions:
Review of procurement and supplier practices.
Identification and documentation of chemicals- related documents such as SDS (Safety Data Sheets), compliance certificates etc.
Assess the regulatory compliance requirements for chemicals used and discharged from the factory.
A Chemical Risk Assessment of the inventory is performed to identify the chemicals and processes of concern. This list can also be obtained through the review of procurement practices and regulatory assessment. Performance goals and action plans should then be initiated. These will require:
Organizational structure to manage chemicals, documentation & record keeping and development & control of systems.
Training of internal and external stakeholders on chemical management work practices and emergency procedures.
These performance goals should be monitored and measured through frequent audits and/or wastewater testing. Change management and corrective actions (wherever applicable) should be undertaken promptly.
Good Practices in CMS:
Thorough training must be provided to the personnel involved in CMS implementation. The ZDHC Foundation frequently conducts training programs on CMS for the textile and leather & footwear industries. One can keep the below listed good practices in mind for a successful implementation of CMS:
Chemical Inventory: List out each chemical used in the factory, whether it is directly used in the making of the final product or as a miscellaneous chemical, such as ETP, laboratory, utility or sanitary chemicals.
Undertake Risk Assessment of the chemicals listed in the inventory by identifying the hazards, determining the exposure and calculating the risk to human health and the environment.
Plan out and implement risk control measures or precautions required for storage, handling and containment of the identified hazardous chemicals.
Communication: The potential hazards must be communicated to all the personnel from store to finishing.
Use of Personal Protective Equipment (PPE) and safe use procedures for workers handling chemicals in the facility.
Emergency Response Planning for chemical spillages and accidents.
Incorporate checkpoints for screening of chemicals for compliance and mandatory documentation in the purchase process.
Develop a waste disposal and management system, including classification and segregation of hazardous waste.
Follow Up:
Chemical Management Systems need to be monitored at frequent intervals by conducting chemical audits. The facility can also follow programs such as Higg Index by Sustainable Apparel Coalition (SAC), ZDHC Foundation (Zero Discharge of Hazardous Chemicals) or equivalent.  The findings should be discussed during the review meetings to study the effectiveness of the implementation of CMS, identify improvement areas and actions.
SGS – Supporting your Zero Discharge Goal
SGS offers a comprehensive range of services to help manufacturers and their suppliers to create a safer environment, as well as assisting the leather and footwear supply chain toward the zero-discharge goal, by providing robust and holistic solutions for chemical and environmental management across the supply chain.
Our unique Trio Approach offers three strategic areas of support and training:
Training & Knowledge Management
Chemical Risk Assessment
Best Practice & System Implementation
These advanced solutions and trainings help the industry to build a good understanding of the concepts and achieve successful implementation of CMS to meet the regulatory requirements such as REACH, CPSIA etc.
The author can be reached at: vijayakumar.ka@sgs.com
---