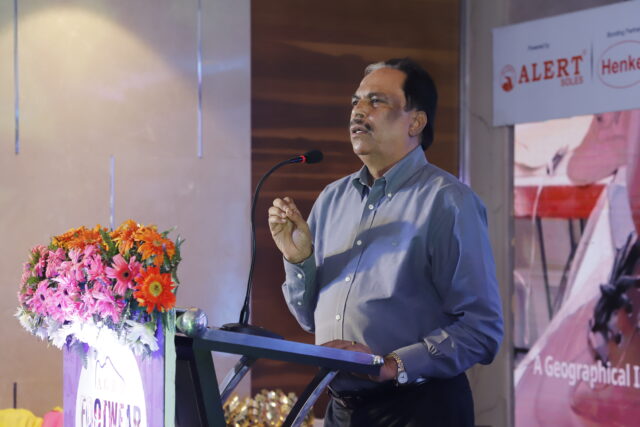 The 'Agra Footwear Conclave,' jointly organized by FAFM, AFMEC, and CCLA featured expert insights on marketing strategies and facilitated creative discussions to explore fresh market opportunities
The meticulously organized 'Agra Footwear Conclave,' held on 16th Sep,23 at Hotel Holiday Inn, unfolded in a tripartite manner, with each session serving as a spotlight on pivotal facets of the footwear industry. The event's inauguration was a noteworthy occasion, graced by prominent figures including AFMEC President Puran Dawar, FAFM President Kuldeep Kohli, Chief Patron Vinod Katyal, Vice President Manish Luthra, and IFCOMA General Secretary Deepak Manchanda. Commencing the conclave was the inaugural session, an intensive exploration of Geographical Indications (GI) tags, which scrutinized the prospective advantages stemming from the conferred GI designation on Agra's leather footwear.
Subsequently, the conclave pivoted towards its second phase, wherein the focal point shifted to the realm of e-commerce. Here, a distinguished panel hailing from Delhi offered a comprehensive panorama of the ever-evolving dynamics within the online market. Esteemed figures such as Vikas Bagga – Business Strategy Consultant, Dharmendra Gupta – Digital Innodrive, Nikhil Rishi – Incirco Tech and Hitesh Bhardwaj – Abros, all hailing from Delhi, graced the event as panelist while they were joined by Shruti Kaul – Trishuli and Nikita Magan – Hydes n Hues from Agra.
During this significant gathering, AFMEC President Puran Dawar emphasized the necessity of collective efforts to propel Agra into a global leader in the shoe industry. Meanwhile, FAFM President Kuldeep Kohli underscored the importance of strategic measures to achieve this ambitious goal. Nishesh Aggarwal of Sleen India, based in Agra, shared valuable insights about the inaugural BIS testing laboratory established in Agra. Additionally, Sun Consultants provided a comprehensive presentation that dispelled any misconceptions surrounding BIS (Bureau of Indian Standards) compliance.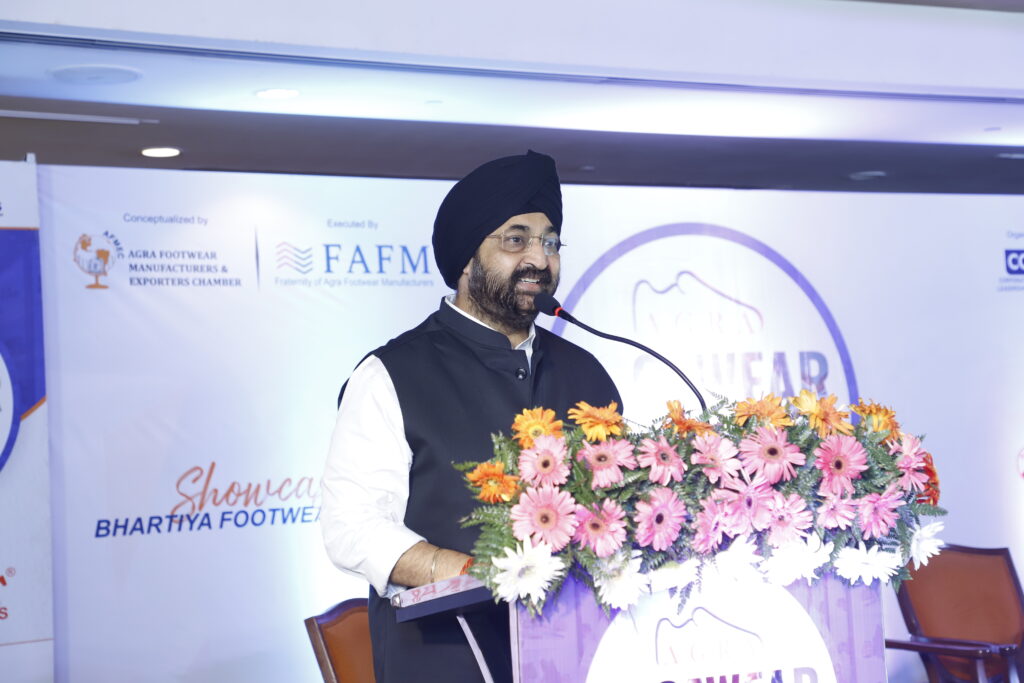 In his insightful analysis, Vikas Bagga meticulously moderated the two sessions that revolved around Geographical Indications (GI) tags and the dynamic world of e-commerce. Bagga emphasized that the session on GI tags shed light on the historical significance and potential economic benefits of such designations, with a specific focus on Agra's leather footwear industry. He highlighted how the GI tag could serve as a valuable tool for brand protection and international recognition, potentially bolstering the regional economy.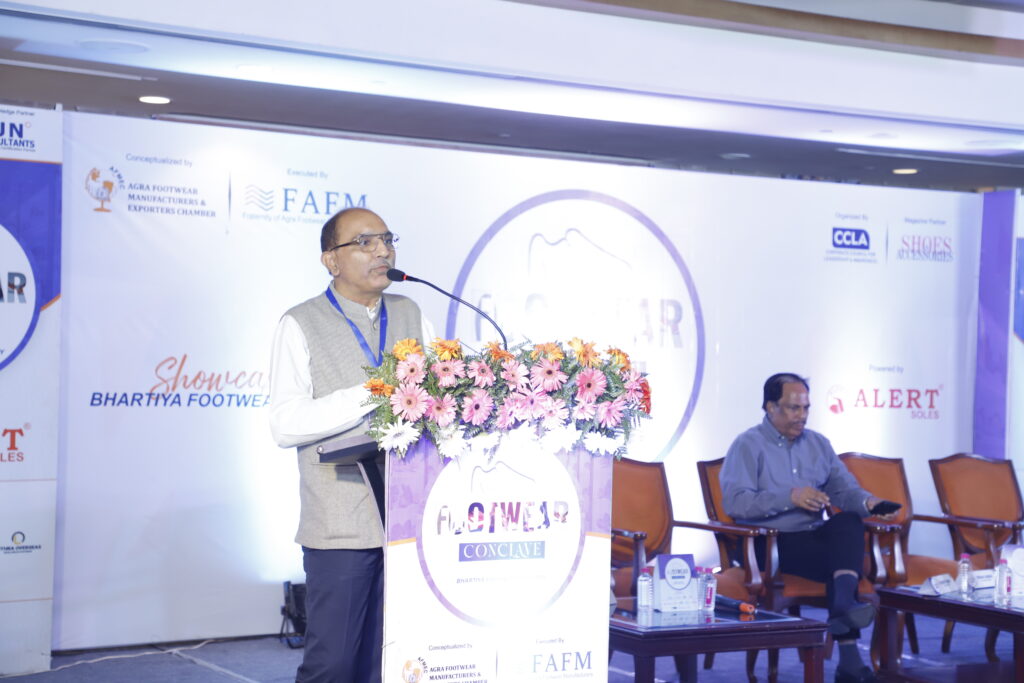 "FAFM Agra Footwear Conclave was more inclusive and interactive than ever before. The collaborative approach amongst the stakeholders too was clearly visible. The series of learning sessions added a distinct fervour which should go a long way in creating a visible impact across all domains of our Industry" – Vikas Bagga, Business Strategy Consultant
On the other hand, when examining the e-commerce session, Bagga underscored the rapid transformation of consumer behavior in the digital era. He pointed out that panelists from Delhi offered a comprehensive understanding of the intricate dynamics of online markets, showcasing the power of technology, data analytics, and consumer trends. Bagga observed that e-commerce has become a crucial driver of the global economy, with implications for businesses of all sizes.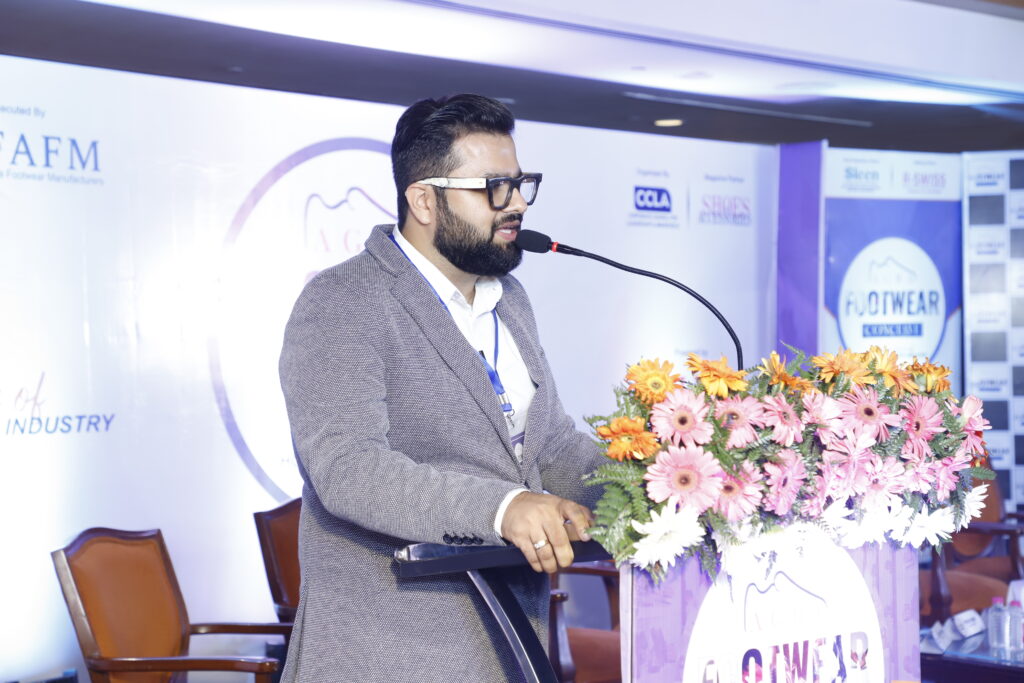 In conclusion, Bagga's comparison revealed the conclave's well-rounded approach in addressing both the traditional and modern facets of the footwear industry, demonstrating the sector's resilience and adaptability in a rapidly changing landscape.
The conclave also featured a special segment where entrepreneurs who have made outstanding contributions to the shoe industry were honored with the prestigious Footwear Excellence Awards.
Award Winners
Lifetime Achievement Award – Anil Magan, Shroff Group
Pride of Footwear Industry – Puran Dawar, Dawar Footwear
Excellence in Footwear Export – Gopal Gupta, Gupta HC Overseas
All Rounder of Agra Footwear Industry – Kaleem Ahmed
Consistent Trader of the Decade – BK Shoes, Ashok/Subhash/Jitendra Middha
Entrepreneur of the Year – Dinesh Maheshwari
Design Excellence Award- Sanjeev Allahabadi, Feet Care
Manufacturer of the Year- Kaps Overseas, Sumit Kapoor, Amit Kapoor
E. Commerce Award- Rohil Agarwal, Rohil Polymers
Emerging Brand of the Year – Chander Poptani, Hitz
Woman Entrepreneur of the Year- Shruti Kaul,
Master in Open Footwear – Navneet Sachdeva, Shoeland Enterprises
The sessions concluded with standup comics who brought forth waves of mirth and joy, creating a delightful atmosphere for all attendees. Renowned comedian Pawan Agri, known for his TV show "Wah-Wah Kya Baat Hai," and the talented Bollywood actress and poet Baljeet Kaur regaled the audience with their brilliant performances, eliciting hearty laughter.
Among the notable attendees at this occasion were Chandra Mohan Sachdeva of Alert Soles, Pradeep Wasan, Sameer Dhingra, Deepak Poptani, Chander Daultani, Abhishek Ralli, Sankalp Ralli, Sumit Kapoor, and Sanjay Ahuja. The warm reception of the guests was carried out by FAFM Treasurer Rajendra Magan and Tarun Mahajan. The event was expertly managed by CCLA General Secretary Ajay Sharma, Brajesh Sharma, and Dr. RN Sharma, with coordination efforts led by Vikas Bagga and Nakul Manchanda. Finally, a vote of thanks was extended by FAFM Secretary Sanchit Munjal to conclude the event on a grateful note.
---