Red Chief, one of the oldest and trusted footwear brands in the Indian market, has been recognized as' The Iconic Brands of India 2020', for being one of the best Indian brand in leather footwear industry. Red Chief has received the coveted award for company's continuous quest for excellence and perfection and for their commitment to provide the very best to their customers.
'Iconic Brands of India 2020' by Economic Times is an initiative to feature the successful brand stories and outline the DNA of these legendary brands, taking a deep dive into what has made these brands stand out and what are they doing as an ongoing process to live up to the iconic status.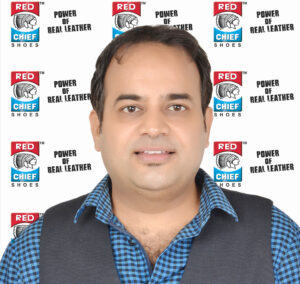 Speaking of the occasion, Rahul Sharma, General Manager (Marketing) said, "We would like to thank the Economic Times team for presenting us with this award. This 'Iconic Brands of India' award for Red Chief Shoes validates our commitment and sends a strong vote of confidence to our team and partners and reinforces the message that we at Red Chief, have been and would be committed to provide the very best. It is a moment of pride for us, our customers, all other stakeholders. The award also bears a testimony to our quest for excellent quality leather footwear, that come with the hallmark of comfort and style, which we have been consistently providing for over 23 years now to our wide base of loyal customers across length and breadth of the country."
"As a brand Red Chief is rugged, tough & confidently stylish and youth remain our main focus.Our message to them is to live their 'Dream', 'Dare' to initiate and discover the'Hero' who lies within," he added.
In 2019, Red Chief brand roped in Vicky Kaushal as Brand Ambassador through a 360 degree "Khel Gaye Chief "campaign across T.V, Print, Outdoor & Digital platforms. Many more brand campaigns are ongoing and also lined up with Vicky in forthcoming seasons.
In 2019, the brand launched RC-30013 to provide its customers with ultimate comfort and style in footwear. RC-30013 shoes are made of 100% genuine leather using the latest innovations to provide breathability and durability. They have light weight rubberized PU sole for better grip and PU insole for extreme comfort.
2020, the brand launched a large format store 'House of Red Chief' in Lucknow. It is a multibrand and first of its kind store wherein company is offering "Red Chief " leather footwear and apparels for men, "Furo Sports" Sportswear brand for men and woman and newly introduced Women range "Lamoure" footwear and apparels .
In 2018 brand launched Springer shoes with "Hybrid Suspension System" & advance cushioning with low density PU sole to provide bouncy effect while walking, which keeps the user Springing all day long.