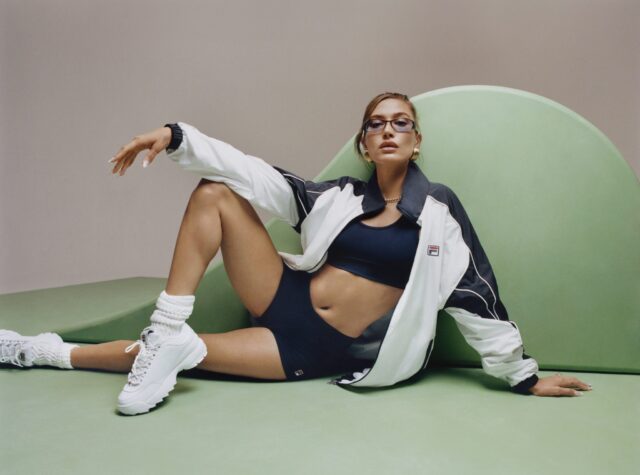 Through their multi-year partnership, Bieber and Fila will work together to create exclusive sportswear collections, with the inaugural release scheduled for the fall/winter season of 2024.Bieber first debuted in a Fila campaign in the fall of 2022. With the new multi-year partnership, she will collaborate to design signature sportswear collections and its first drop will be released in fall/winter 2024.
"Hailey has been a supporter of the brand and we look forward to continuing our relationship together. Her impact on fashion and culture is undeniable and she brings an effortless and fresh new perspective to the brand," said Deepika Deepti, senior vice president of marketing, Metro Brands Ltd.
Fila has unveiled a fresh campaign to commemorate the 50th anniversary of its iconic F-box logo, which was introduced in 1973 and has come to symbolize Fila's impact on both sports and fashion. This new campaign features Justin Bieber and sponsored tennis player Reilly Opelka, and it was expertly captured by photographer Renell Medrano. The two stars are seen showcasing the tennis-inspired F-box anniversary collection in this latest campaign.
"I am grateful to expand my role with Fila, a brand that has always stood out for its quality, elegance and bold and beautiful designs," said Bieber. "I appreciate the brand's Italian heritage and the eras of Fila fashion where I can continue to draw inspiration. I am excited to bring my own point of view to Fila's iconic styles, as we work to create something special together."
Headquartered in Seoul, Fila was founded in 1906 by brothers Ettore and Giansevero Fila as an innerwear brand and in the 1970s it moved into sportswear. Today, the athleisure brand retails globally in over 70 Countries.
Fila India is a subsidiary of the footwear company Metro Brands Ltd, and it inaugurated Fila's first store under the Metro brand in Mumbai back in 1955.
Metro Brands also retails footwear under its own brands of Metro, Mochi, Walkway, Da Vinchi and J. Fontini, as well as third-party brands such as Crocs, Fitflop, Skechers, Clarks, Puma and Adidas. As of June 30, 2023, the company operates 766 Stores across 182 cities spread across 31 states and union territories in India.
---