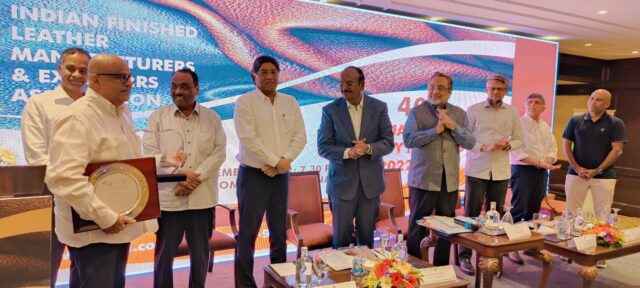 The 'Lifetime Distinction Honor' was given by Dr. M Rafeeque Ahmed in the esteemed presence of Mr. Habib Hussain, Mr. PR Aqeel Ahmed, Mr. KR Vijayan, Mr. R Selvam, Mr. DVD Vasu, Mr. Atiqur Rahman, and Mr. Salman Parpia.
In acknowledgment of his significant contributions to the Leather Sector, specifically highlighting his endeavours at CSIR-CLRI in Footwear Styling and Design, Research and Development in Trend Forecasting, Colours and Texture Advancement, as well as Shoe Design Education and Training, it is essential to recognize his remarkable achievements. Additionally, he has demonstrated exceptional proficiency in strategizing for the enhancement of the Indian Leather sector, particularly in terms of design, trend analysis, and global competitiveness. A standout accomplishment of his career has been his pivotal role in facilitating India's journey in fashion forecasting for the Leather industry through the initiation of the 'Travel of India in fashion forecasting for LEATHER,' an innovative research and development initiative aimed at establishing global leadership in this field.
Mohamed Sadiq's accomplishments and enduring leadership spanning an impressive 38-year period (from June 1986 to the present day) have served as a profound source of inspiration for members of the Indian Leather & Leather Products Industry, motivating them to excel in the realms of trends, colours, fashion, and forecasts.
It is truly heartening to observe that Mohamed Sadiq not only garnered strong support from the leather sector at large but also garnered backing from apex leather institutions and associations, collectively propelling the leather sector to greater heights. Md. Sadiq succeeded in fostering synergy among government bodies, trade organizations, educational institutions, associations, and international leather/leather product associations, a commendable achievement. He has consistently remained attuned to the ever-evolving needs of the industry, demonstrating unwavering dedication to ensuring its growth. Throughout his journey, Mohamed Sadiq has consistently pushed boundaries, innovated, experimented, and sought out winning formulas for a thriving and forward-looking Indian Leather Industry. His efforts have catalysed a flow of technology-driven innovation, ushering in a new era of optimism. The industry has made remarkable progress under Sadiq's guidance, particularly through CSIR-CLRI, which he has led successfully in implementing programs that have sustained the industry's growth, adapted to changing fashion trends, and ensured international market competitiveness.
On the global stage, India is now recognized as one of the leading producers of Finished Leather and Leather Products, with Sadiq's contributions playing a pivotal role in developing a technically adept workforce, deserving of admiration and respect both nationally and internationally. The Indian Finished Leather Manufacturers and Exporters Association (IFLMEA) and the Indian Shoe Federation (ISF) wholeheartedly express their sincere appreciation by awarding Mohamed Sadiq a Lifetime Achievement Award.
---