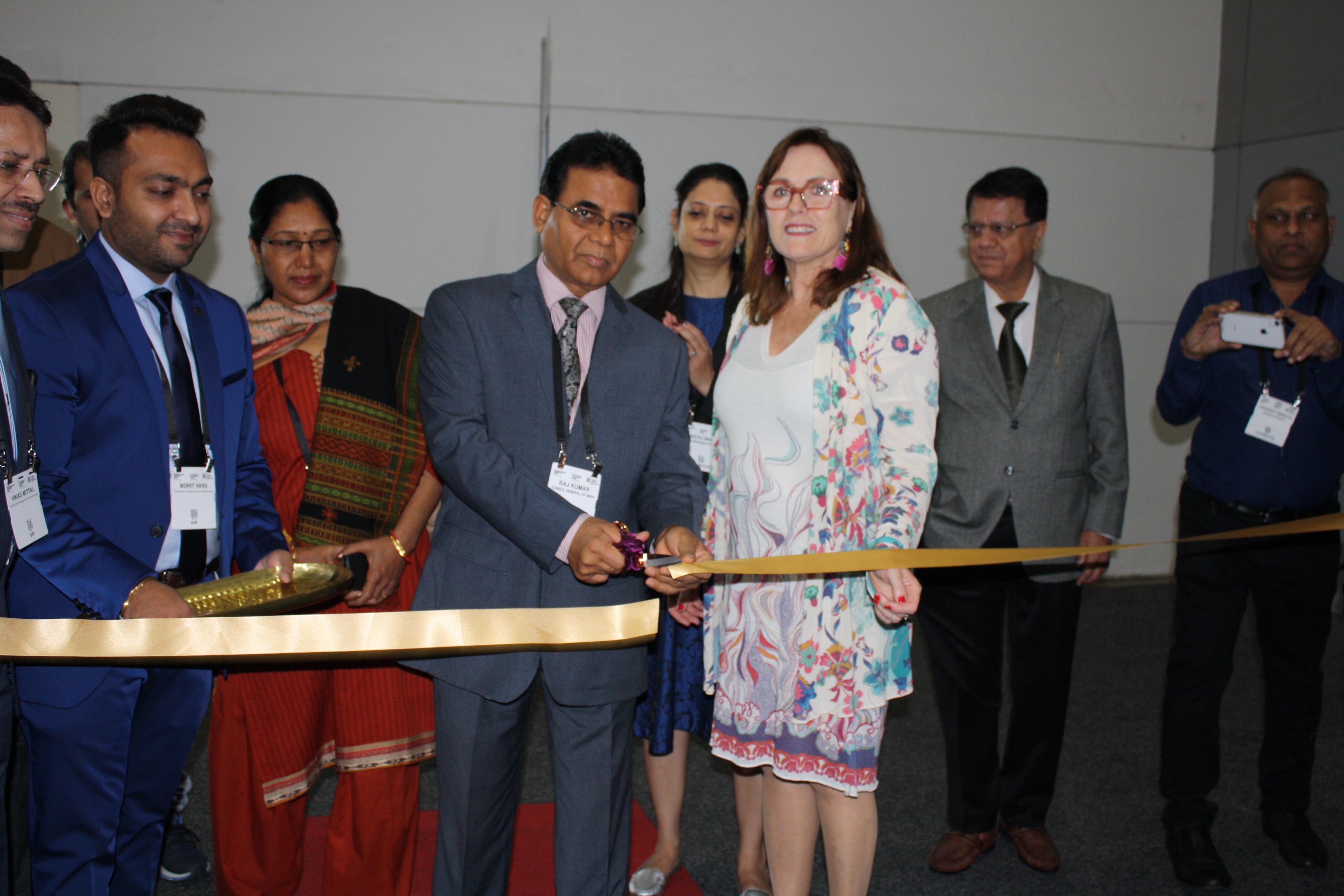 Attracting sourcing managers for Australia's large fashion retailers, niche fashion brands, online outlets and designers, International Sourcing Expo Australia, co-located with Footwear & Leather Show Australia and China Clothing Accessories Textiles Expo 19th edition allows buyers to meet with many reputable suppliers – more than they could physically visit on an overseas buying trip.
The three-day trade event at Melbourne Convention & Exhibition Centre, restricted to bona fide trade professionals, kicks off on 12 November, 2019. It was inaugurated by Raj Kumar, Consul General of India in Melbourne.
The event, occupying 16,500 gross sqm, showcases a full spectrum of product and service offerings from off-the-shelf clothing through to made-to-order pieces, fabric and functional textiles.
Quick Facts
• More than 4000 trade visitors visit the show.
• More than 700 textile, apparel and footwear manufacturers and agents from 20 countries.
• Exhibitor participation from India, China, Bangladesh, Pakistan, Hong Kong, Fiji, Indonesia, Vietnam, South
Africa, Ethiopia, Taiwan, Turkey, Australia, United States, Peru, Brazil, Mexico, Singapore and United Arab
Emirates.
• Occupies 16,500 sqm at Melbourne Convention & Exhibition Centre.
• November 12 to 14, 2019.
Marie Kinsella, CEO, IEC Group Pty Ltd: 
"This is an extraordinary opportunity for Australian and New Zealand companies as we have brought the whole manufacturing world to them under one roof. There is no other show like this in Australia. The breadth of product on show and the quality is improving year on year, without a doubt. There is a deeper understanding by the international manufacturers of what the Australian and New Zealand market requires, which makes the linking of buyer and manufacturer through the Show that much more productive."
"Sustainability and ethical sourcing is a priority for Australian and New Zealand buyers and we are delighted that so many of our exhibitors from across the globe have sought accreditation to ensure that the products being sourced are obtained in a responsible and sustainable way, that the workers involved in them are safe and treated fairly and that environmental and social impacts are taken into consideration during the manufacturing and sourcing process."
"We are visionary in our prediction of industry trends because of our own expertise and understanding of the market and our connection with partners, such as Fashion Snoops and the Australian Fashion Council, who will provide insights and knowledge on trends, both macro and micro, as part of this year's Global Sourcing Seminar Program."
Julie Holt, Global Exhibitions Director, IEC Group Pty Ltd:
"Australia's geographic location means extensive travel is usually required to explore international supply and manufacturing options. International Sourcing Expo Australia and the co-located Footwear & Leather Show Australia brings the world close to home for our local industry. As part of our Global Sourcing Shows Australia portfolio the show continues to gain strength each year with a broader and richer exhibiting participation base."
"We are thrilled to see Australia's fashion trade embracing this event with strong registration numbers. It is a unique sourcing event that provides an exceptional opportunity for companies to find new suppliers and see a range of companies from across the globe of varying capabilities and scales. This works well for Australian companies that are both well established and early in their sourcing journey."
"Strong participation by India continues to be a bedrock of the show's success as it is always well received. This year we are delighted to welcome Indian Silk Export Promotion Council and the Jute Products Development Export Promotion Council along with major participation as always from FIEO, HEPC, AEPC and CLE."