by Amit Chopra
One of the most significant international fairs for the components & machinery industry of the footwear sector, Meet-At-Agra, lived up-to to the expectations to generate substantial business for the participating Indian as well international companies. The exhibition brought together more than 250 exhibitors from around the world, mostly from India took place between October 7 and 9 in Agra. The three-day Meet organised by AGRA Footwear Manufacturers and Exporters Chamber (AFMEC) at the Agra Trade Centre in Singna, Delhi-Mathura-Agra highway concluded on Sunday and was attended by footwear industry visitors in large numbers despite the bad weather. Puran Dawar, President AFMEC, stated that the show generated immense interest among the industry and in within three days it has laid the foundation of a business worth Rs 20 thousand crores.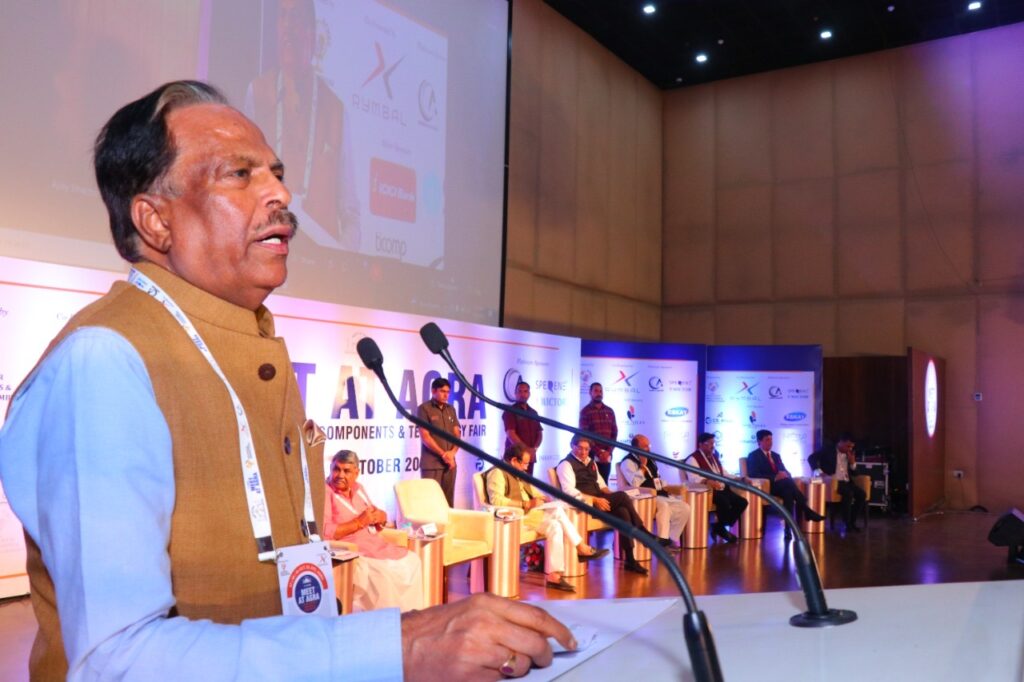 Piyush Goyal, Union Minister of Commerce & Industry, Consumer Affairs, Food & Public Distribution virtually attended the inauguration of the 14th edition of the International Leather Footwear, Component, Machinery Fair Meet at Agra. He opined that India has leather to make shoes, but the components must be imported, therefore, Indian industry must make components to strengthen the supply chain and become self-reliant, by this we can increase our exports up to 10 times.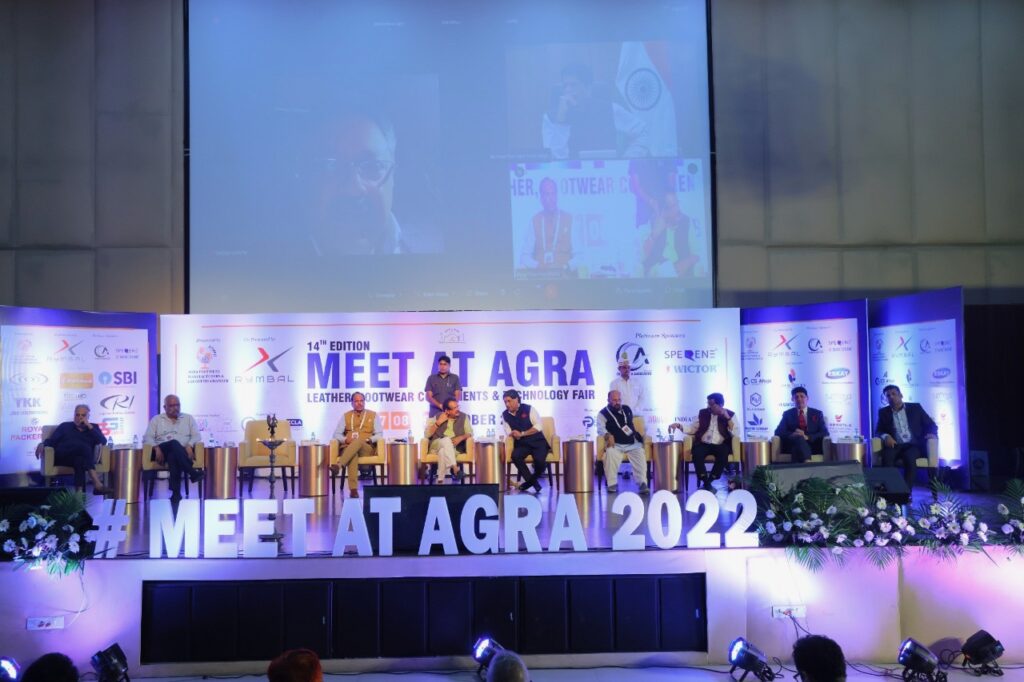 Union Minister of State SP Singh Baghel, State Government Minister Yogendra Upadhyay and MLA Ch. Babulal lit the lamp along with AFMEC members Puran Dawar, Rajeev Wasan and Capt. AS Rana. During this, PR Aqeel Ahmed, former Chairman CLE, Rakesh Garg, Vice President of Small Industries Corporation, AFMEC members – Nazir Ahmed, Gopal Gupta, Prahlad Agarwal, Gagan Das Ramani etc. were present.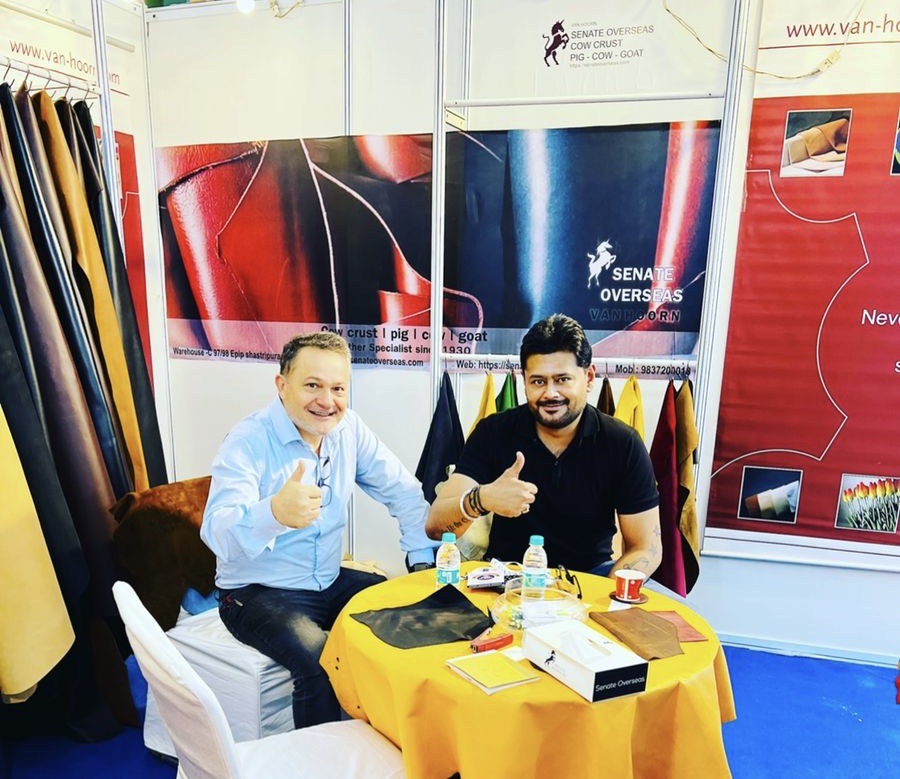 In the Meet at Agra event, exhibitors from 45 countries including India are showcasing their products through 225 stalls. In this, companies from Brazil, Argentina, Spain, Germany, France, Taiwan, China etc. showcased their products.
Union Minister Piyush Goyal, a chartered accountant by profession, did a full account on the demand of entrepreneurs. On asking for the PLI scheme, he demanded that entrepreneurs to share the advantages and disadvantages of the shoe industry for the ministry to think on the SOPs. Piyush Goyal said, "Since there are more than 7 thousand units in Agra, Now is the time to set up units in Agra to manufacture high-value footwear. Whatever is needed in designing, packing, quality, the government will help. The National Institute of Design, and the National Institute of Packaging will help them in this. Work for skill development of artisans and for quality control. Make Agra the hub of non-leather footwear." The government is giving an assistance of Rs 1700 crore to upgrade the machines.
The emphasis of the exporters of Agra is now on leather as well as sports shoes. AFMEC President Puran Dawar expressed that efforts would be made to make Agra's identity in sports shoes after leather. He said that in the fast-growing technological era, revolutionary changes have come in the shoe business. Apart from leather, people are liking footwear made of other materials. Modern machinery has brought many creative changes in it. Today thousands of designs are making footwear attractive.
Modern machines displayed at the show were increasing the curiosity of the traders in the exhibition hall. Apart from machinery, this time there was a lot of footfalls on the material stalls.
Meet at Agra 2022

Registered Trade Visitors -5731

Prospective Entrepreneur Visitors – 4200

Exhibitors-150

Stalls – 240

Countries Participation – 45

Estimated turnover -20 thousand crores
Rajiv Wasan, General Secretary AFMEC stated," The strong dollar and China's loss of strength as a major international supplier due to high freight costs, has put the attention on India, one of the major footwear producers and which has sufficient capacity to meet the demand for footwear."
In front of Union Minister Piyush Goyal, Agra MP and Union Minister of State for Law, SP Singh Baghel demanded to set up a mega leather cluster in Agra. He said that the environmental rules applicable in the entire country should be implemented in Agra. There are different rules and regulations due to TTZ, so here Mega Leather Cluster and Special Economic Zone should be created for footwear industry. The industries of Agra, which got derailed due to TTZ, should be brought back on track through them and make Diwali festival with sweetness. Union Minister SP Singh Baghel said that the TTZ's curved vision is on Agra. Instead of worrying about the yellowness of the Taj Mahal, one should be concerned about the health of the people here. This city should not become a pensioner's city, so industry, business is necessary. There is uneasiness in Taj Ganj due to the recent Supreme Court order, but his ministry will help in this matter. Had the matter been in their cognizance, a big lawyer would have raised it in the court, but now efforts will be made to keep the side of Taj Ganj.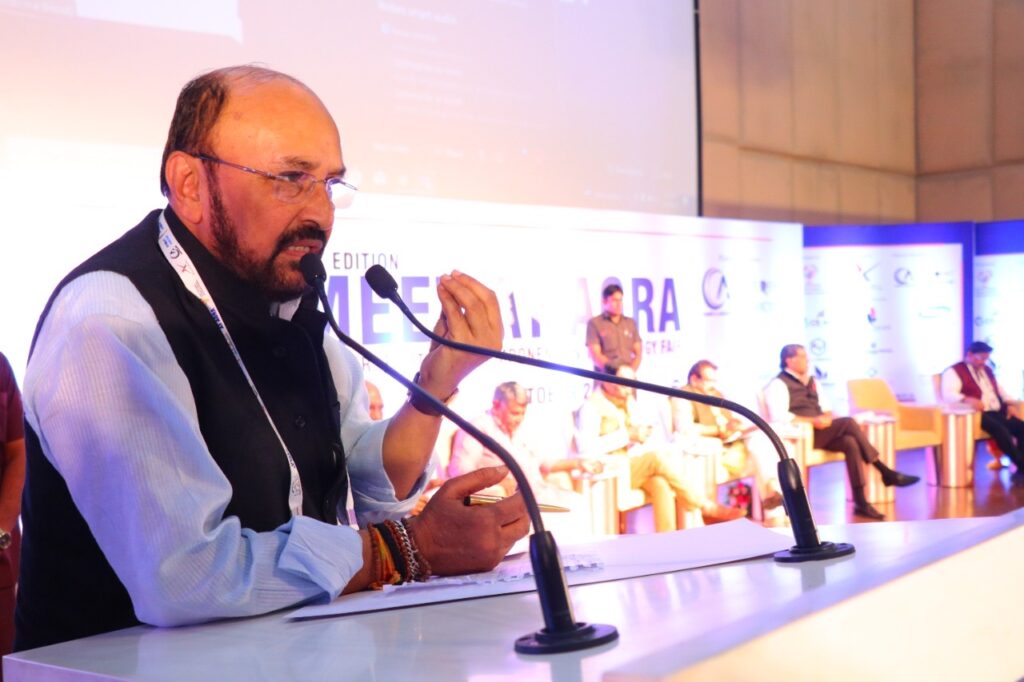 In the closing ceremony, Best Stall awards were extended to Imagine Fibers Pvt Ltd and Ars India in Innovative Products, while Alert India Pvt Ltd bagged in Best Stall in Presentation and Best Stall in Multi Products was awarded to Sareen Enterprises.
About AFMEC
The Agra Footwear Manufacturers and Exporters Chamber (AFMEC), was established in 1998 to promote footwear manufacturing and export within the periphery of Agra. AFMEC represents more than 100 leading footwear manufacturer-exporters (Rs. 3000 crores of exports from the city of Agra) and aim is to take the export turnover to Rs. 10000 crores in near future. Main objective of the AFMEC has been to adopt modern technology as well as highest quality standards in footwear manufacturing so as to compete in the European/American and other markets outside India. AFMEC started organizing "MEET AT AGRA", an yearly exhibition-cum-fair, in the year 2007 to promote AGRA as an destination where the footwear machinery manufacturers/suppliers and footwear components manufacturers/suppliers from across Asia/EUROPE/America etc. could come together at one place to showcase best of technology as well as latest products for the futuristic demand. AFMEC has also created its own state of the art exhibition-cum-convention centre namely "AGRA TRADE CENTER" on the national highway, which has become a landmark in itself.
Agra is one of the biggest clusters in the footwear sector in India among Kolkata, Kanpur and Chennai. There are around 10,000 micro-size units; 150 small-scale industry units; around 30 medium-scale units; and, around 15 large-scale units in the city.