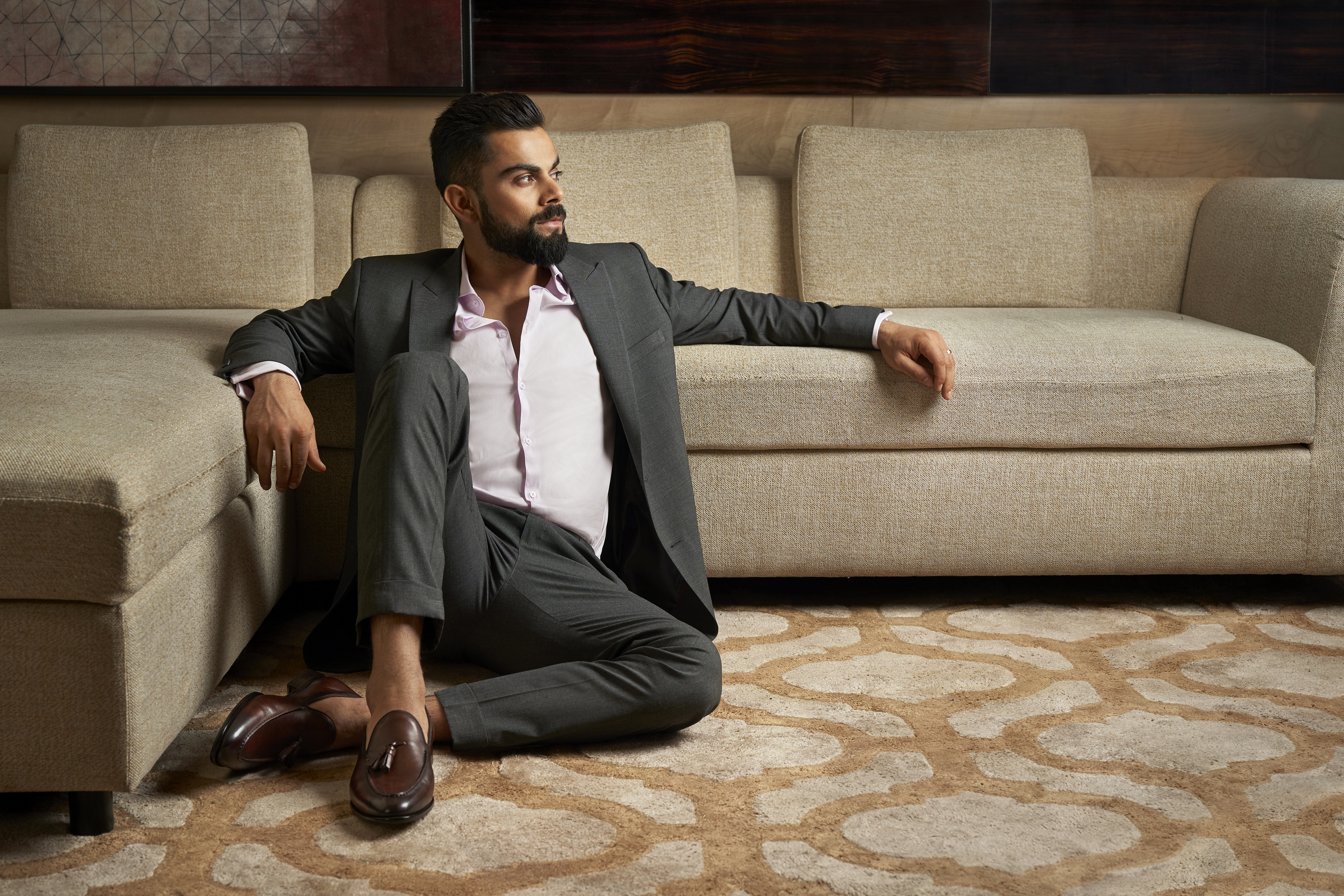 Despite challenging schedules, demanding family life, and the ceaseless judging of the ever-critical public eye, Virat Kohli takes chances and follows his business dreams.
INSPIRATION
Bold and distinct, they're an accurate reflection of who Virat Kohli is. The team believes that premium leather formal footwear and accessory play an extremely crucial part in the attire due to its sheer versatility. This versatility is synonymous with Virat, as he essays numerous roles and plays the part perfectly, always encouraging to put 'Your Best Foot Forward'. Premium leather formal footwear and accessory that speak about you. Premium leather formal footwear and accessory that complete you.
Celebrities are exposed to a lot of scrutiny over what they wear, and hence it seems right that some would want to create their own ensembles. While numerous celebrities use their names to drive their brands forward, cricketer Virat Kohli did just the opposite in instituting a high fashion line, one8 Select. This summer, he is taking on a new role—co-designing a premium leather formal footwear and accessories collection under the same label. For him it is critical that the premium leather formal footwear and accessory line be known for its exquisite workmanship, unique lines and fine leathers, rather than the famous founder. At the launch of the collection, the ace cricketer admitted there was a learning curve when it comes to creating his premium leather formal footwear and accessory brand, which is set to debut this summer.
Price: Rs 3,999-11,999
Target Audience: Boys and Men
Collection Themes:
The Achiever
The Wingman
The Debonair
The Superstar
The Alpha
Material: Pure Leather
Retailing: Online/Physical Stores
"It is all about leaving the best impression, and we know that the first impression is the last. With the line of one8 Select products, we ensure wherever you are, whoever you have to meet, whatever the occasion, if you have a pair of one8 Select premium leather formal footwear and accessories, you will put your best foot forward," said Virat, who has teamed up with his brother Vikas Kohli, an eminent business personality with a vast experience in diverse fields.
Embedded with the star's vision, the first collection of affordable luxury line of one8 Select, brought by Aeon Sports (India) Pvt. Ltd. was unveiled in November last year. The collection offers fashion forward premium leather formal footwear and accessories that go seamlessly with any attire all throughout the year, that too without burning a hole in the customer's pocket.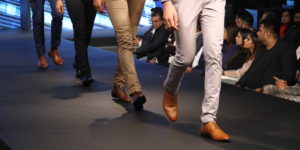 The launch event was a splendid fashion show as the ace cricketer put his 'best foot forward' on the ramp. The highlighted collections, collaborated with ace designer Rocky S, comprise of: The Achiever, The Wingman, The Debonair, The Superstar and The Alpha. Made of pure leather and available in multiple colours, the collection includes styles ranging from loafers to sneakers to monk straps, which are priced between `3999 to 11,999. On the target consumer front, one8 Select claims that it is aiming to be a part of the wardrobes of boys and men across all ages and demographics.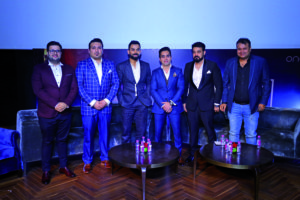 The ace cricketer's brother Vikas believes that the brand will evolve just like Virat. "With the introduction of premium leather formal footwear and accessories and socks, the brand aims to equip Virat's fans and everyone else with the tools that are needed to excel, at work and in life. It was an easy conversation with Virat as knowing him, and his drive for attention to detail, it was clear that the formal line of footwear is where his principles can come to life," explained Vikas.
"With one8 Select, we want to stand out in the realm of premium leather formal footwear and accessories, and bring to life Virat's vision of excellence and consistency with every step we take. Virat has a tremendous fan base and for many he is an inspiration and an icon, and with one8 Select we aim to bridge the gap between the two and bring the supporters close to Virat through our offerings," stressed Vaibhav Arora, Director – Marketing at Aeon Sports.
One8 Select Socks Collection
One8 has superior class socks which is crafted from the best of yarns, designed for international taste with high quality benchmark. There are 2 collections: Classic – everyday affordable essentials, priced at Rs 159 to 199, made with high quality cotton yarns blended with spandex, making it the most comfortable pair of socks; Premier, as the name insinuates, a premium line of formal socks, crafted in the most luxurious, international taste with very aesthetically coloured highlights to the most finest base colors, especially made seamless to provide the best of comfort that, any socks can ever give. Priced at Rs 249 and 299. All socks are treated with pure silver n9, to make it anti-bacterial and odour free. The collection is available in no show, low ankle, ankle and regular lengths and available at all leading fashion stores.
According to Nakul Manchanda, Director of Sourcing of the company, "Understanding the need of the consumer and pushing the right product is what we looked at with the launch of one8 Select." While Sanjay Dhingra, Director Operations of the company shared that with the launch of one8 Select its aim is not only to bring the product to the market but to ensure it is readily available and our consumer are spoilt for choice. "Throughout my foray in sales and provisions I have understood that a product travels far when it's good, but it goes further when we know what the consumer is looking for. Addressing the vacuum of luxury is affordable where one8 Select comes into play," added Ajay Gupta, Director Sales & Commercials at Aeon Sports.
As of now the brand aims to build upon their existing range in the coming months and cater to all demographics across all ages even further. They envision a future where this collection strikes a chord with not just Indian but international audience as well. The brand will be retailed online and across multi-brand stores.
Interview With Virat Kohli
For Virat Kohli, it is critical that the one8 Select premium leather formal footwear and accessories line be known for its exquisite workmanship, unique lines and fine leathers, rather than the famous founder. This summer, he is taking on a new role—co-designing a premium leather formal footwear and accessories collection under the same label.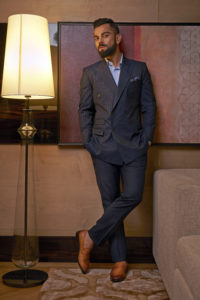 How important is the shoe in the entire attire?
I feel it's the most important! You could sport the best attire but if your shoes are unkempt or are not in sync with what you have on, it hinders more than it helps.
Who are these shoes designed for?
Unlike releasing shoes en masse, the USP is not only comfort but also solving the need for people leading different lives and meeting and leaving a mark on everyone they come across.
What is different about one8 Select?
Well, one8 Select is a big part of the one8 journey that began with its establishment last year and further on with its collaboration with Puma. It is my effort along with the directors of one8 Select to bring to the fore premium leather formal footwear and accessories which is comfortable, pleases the eye and at the same time doesn't hurt the pocket.
How have you put in this comfort in your products?
Well, one of the major inputs that came from me was the need for comfort. Comfort that starts from something as basic as the sole, as if you are not comfortable in every step you take, it almost feels like stepping on a rock! Also, with formal shoes the need for comfort increases evermore as they're not as open footed as sport and casual footwear.
What differetiates the 5 collections from each other?
The beauty of classifying it into different collections or looks is that each spells out directly what kind of an environment these shoes work in. The Achiever is for all things corporate; the Wingman is for a casual affair; the Debonair is for gatherings and celebrations; the Superstar is to get a second look guaranteed; and the Alpha being someone who dictates taste than follow it.
Where are these shoes manufactured?
The shoes are made and manufactured in India.
How involved were you in the designing process?
Well the collection has been mine in its inception and since comfort is my primary concern, the input to comfort first was always an input I made. My personal design philosophy was something that was easy to adapt by the one8 Select team.
What according to you is the perfect shoe?
The perfect shoe is one which makes you feel confident, and is your favourite not because of how it looks but how good it feels wearing it everytime.