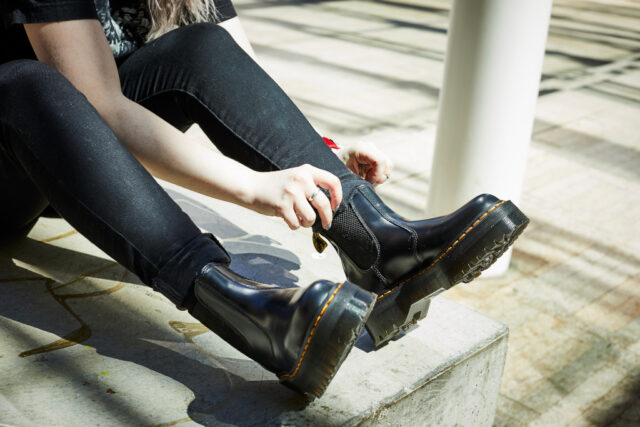 Dr. Martens boots are iconic. The leather lace-up style became a staple of British working-class style, made popular by rockstar Pete Townsend of The Who. In the '70s, Dr. Martens boots took over British culture, especially among the punk crowd. And after hitting U.S. stores, the boots became an essential part of the '90s grunge scene.In addition to its original 8-eye boots, Dr. Martens now carries a range of styles, including loafers and sandals. We have prepared ways to wear the brand's shoes with jeans.
Cuffed Jeans + Dr. Martens Platform Boots
Edgy platforms are a great match for cropped jeans, especially when the denim is cuffed at the hem for a full-on retro-inspired look. We recommend trying the Jadon Smooth Leather Platform or Rometty Platform Chelsea Boots, which both boast an aggressive platform sole.
Dark Wash Jeans + Dr. Martens Oxfords or Loafers
Dr. Martens oxford and loafer styles will add a nice touch to some dark wash jeans for a more polished look. The brand's glossy Vegan 1461 Oxfords and tassel-embellished Adrian Smooth Leather loafers are both great options to add to your arsenal.
Skinny Jeans + Dr. Martens Chelsea Boots
When it comes to wearing skinny jeans, try pairing them with a pair of Dr. Martens Chelsea boots for a classic look. Depending on your preference, you can either tuck them into your jeans or cuff them. Add some fun socks, too, if that's your style.
Ripped Jeans + Dr. Martens Boots
Try pairing some ripped jeans with any of the brand's boots that suit your style for an edgier look.
Color-Blocked Look With Dr. Martens Boots
If you're looking to turn heads, you can't go wrong with a bold color-blocked look complete with your favorite Dr. Martens.
---