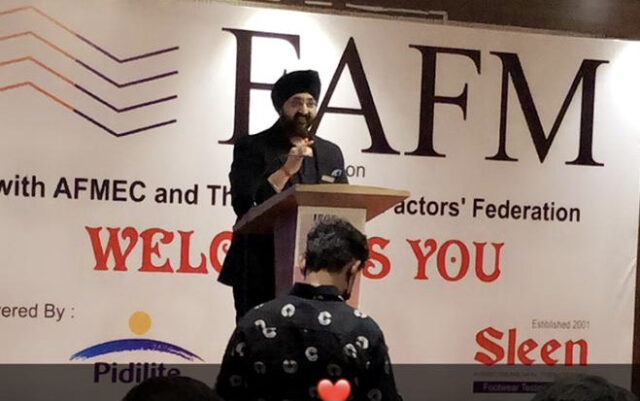 When you combine the strengths of two organizations, you are bound to get fresh faces with fresh ideas.
Forum of Agra Footwear Manufacturers (FAFM) is aspiring to provide an opportunity for networking, information exchange, strategy development and is currently aiming on communicating the diverse values of the footwear industry in order to generate greater business and collaborative efforts in support of the "Make in India" policy. FAFM hosted Agra Footwear Manufacturers & Exporters chambers (AFMEC) & Agra Shoe factors Federation at a networking dinner on the 10th March 2021. This meeting provided new networking opportunities and learning experiences, adding tremendous value to association members.
President FAFM Kuldeep Singh – Aryman Footwear Exports Pvt Ltd.
welcomed the attendees from various associations and shared his thoughts on collaborative growth of the Agra manufacturing industry and building new markets.
The evening brought together prominent names in the Agra footwear industry: Ruby Sehgal – Oom Exports, Rajiv Wasan – AT Exports, Sunil Manchanda – Versatile Operations, Pradeep Wasan – Deepak Impex, Gopal Gupta – HC Gupta Overseas Pvt ltd , Khoob Chandani and Jethanand to represent strength and solidarity. The members exchanged strategic thoughts and shared insights on how to navigate business growth in the coming years. FAFM plans to organize trade as well consumer related events to further create a healthy competitive space. Kuldeep Singh was supported by FAFM core team – Vice President Chander Daultani, Guru Shoes tech Pvt Ltd, Treasurer – Deepak Poptani – Popson's international, Secretary – Sanchit Munjal – Srijati Shoes Pvt Ltd, Joint Secretary – Nakul Manchanda, Lamos Group and various FAFM members: Sameer Dhingra – Aman Shoes, Rajeev Dhawan, Vineet nayyar, Manish Luthra, Sanjay Kapoor- Wood Chief and Rishi Malhotra.
FAFM represents the domestic footwear manufacturers, AFMEC is the pioneer and most representative Association of the Agra exporters and ASF has been representing the traditional footwear traders for decades. Together they have a membership base of over 250 plus companies, including Manufacturers, Exporters, Retailers, traders and Ancillary Industry.
AFMEC is the largest and oldest official body of footwear manufacturers and exporters in Agra that provides invaluable assistance to Agra's footwear exporters as well as international buyers who choose India as their preferred sourcing destination for footwear. From influencing policy to encouraging debate, engaging with policy makers and business councils, AFMEC speaks the views and concerns of industry. While, ASF serves its members to build a strong domestic trading and retail.
FAFM aims to provide a platform for networking and consensus building within Agra and across footwear sectors, policy makers and the footwear business community. FAFM plans to showcase the best of India's components as well footwear manufacturing and export capabilities through a show which they plan to organize in 2021. The industry can expect a prestigious fair playing host to over 100 plus exhibitors displaying the latest products and much more. The Association also would act as a catalyst of change in the industry by interacting with the Government on matters of policies that impact the future of the footwear industry. The Association also Guides it's Members on compliance with various Government Regulations.