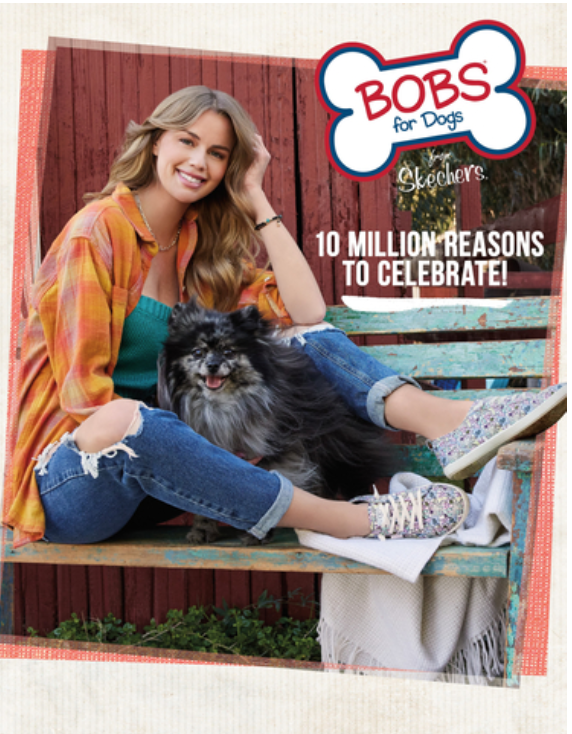 The Company celebrates the milestone with a year-long campaign to drive awareness, starting with a design scholarship that will help animals in need
LOS ANGELES–(BUSINESS WIRE)– Skechers, The Comfort Technology CompanyTM, announced that its philanthropic BOBS from Skechers division has donated more than $10 million since the program's launch in 2015—funds that have helped save and support 1.9 million dogs and cats in need. To celebrate the milestone, Skechers is kicking off a year-long awareness campaign with the BOBS from Skechers Paws for a Cause Design Scholarship, which will give college creatives the opportunity to design styles that improve shelter animals' lives.
"This $10 million achievement is thanks to the passionate pet lovers who have been part of the BOBS story for the past eight years. They saw BOBS from Skechers as a positive, practical way to save lives —and their purchases have made a tremendous difference," said Michael Greenberg, president of Skechers. "Rising costs have created new challenges for animals in need and their organizations—but thanks to the community we've built together, we're now in a position to do even more. From supporting shelters at home and abroad to funding flights that help pets reach their forever homes, BOBS will continue to find creative, ambitious ways to save millions."
Over the past eight years, BOBS from Skechers has grown into a year-round movement—uplifting communities with round-up donations, vaccination events, check celebrations for organizations, and even animal transports to future homes. Through sales of BOBS footwear, apparel and accessories, the Company has funded pet
adoptions to help save over 1.4 million dogs and cats, and has nurtured 450,000 more at nurseries, sanctuaries and medical care facilities. The brand supports Petco Love's network of 4,000 animal welfare organizations in the United States and Canada, as well as rescue pets in the UK through Woodgreen Pets Charity and shelter animals in Japan through Alma.
Added Greenberg: "Our BOBS animal-themed prints have been at the heart of our message, inspiring pet lovers to wear and share our collections. We thought it would be wonderful to feature personal designs from young artists who have experienced firsthand how shelter pets change lives. The BOBS from Skechers Paws for a Cause Design Scholarship is a special way that students can use their creative talents to produce unique cat or dog prints that can help save animals across the country."
The BOBS from Skechers Paws for a Cause Design Scholarship will give two students the opportunity to see their shoe designs produced and sold in the 2024 collection, and will provide $10,000 scholarships from the Skechers Foundation, one-on-one corporate mentorships and donations to local animal welfare organizations. Open to students at United States colleges and universities who will be enrolled in the 2024/2025 academic year, the BOBS from Skechers Paws for a Cause Design Scholarship will accept applications from September 1 through October 15, 2023.
Skechers U.S.A., Inc. (NYSE:SKX), a Fortune 500® company based in Southern California, designs, develops and markets a diverse range of lifestyle and performance footwear, apparel and accessories for men, women and children. Collections from The Comfort Technology CompanyTM are available in over 180 countries and territories through department and specialty stores, and direct to consumers through digital stores and over 4,700 Company- and third-party-owned physical retail stores. The Company manages its international business through a network of wholly-owned subsidiaries, joint venture partners, and distributors.